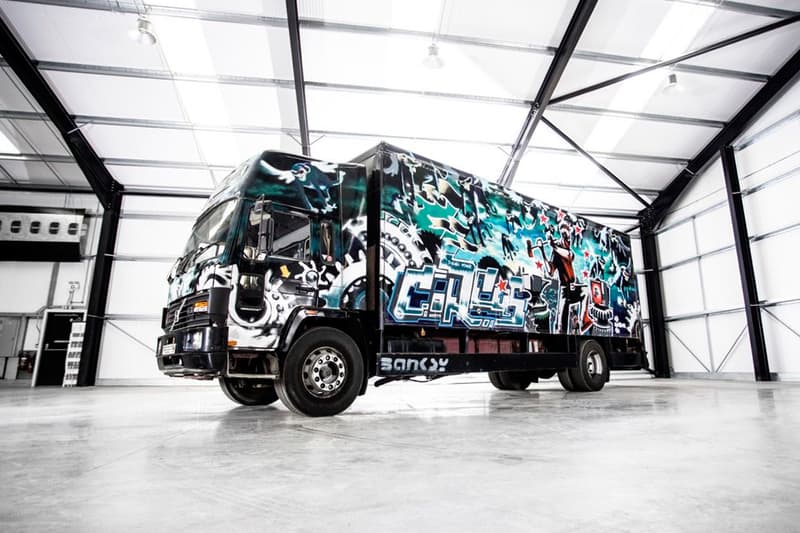 Banksy's Painted Truck Expected to Fetch over $1 Million USD at Bonhams Auction
The elusive British artist painted the 17-ton truck back in 2000.
---
Those attending the Bonhams London auction this September will be surprised to see a 17-ton box truck painted by Banksy. The commercial Volvo FL6 vehicle dating back to 2000 features spray-painted graffiti artwork by the elusive British artist at a New Years party in Spain. It's now expected to sell between £1 million GBP and £1.5 million GBP ($1.3 million USD to $2 million USD).
The fully-functional truck slash art piece, unofficially titled Turbo Zone Truck (Laugh Now But One Day We'll Be In Charge), will be amidst luxury automotive lots at the forthcoming sale spanning Aston Martins, Bugattis, and Porsches. The work comes complete with a certificate of authenticity from Banksy's handling office Pest Control. It's being lauded by the auction house as Banksy's largest artwork ever, portraying a visual collage of blue-collar employees, chimpanzees, and a firearms unit alongside wildstyle letterforms and throwies in vivid hues.
In a statement, Bonhams described the work:
The uniquely hand-painted 17-ton truck is a mobile testament to Banksy's longstanding, breakthrough vandalism of art's old-hat approach to painting on canvas and paintings in galleries. Taking the vehicle of the laborer, the workman and the blue-collar employee as his blank canvas, the present motorcar and work of art revels in Banksy's raw and unfiltered wit; a masterclass of the artist's satirical humour and impressive dexterity with spray-paint.
The work will be on sale at Bonhams' Goodwood Revival car sale in Chichester, England, on September 14. Original works by Banksy are also headed for auction at Sotheby's and Christie's in London this fall.
Bonhams
101 New Bond Street
London W1S 1SR
United Kingdom