Samsung's Bezel-Less Galaxy Note 10 Arrives in Two Different Models
Alongside a 5G model variant.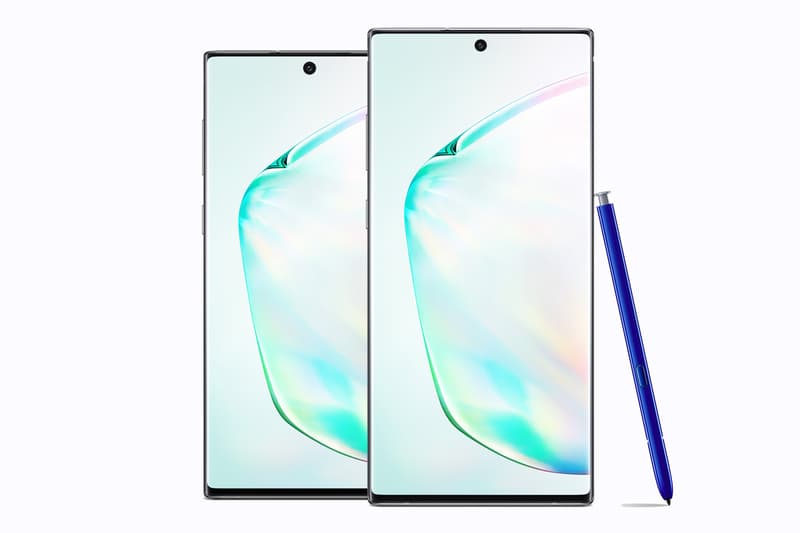 Confirming numerous leaks, Samsung announced today at its Unpacked event that its forthcoming Galaxy Note 10's will be arriving in two different sizes with several different color options alongside a 5G variant model.
The Galaxy Note 10's are nearly bezel-less smartphones with a front-facing camera embedded in the center of the screen. As such, the smaller Galaxy Note 10 model's 6.3-inch screen appears bigger and more compact, despite being the same size as last year's model. The display resolution comes in at 2,280 x 1,080, a step down in quality from the previous model and its quad HD display.
Meanwhile, The Galaxy Note 10+ boasts Samsung's biggest screen to date, a 6.8-inch AMOLED display that features HDR10+ with a 3,040 x 1,440 resolution. Both smartphones possess three lenses on its back camera: one ultrawide 16-megapixel lens, a telephoto 12-megapixel, and a VGA depth-vision camera for augmented reality apps. They also have the same 10-megapixels front-facing camera.
Both the Galaxy Note 10+ utilize a Snapdragon 855 processor, but the Note 10+ has 12GB of RAM, with choices of 256GB and 512GB storage and a micro SD slot for more memory. However, the standard Galaxy Note 10 only has 8GB RAM option with no SD slot for expansion. The new S-Pen now also has a built-in accelerometer and gyroscope that enables air gestures, like flicking the pen to switch cameras in the photo app.
The Samsung Galaxy Note 10+ starts at $1,100 USD while the standard version will cost $949 USD. Colors include Aura Black, White, Blue, and Glow Purple. Both will ship August 23 but are available for preorder today. There are also preorder options for the 5G version of the Galaxy Note 10+ exclusive to Verizon customers for a limited time that begins the same date the other phones ship.
The "Unpacked" event also brought other announcements, like an ultra-thin Galaxy Book S. Watch the event's replay above.
In other tech news, Japan's NEC Corp showcased its first test flight for a flying car.
Power now comes in two sizes. #GalaxyNote10
Learn more: https://t.co/jcLllvJzg7 pic.twitter.com/7mnlBNBNdr

— Samsung Mobile (@SamsungMobile) August 7, 2019
A phone like no other in colors like no other. #GalaxyNote10
Learn more: https://t.co/jcLllvJzg7 pic.twitter.com/TEEK4Meahb

— Samsung Mobile (@SamsungMobile) August 7, 2019
Turn handwriting into text instantly. #GalaxyNote10
Learn more: https://t.co/98wic6yKJO pic.twitter.com/n58TnsSV5g

— Samsung Mobile (@SamsungMobile) August 7, 2019
S Pen Air actions give you intuitive control with a wave of your hand. #GalaxyNote10
Learn more: https://t.co/98wic6yKJO pic.twitter.com/19RYl1hvWf

— Samsung Mobile (@SamsungMobile) August 7, 2019