17 Socks to Refresh Your Wardrobe
Because you know your sock drawer could use the help.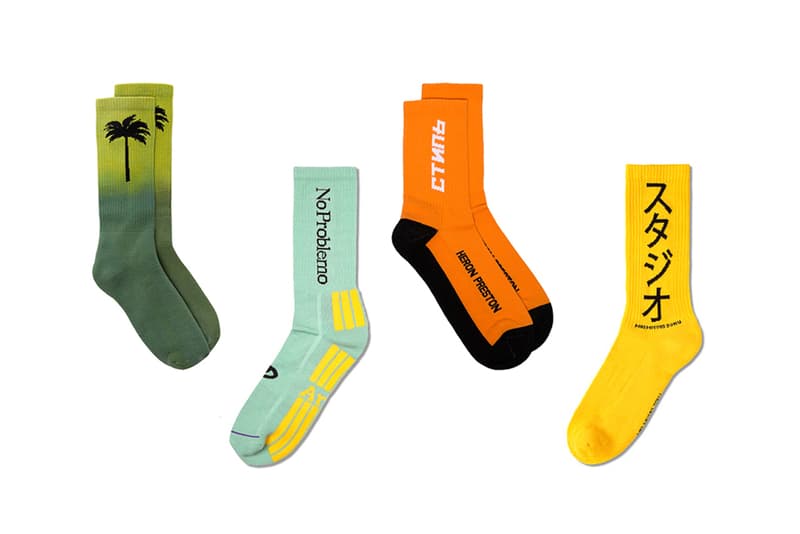 Are socks the anchor of an outfit — or the unsung hero? They may not warrant as much consideration as a pair of shoes, but the fact is they're still a must in every wardrobe. For some, socks are worn until holes take them over (and even then, still worn some more). For others, they're purposefully styled with cuffed pants and fresh kicks to be proudly shown off. The point remains that socks are always there (save those one-offs that get lost in the wash), which means it's never a bad time for a refresh.
Crew silhouettes in easy colors such as grey, black and white may do the trick for most occasions. But socks can also be the perfect place to add bold logo — like the patched edition from Reebok by Pyer Moss — or to try out a new trend, such as neon brights served up in doses of green, orange and tie-dye.
HYPEBEAST has rounded up a range of socks to suit a variety of styles and budgets, with everything from $3 USD Uniqlo styles to luxury options pushing the $200 USD mark. Whether you're in need of basics or prefer to stand out, there's an endless variety out right now to cater to different tastes. Browse our picks below from brands like GOLF le FLEUR* x Lacoste, MKI Miyuki Zoku, Heron Preston and more.
UNIQLO
UNIQLO's ribbed knit socks are constructed with a contoured heel and feature self-deodorizing capabilities. They're offered in over 25 colors to match a variety of looks.
Composition: Polyester, Cotton, Nylon, Acrylic, Spandex
Buy Now: $3 USD at UNIQLO
Bombas
Bombas offers a variety of silhouettes, colors and patterns including neutrals, geo prints and marled designs. Styles are built with features that are meant to enhance comfort and grip, such as a cushioned footbed, honeycomb arch support system, "stay-put" heel grips and blister tabs.
Composition: 69% Cotton, 27% Polyester, 3% Rubber, 1% Spandex
Buy Now: $12 USD at Bombas
Hill City
This fledgling brand places an emphasis on high performance while also keeping sustainability top of mind by using recycled and organic fabrics where possible. Its socks are crafted with sweat-wicking and odor-wicking capabilities, and are offered in a range of fall-forward tones.
Composition: 39% Cotton, 38% Polyester, 19% Nylon, 4% Spandex
Buy Now: $14 USD at Hill City
Nike
The Everyday Plus Cushion socks are an easy go-to for streetwear looks in colors like white, grey and black. They're equipped with Dri-FIT technology to help control sweat, and made with breathable fabric at the top of the foot for ventilation.
Composition: 62-69% Cotton, 29-36% Polyester, 2% Spandex
Buy Now: $18 USD at Nike
Reebok by Pyer Moss
These black ribbed socks feature Reebok by Pyer Moss' signature tri-color emblem on the side and a clean white logo on the top of the foot for a touch of contrast.
Composition: 71% Cotton, 21% Nylon
Buy Now: $20 USD at Reebok
adidas Originals
A classic option from adidas Originals, these black Roller Crew socks feature the brand's Three Stripes and trefoil logos in a white design on the ankle. A blocked heather grey toecap and heel complete the style.
Composition: Polyester, Cotton, Nylon, Latex
Buy Now: $20 USD at Urban Outfitters
MKI Miyuki Zoku
The symbol socks by MKI are offered in yellow for a bright option, and black for a more minimal take. Writing in Japanese lines the sides, while the brand moniker is printed on the bottom as a final detail.
Composition: 75% Combed Cotton, 23% Nylon, 2% Elastane
Buy Now: $20 USD at HBX
Jacquemus
Pink is going strong again in the menswear world and Jacquemus has joined in on the trend with these ribbed crew socks. They're embroidered with a script-style logo on the ankle for branding.
Composition: Cotton 80%, Polyamide 18%, Spandex/Elastane 2%
Buy Now: $27 USD at Browns
GOLF le FLEUR* x Lacoste
Tyler, the Creator's fashion imprint, GOLF le FLEUR*, offers up two clean pairs of pastel socks in collaboration with Lacoste. The calf-high style is embroidered with Lacoste's signature alligator logo at the top, while contrasting white emblems from both brands are placed on the heel.
Composition: 78% Cotton, 20% Polyamide, 2% Elastane
Buy Now: $30 USD at SSENSE
Aries
These "Aqua"-colored socks are printed with "No Problemo" on the side and come stamped with a bold yellow Aries logo on the bottom of the foot.
Composition: 80% Cotton, 18% Polyamide, 2% Elastane
Buy Now: $30 USD at HBX
Doublet
Doublet's over-the-knee socks are stacked with five different layers of ribbed cuffs and each tier comes printed with various intarsia graphics.
Composition: 52% Cotton, 23% Nylon, 22% Acrylic, 3% Polyurethane
Buy Now: $50 USD at SSENSE
sacai
Go bold this season with a pair of graphic leopard socks by sacai. The style is offered in a calf-high length and features black terrycloth trim details.
Composition: 60% Cotton, 20% Rayon, 10% Nylon, 10% Polyester
Buy Now: $60 USD at SSENSE
Sammy Jo
Sammy Jo's vivid drip-dye Nike socks are a vibrant way to stand out. The designer offers a rainbow of colors, like pink, purple, and turquoise, as well as tie-dye options.
Composition: Cotton, Polyester, Spandex
Buy Now: $64 USD per three-pack at Sammy Jo
Heron Preston
Heron Preston's typical highlighter orange is in full effect on these ribbed socks. The designer's signature "Стиль" verbiage is also printed on the ankle for branding.
Composition: Spandex/Elastane 5%, Cotton 80%, Polyamide 15%
Buy Now: $65 USD at Browns
Gucci
For a super-luxe edition, try one of Gucci's monogram-heavy patterned socks. The label has marked both pairs with its popular interlocking "GG" insignia and offered up neutral options in brown and black.
Composition: Cotton, Spandex, Polyamide
Buy Now: $100-$180 USD at Browns
Palm Angels
Channel tropical vibes with Palm Angels' gradient-green ribbed socks. A contrasting black palm tree design on the ankle offers a fun touch.
Composition: 90% Cotton, 5% Polyamide, 5% Spandex/Elastane
Buy Now: $120 USD at Browns
Balenciaga
Another premium take comes by way of Balenciaga's minimalistic branded socks. The label's neon green and beige colorways provide options for both neutral and colorful looks.
Composition: 80% Cotton, 18% Polyamide, 2% Elastan
Buy Now: $125 USD at Balenciaga