Virgil Abloh Explains Why Off-White™ x Nike Sneakers Come With Multiple Accessories
Encouraging DIY culture.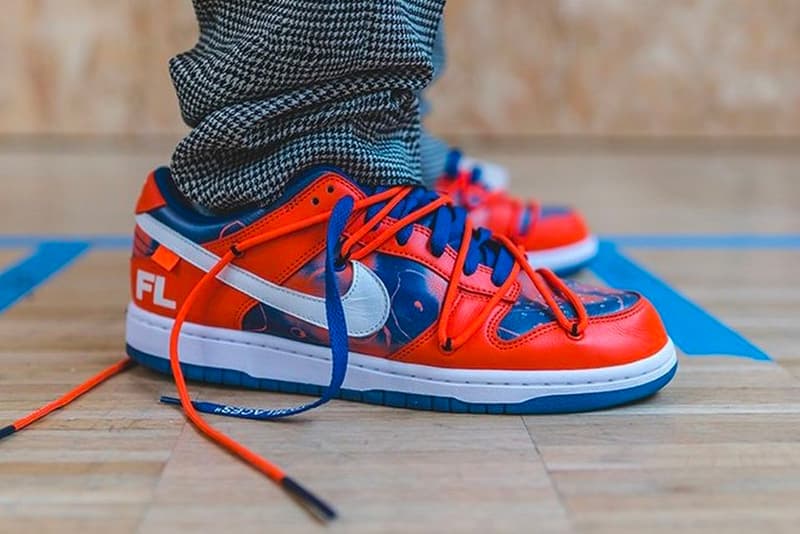 For those who have wondered why Off-White™ x Nike sneakers come with so many accessories, Virgil Abloh has taken to social media to clear up the question.
In a post shared on this Twitter account, Abloh reveals the "Ultimate Idea" behind all the accessories, sharing that these accessories were key to his customization plan. The tweet went on to state all those extra laces and zip-ties are precisely so sneakerheads could get creative and put their own spin on their footwear. "The ultimate idea was that all those extra laces and the zip-ties go to use with all your other pairs of shoes to DIY make your own versions of Off-White™ sneakers," Abloh wrote in a tweet reply to an image of "Syracuse" Nike Dunk Highs equipped with the signature Off-White™ elements.
Check out a few of the replies to Abloh below.
Recently Abloh gifted golfer Brooks Koepka with a pair of custom Off-White™ x Nike Air Max 90 golf shoes.
❤️❤️❤️✨® the ultimate idea was that all those extra laces and the zip-ties go to use with all your other pairs of shoes to DIY make your own versions of Off-White™ sneakers. https://t.co/9nJQn29czy

— virgil abloh (@virgilabloh) August 23, 2019
Let's go pic.twitter.com/7xFuOjL4n0

— Snkr_SB (@MarkWenty) August 23, 2019
**INSPIRED++ pic.twitter.com/F9VFfWFEKA

— ejay (@ejay_romero) August 23, 2019
— ??2tott_$@?? (@BlancaSA6) August 24, 2019
"BRED" pic.twitter.com/Ji7Ssw4mqW

— jonathan (@jonathancran) August 23, 2019
Satin . ???? pic.twitter.com/PDOtoH3mdV

— paty pinhanelly (@patypinhanelly) August 24, 2019
i caught too many off white Ls lol pic.twitter.com/mKBX0q5cHt

— Kendrick Kingavelli (@KidKinG) August 23, 2019
— Andrew Garcia (@__andrew20) August 23, 2019
Acronym Off-White Presto ? pic.twitter.com/ggMWa0vnGt

— MAJED (@MajedVbdullah) August 23, 2019