8 Drops You Don't Want to Miss This Week
Featuring Moncler 1952, Off-White™, Cav Empt, Palace and more.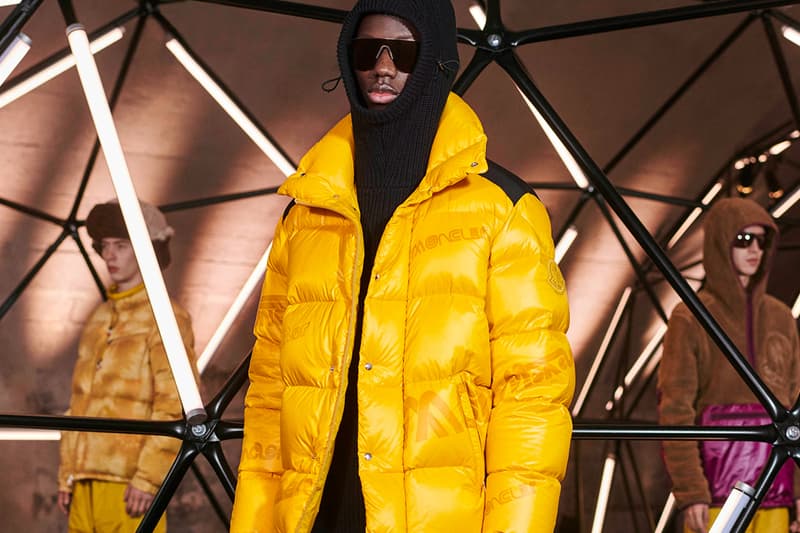 Another installment of our product drops series is here, this time marked once again by a host of standout releases. Leading the list is Palace's Fall 2019 Week 4 drop which expresses the label's latest expression of uniquely British streetwear. After its massive first Fall/Winter 2019 release, Supreme will be taking a break this week with the second release of its seasonal collection September 5.
Other standout releases come in the form of Virgil Abloh's latest MCA Chicago exclusive Off-White™ "Caravaggio" and "Lines" Bags and a T-Shirt capsule from Canadian retailer /017 and Doublet. Cav Empt returned with the eighth drop of its FW19 collection, Saint Laurent teamed up with Wilson on an athletics themed Rive Droite capsule, and Comme des Garçons Homme Plus delivered the first release for of its FW19 range. Finally, Sterling Ruby has returned with the second delivery of his fledgling S.R. STUDIO. LA. CA. label's first collection which continues to translate the artist's experimental processes through hand-treatments and signature verification.
Comme des Garçons Homme Plus Fall/Winter 2019
Celebrating the first delivery of Comme des Garçons Homme Plus' Fall/Winter 2019 collection, Los Angeles-based retailer BLENDS has put together for the dark-tinged range.
Focusing on the distinct goth inspirations, the select look features elongated silhouettes, bold details, intricate patterns and striking accessories. BLENDS utilized an assortment of avant-garde wigs and headpieces to accent the fairytale aspects of the seasonal range. Some standout darker pieces include the Floral Belted Blazer, Wool Zipper Shorts, Thorn Nail necklace and George Cox D-Ring Derby Creepers.
When: Now
Where: BLENDS
Palace Fall 2019 Collection Week 4
Back with another week of its Fall collection, the fourth drop continues the London-based label's expression of uniquely British streetwear with staple pieces emblazoned with bold branding a stand out graphics. The standout items from the selection include the G-LOSS Jacket, which is available in black, silver or blue, "CHIZZLE UP" hoodies and "SOFAR" crewnecks.
Accompanying pieces include varsity-style pieces like matching hoodies, joggers and beanies along with corduroy bucket hats and reflective 6-panel caps. Rounding things up are Palace's stash bags and sling stashes in either classic camouflage or "Alpine" camo, as well as playful accessories like a bottle opener, a carabiner and a set of erasers.
When: August 30
Where: Palace Online & Retail Stores in London, New York, Los Angeles & Japan
2 Moncler 1952 + Valextra Collection
Continuing its Moncler Genius project, the famed Italian apparel and lifestyle label has released its 2 Moncler 1952 + Valextra collection. Focusing on an intersection between innovation and craftsmanship, the unisex range was designed by menswear designer Sergio Zambon and womenswear designer Veronica Leoni.
Zambon looked to express relaxed silhouettes riddled with strong technical features accented by tonal washes and laminated touches. The voluminous parkas and zip-up blouson serve as the central pieces of the urban nature fueled collection. Offering another take on innovation, Leoni's womenswear line plays with materials and shapes with double layers, detachable linings and interactive details. Promoting freedom of expression, the range is defined by puffer blousons with incorporated capes, extended parkas, biker jackets and tailored pieces with padded inserts. Rounding up the unisex range are leather carrying options created in collaboration with Milanese brand Valextra centered around its signature oversized tone-on-tone look.
When: August 29
Where: Moncler
Virgil Abloh MCA Chicago Off-White™ "Caravaggio" & "Lines" Bags
Keeping the exclusive releases coming, Virgil Abloh has prepared a new selection of offerings for his "Figures of Speech" exhibition at MCA Chicago. This time around the "Church & State" pop-up store is dropping the "Caravaggio," "Lines," "Caravaggio XL," and "Lines XL" bags.
The Caravaggio leather flap bag is printed with the Italian painter's The Entombment of Christ finished with black metal hardware, a binder clip hangtag and two interior pockets. The Lines Bag is printed with bright orange and white checkered lines that cover the entire body and handle strap. While the flap bag and handle strap are made of leather, the cross-body strap is an industrial polyamide and polyester belt woven in a checkered pattern with Off-White™ branding.
When: Now
Where: MCA Chicago
Saint Laurent Rive Droite Drops Wilson Tennis Capsule
Continuing its Rive Droite releases, Saint Laurent has turned to an athletic focus with a collaboration with Wilson. The five-piece capsule features an all-white tennis ball set and a tennis racket decked out with a black and white checkerboard pattern, and matching racket case. Additionally, Saint Laurent has teamed up with Italian activewear label No Ka 'Oi for a set of yoga mats, which come in either plain black or with an eye-catching leopard print design. Finally, a set of two Saint Laurent-branded brass dumbbells rounds of the drop.
When: Now
Where: Saint Laurent
Cav Empt Fall/Winter 2019 Eighth Drop
Back with another drop of its FW19 collection, Cav Empt put together its eighth selection of its seasonal offerings comprised of graphic-heavy outerwear, mid-layers, T-shirts, and more. Standout items include the Commodity Pullover, two iterations of the Overdye Panel Heavy Hoodie, and Overdye JMG Pants. The Commodity Pullover stays in line with some of the brand's most hyped archive pieces, this time opting for a loud base of purple that is accented by various patch graphics on the front, sleeves, and back. The Overdye Panel Heavy Hoodie comes in grey and green colorways, featuring a paneled construction that employs poly-ribbing on the shoulder and back. Rounding out the highlights are the Overdye JMG Pants, featuring a washed beige base that features a herringbone binding tape on the side seams, as well as snap-adjustable cuffs near the leg opening.
When: Now
Where: Cav Empt
/017 x Doublet Exclusive "Surprise!" T-Shirt Capsule
/017 has teamed up with Doublet a T-shirt capsule centered around five lookbook images were hand-selected by Doublet designer Ino Masayuki. The special range sees large photo prints accompanied by /017 branding and Doublet's "STRANGEST COMFORT" tagline. A key element of the T-shirt release is that each shirt is compressed and placed at random in a plastic toy capsule ball. The shirts are unpacked by placing them in warm water for 10 minutes.
When: Now
Where: /017
S.R. STUDIO. LA. CA. Spring/Summer 2020 Second Delivery
S.R. STUDIO. LA. CA is back with the second delivery of its retail launch. Helmed by famed interdisciplinary artist and owner of the brand, Sterling Ruby, each piece translates the artist's experimental processes through hand-treatments and signature verifications.
The range is separated into four distinct parts: 'UNIQUE' which focuses on Ruby's exploration of textiles; 'SOTO' that is comprised of fabrics handworked by the artist while featuring a single motif; S.R. STUDIO. LA. CA., the mainline; and ED. 50, a rotating edition of limited items produced in quantities of 50. 'SOTO' features a selection of barn coats, long-sleeved button-down shirts, and raver pants. The fabrics utilized to craft these pieces were exposed to multiple treatments of dyeing, washing, and rinsing to elevate their weather-resistant properties. Subtle patchworking, bleaching, and Ruby's splattered motifs adorn also decorate the items. Finishing the release are limited short- and long-sleeved T-shirts emblazoned with visuals of the artist's signature sculptures.
When: Now
Where: Sterling Ruby Studio & SSENSE