AMBUSH Delivers Arctic Vibes With Ombré Iceberg Print Shirt
Featuring a bold scenic photograph.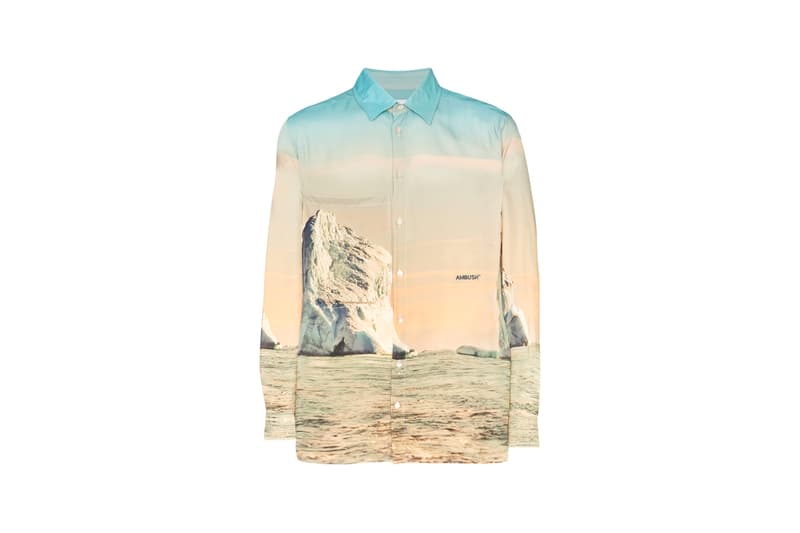 Eclectic button-ups from Prada, LOEWE and HUMAN MADE are all dropping just in time for the end of summer, with no expiration dates necessary for striking shirting. Now, AMBUSH joins in, delivering a graphic shirt ideal for the waning warm weather season.
The Verbal and Yoon-helmed label has turned to the arctic for its take on the printed shirt, emblazoning an iceberg and colorful sunset across the lightweight item, blending the tasteful hues of summer with the foreboding melancholy of melting ice. Offered in a long-sleeved silhouette, the top is crafted entirely of breathable rayon and features a single pocket on the left chest. The iceberg photo completely covers the garment, stretching from front to back to showcase the full glory of a blue and orange-tinged sky, rippling waves and the block of ice. Black "AMBUSH" branding adds a gentle contrast.
AMBUSH's Fall/Winter 2019 Iceberg Print Shirt retails for $688 USD and is available now from Browns' web store.
For more from the brand, check out its Multi-Cord Logo Hoodie, graced with plenty of colorful drawstrings.
AMBUSH Iceberg Print Shirt