Kevin Durant Unveils New Jersey Number With Brooklyn Nets (UPDATE)
After three seasons with the Golden State Warriors.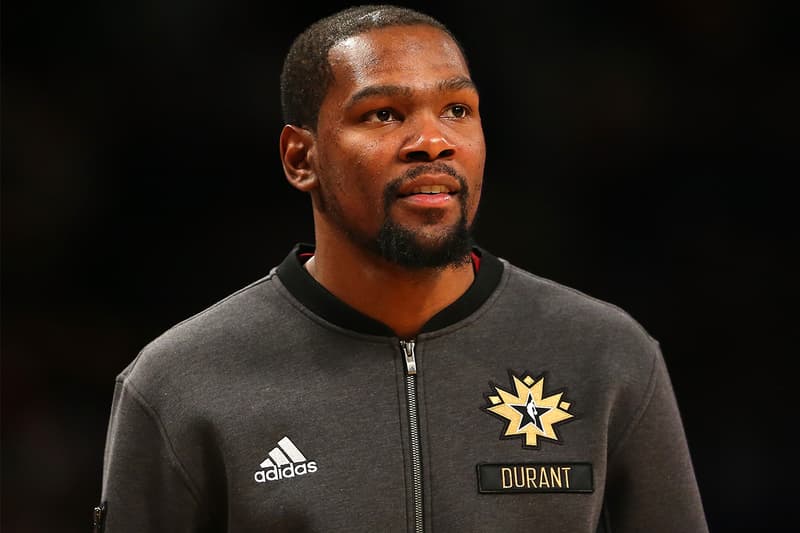 UPDATE: After confirming Kevin Durant's four-year deal with the Brooklyn Nets, the NBA superstar has taken to Twitter to announce that his new Jersey will be marked with the number seven.
The post starts with a string of words paying respect to his tenure with his previous team, stating for example "35 took my family and me from seat pleasant, MD and showed us the world" or "35 allowed me to achieve my dream of playing in the NBA in Seattle." Towards the end, Durant revealed that "…As I start this new chapter in my basketball life, the number that I'll be wearing on my back is the number 7 next time you see me on the floor."
Though the exact reason Durant chose the number is unclear, fans can look forward to seeing Durant repping his new team in the near future.
— Thirty Five Ventures (@35Ventures) July 7, 2019
ORIGINAL: (Jul 1, 2019)Kevin Durant is taking his talents to the East. The NBA superstar is leaving the Golden State Warriors to suit up for the Brooklyn Nets. His camp confirmed the decision via Instagram on the evening of June 30.
According to ESPN Senior NBA Insider Adrian Wojnarowski, Durant has signed a four-year deal with the Nets worth $164 million USD. Kyrie Irving, who was initially rumored to be interested in the Los Angeles Lakers, and DeAndre Jordan are expected to follow suit.
KD spent three seasons with the Golden State Warriors, winning back-to-back titles in 2017 and 2018 as the Finals MVP. After sitting out most of the recent postseason due to a calf injury, he returned for Game 5 against the Toronto Raptors only to incur a ruptured Achilles injury. Plans to return to the court have yet to be announced.
In related news, check out these NBA free agency mixtapes.
Brooklyn is making a clean sweep tonight: Brooklyn will sign Kevin Durant, Kyrie Irving and DeAndre Jordan, league sources tell ESPN.

— Adrian Wojnarowski (@wojespn) June 30, 2019
Sources: Durant will sign a 4-year, $164M deal with the Nets; Irving will sign 4-years, $141M.

— Adrian Wojnarowski (@wojespn) June 30, 2019