Kevin Durant Gives an Update on His Ruptured Achilles Injury
"It's going to be a journey but I'm built for this. I'm a hooper."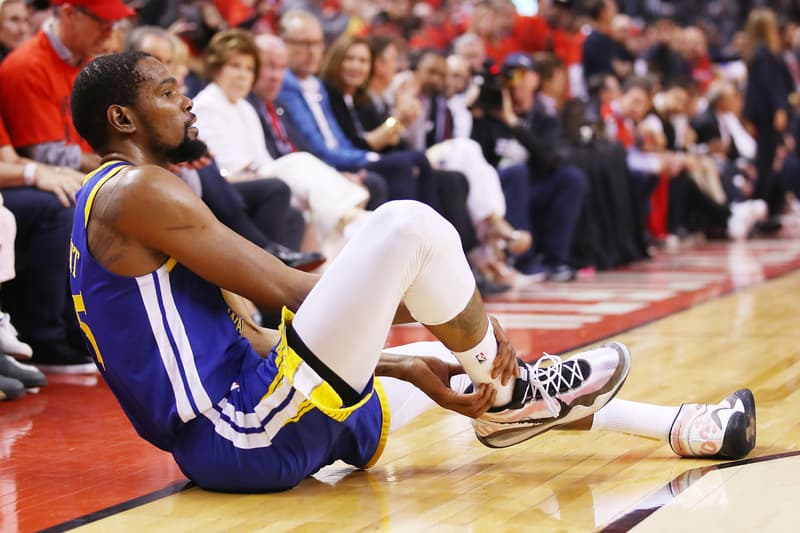 NBA superstar Kevin Durant gave worried fans a quick update on his Achilles injury, publishing a hospital photo and a short letter on Instagram.
The Golden State Warriors SF revealed that while he did indeed rupture his Achilles, his repair surgery was successful and he's once again on the road to recovery. "Like I said Monday, I'm hurting deeply, but I'm OK. Basketball is my biggest love and I wanted to be out there that night because that's what I do. I wanted to help my teammates on our quest for the three-peat," he wrote. "It's just the way things go in this game and I'm proud that I gave it all I physically could, and I'm proud my brothers got the W. It's going to be a journey but I'm built for this. I'm a hooper."
Durant returned for Game 5 of the 2019 NBA Finals on June 11, marking his first game in over a month due to a calf injury he received during the Warriors-Rockets Semifinals bid. He didn't last long on the court, however, and limped off early in the second quarter. Reports of an Achilles injury immediately surfaced and was eventually confirmed by President of Basketball Operations Bob Myers. In a tearful post-game interview, he claimed full responsibility for KD's Game 5 appearance despite getting clearance to practice and play from several medical staff.
With KD's sure absence, June 13's Game 6 will be do-or-die for the Warriors as they look to either tie the series or fall to a historic win by the Toronto Raptors. 
In case you missed it, Durant is one of 2019's highest-paid athletes.