Japan Designed New Emblematic Coins For Next Year's Tokyo Olympics
And they need your help choosing the best one.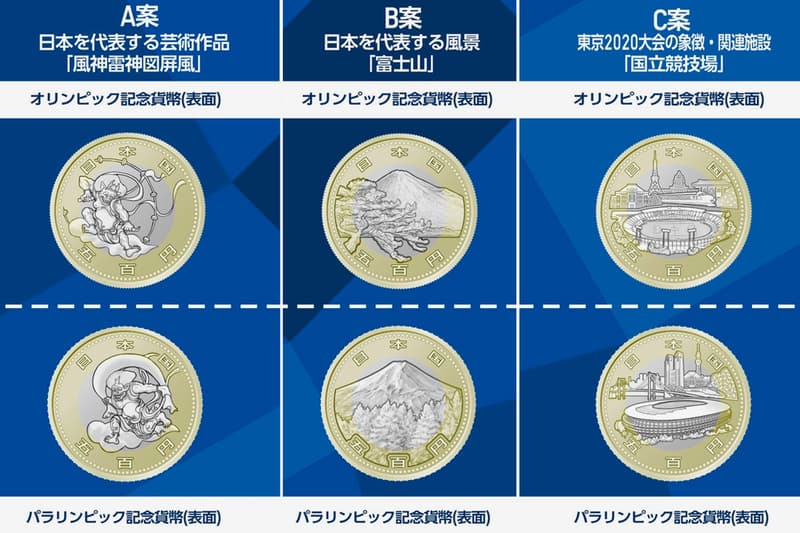 Following its unveiling of a series of new banknotes honoring prominent scientists and artists from the country, Japan's Ministry of Finance has once again embarked on a design spree to come up with new Japanese Yen coins to celebrate next year's Summer Olympics, taking place in Tokyo.
Currently, the Japanese MoF has come up with three separate designs, each featuring two patterns. Design A is a celebration of Japan's spiritual heritage, featuring a Raijin thunder spirit on one side and a Fujin wind spirit on the other. Design B turns to the country's landscape, with the famous Mount Fuji taking the spotlight. Finally, design C focuses more on the Tokyo Olympics, showcasing both the new National Stadium built for the occasion and the old National Stadium which hosted the Olympics back in 1964.
Unfortunately, only one of those designs will be made, and having trouble deciding on which design to go with, the MoF has taken to Twitter, asking the Internet to vote for their favorite design. The design with the most votes will be made, and issuing is scheduled to coincide with the commencement of the Tokyo Olympics in July 2020. If you've got a favorite design from the three, you can head over to the official Twitter post to vote too — but act soon, as the poll closes on June 24.
Elsewhere in design, Medicom Toys has dropped more Planet of the Apes BE@RBRICKs.
【#投票 は6月24日(月)まで】2020年東京オリンピック・パラリンピック競技大会を記念して発行される #五百円 貨幣の図柄を決める投票を実施中!皆さんの投票が #記念貨幣 の図柄を決定します!#東京2020 #Tokyo2020 #オリパラ #風神雷神図屏風 #富士山 #国立競技場

— 財務省 (@MOF_Japan) June 18, 2019