Why Virgil at Vuitton Only Begins to Combat Industry Racism
The hire is not a sign of systematic change.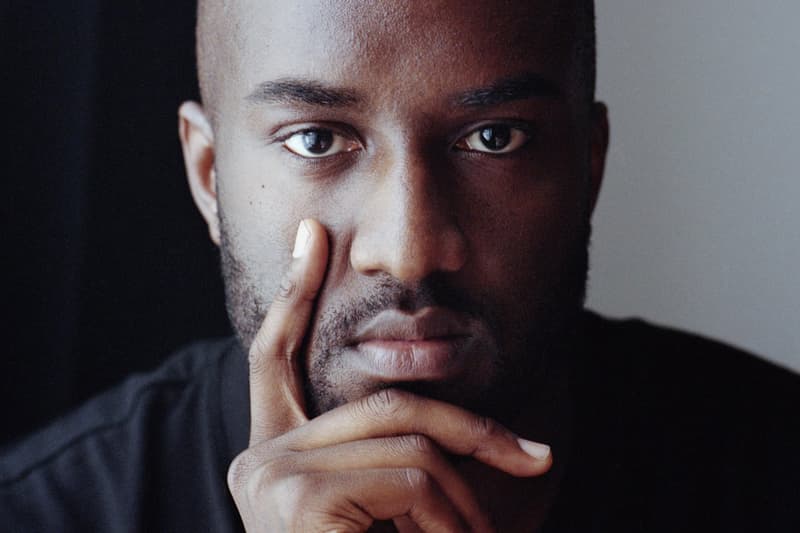 Following the news of Virgil Abloh's appointment to Louis Vuitton, media and fans were quick to highlight the announcement as a step forward for fashion's race relations — some outlets reported the move as "radical" while others considered the positive implications for the industry. Yet, Abloh's crown as the third black designer to ever head a French fashion house is more cause for worry than celebration.
The eager desire to fixate on this hire as a sign of progress — with next to no debate on why representation of black creatives in the industry still remains limited — recalls the first time Barack Obama was elected president. Certain corners of the media responded by describing America as "post-racial," a phrase that was used with increasing irony as events in the country showed it to be anything but. While Abloh's appointment is in no doubt significant, it highlights the industry's long-standing inherent racism.
Fashion's own structure is prey to the systematic racism that dominates society at large, but amplified through the industry's elitist and exclusionary tendencies. "Generally speaking, blackness and some of its attendant vernaculars of representation have been white-washed, then made highly visible in serving to enhance mainstream fashion styles with a "street" or "urban" or "ghetto (fabulous)" avant garde edgy lefty revolutionary ethnic aesthetic," explains Laura Harris, Professor in Africana Studies at Pitzer College.
"Black diasporic people are not invited to be the boss or in artistic control."
Harris sums up fashion's relationship with race as a one-way street that ensures companies are able to pay lip service to diversity while not engaging in it behind the scenes. As tastemakers, fashion executives and creatives have a responsibility to further equality, but have long failed to actively do so. As a result, fashion's utilization of black culture has often resulted in some of the industry's most tone-deaf moves, ranging from Miroslav Duma and Ulyana Sergeenko's slur-ridden notes to H&M's hoodie controversy.
As onlookers have begun to wage a more scrutinous eye, using social media to call out brands in ways not previously possible, the industry has been forced to change. Diversity on the runway has quickly come under fire and brands, casting directors and agencies have begun to adjust accordingly. "The industry has discussed in depth the lack of black faces on the runway," says Joe Casely-Hayford, the head of label Casely-Hayford and former creative director at Gieves and Hawkes. Focusing so heavily on only half of the industry's racial representation has resulted in overlooking behind-the-scenes operations.
Indeed, the improvement of diversity on the runway is more a sign of the industry's reactionary attempts to save face rather than making strides toward proper representation. Improvements to one of the most visible parts of the industry, modeling, reflects fashion's tokenistic approach to race, calling on inspiration while failing to recognize progression. "This heightened visibility commercially almost always results in ignoring the corollary political invisibilities, i.e. black diasporic people are not invited to be the boss or in artistic control," adds Harris. For young creatives of color, their place in the industry is often locked out of the key part of the creative process.
This power dynamic is all too apparent for those working within the industry. "You're totally fine to be on moodboards, perform at the latest Milan shows after party or maybe be in a campaign," says Joshua Kissi, founder of diversity-centered creative agency TONL. "But as far as to ideate and create based on the legacy of a 100 plus year luxury brand, that's where it gets complicated," he adds.
On one hand Abloh's appointment – placing a black designer in a coveted design position at a French legacy fashion house — signals a departure from this way of thinking. On the other hand, the appointment calls into question exactly what level of racial transparency the industry is welcoming, and whether this move is more a sign of acceptance or a commercially-driven play.
"Black designers have only been accepted in very narrow and predetermined roles: street style, sportswear and afro-fetishism are the main, easy to digest categories," adds Casely-Hayford. Louis Vuitton's appointment is not a sign of acceptance for all black designers, but a sign of acceptance for the sector of designers the white-dominated industry has deemed appropriate. Abloh himself played a vital role in bringing these styles into acceptance, as he is largely responsible for catapulting streetwear into luxury fashion.
"Nobody at that level of fashion has to talk about race or politics if they don't want to."
Abloh has the unique ability to tap into the emerging streetwear market that luxury brands are desperate to capitalize on, with the added brand benefit of representing an inclusionary move. In representing streetwear while pushing its boundaries, but not necessarily sending it down the catwalks, Abloh's hire is a best-of-both worlds scenario. While Louis Vuitton has created a landmark moment with this hire, Abloh positioned himself as an easy choice: commercially viable and generally uncontroversial.
"Before our interview, I'm told Abloh will not talk about race or politics," reveals Morwenna Ferrier in The Guardian. "It seems an odd thing to censor," she adds. HYPEBEAST too has come across this first hand in a 2016 interview, asking the designer if he experienced a different kind of pressure as a black designer and having kids look up to him. "The only pressure is myself. That's how I would answer that," he said and did not respond when asked to elaborate.
"Nobody at that level of fashion has to talk about race or politics if they don't want to, and I don't think Virgil Abloh is any different in that regard," fashion writer Melvin Backman tells HYPEBEAST. Expecting Abloh to yield a politically or socially charged agenda without imposing the same expectations on all other designers is in itself a double-standard that lets white designers slide by the wayside.
"If all the white designers who don't speak on race and politics want to take his appointment (and the world's current political state) as an opportunity to start doing so, that'd be delightful," adds Blackmon. In fact, society best positions white designers, not minorities, to discuss diversity: a study by the Harvard Business Review reports that women and minorities are penalized for speaking out to promote diversity in the workplace. Abloh's reluctance to speak about race was likely a key factor in making him an appealing choice and in turn, openly speaking about race and politics could've hurt his chances.
Ozwald Boateng, one of only two other black designers to hold such a position, took a similar approach to Abloh when it came to discussing race and politics. "I didn't want the image of myself to get in front of me as a creator," said Boateng in a BBC HardTalk interview on why his race was irrelevant to his success.
That two of the three black designers to hold a French luxury design position stray away from openly discussing social issues is more an indication of the racism that fills the industry than reason to question the designers' morale. Abloh's biggest contribution toward furthering racial equality is being tactful enough to navigate a white-dominated industry in a white-dominated society and break barriers landing this position.
"The industry must move towards fully embracing and supporting talent, without bias."
There's no denying Abloh is a unique talent, just as there is no denying the path he took to stardom would be incredibly difficult to emulate for other black designers, especially those who aren't able to access the inside world of celebrity friendships. "He's worked really hard to get where he is, but Kanye West took him to intern at Fendi," adds Blackmon. "That's not going to happen for most people." 
The fact that Abloh's path appears attainable is part of what bolstered his success — but Abloh is an exception not the norm. The greatest potential of this appointment is to actually drive open opportunities for young creatives of color, so that Abloh is no longer an exception. While Abloh has played a fundamental role in these advancements, the industry needs to abandon its history of entrenched practices and adopt proper representation full-throttle.
"The industry must move towards fully embracing and supporting talent, without bias. Without inclusion, collectively, especially from the behind the scenes, a glass ceiling will remain for independent entrepreneurs and designers who are black," says designer Victor Glemaud, recently named a finalist in the CFDA/Vogue Fashion Fund.
Breaking this glass ceiling requires a great deal of internal reckoning for companies and, even if they are willing to do so, won't result in immediate change. Taking Abloh's positioning as an opportunity to work toward racial equality means moving further than initial hype and surface-level excitement. "Fashion, much like Hollywood, is insular and slow moving. Fashion brands must not only adapt but be forward thinking leaders or they will become passé," adds Glemaud.
While Abloh's appointment is cause for celebration, it is not a sign of systematic change. Stamping this as a landmark moment for racial equality, without amplifying the conversation that scrutinizes the industry, is short-sighted. Abloh's appointment should not allow for a break from the industry's path toward inclusivity, but act as a catalyst toward equality. The true breakthrough comes when appointments such as this are the norm rather than cause for celebration and when we can no longer count the number of black creative directors at luxury houses on one hand.
This article was originally posted on April 5, 2018.