POLLS: What's the Best Supreme x Nike Collab Piece Ever?
Take a trip down memory lane before making your choice.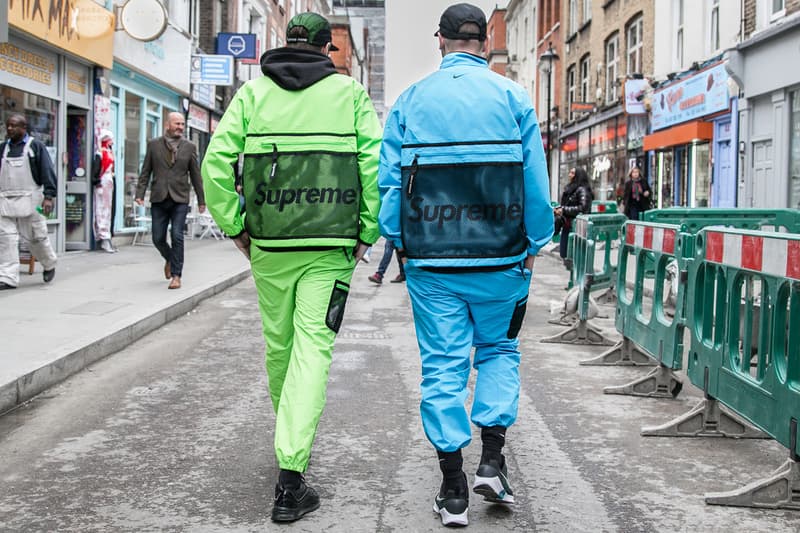 Supreme and Nike have been collaborating over a decade, with the first collab with Nike that wasn't part of the SB range coming in 2007. Since then the brands have worked in perfect tandem, creating pieces that are easily some of the most popular in Supreme's back catalogue.
So, to celebrate the latest Fall/Winter 2019 drop, HYPEBEAST decided to hold a poll to see what items is your favorite. As today is strictly a Supreme x Nike collab, there's no SB models in this selection, so stroll through the selection below and make your choice in the poll below.
Supreme x Nike Fall/Winter 2019 Jumper
A relatively simple piece, this jumper is notable for the oversized swoosh, which rarely comes in jumper form. It's one of the newer pieces but that doesn't mean it can't be your favorite.
Supreme x Nike Fall/Winter 2019 Nylon Hooded Sport Jacket
While it's not quite jacket weather at the moment, that doesn't mean that this '80s-inspired piece won't have piqued your interest. The block colors and, crucially, the clearly visible combination of the Nike and Supreme logos mean that it's sure to be a sell out.
Supreme x Nike Fall/Winter 2019 Nylon Trackpants
If trackpants are more of your thing we've also included the bottom half of this tracksuit as a separate entity.
Supreme x Nike Fall/Winter 2019 Block Colored Tracksuit
Also from the Fall/Winter 2019 collection is this block colored tracksuit, which is better designed for wearing as a full tracksuit than the nylon version.
Supreme x Nike Fall/Winter 2018 Chore Jacket
Chore Jackets are a streetwear staple, so it was no surprise to see one as part of Supreme and Nike's Fall/Winter 2018 collection. The combination of oversized swoosh and undersized Supreme logo is sure to capture the interest of those who like their logos visible.
Supreme x Nike Fall/Winter 2018 Dungarees
The dungarees are from the same family of clothing as the chore jacket, with roots in workwear that's since been adopted by streetwear. This one came in a host of eye-catching colors, making it a step above the dungarees you'd find elsewhere.
Supreme x Nike Fall/Winter 2018 Reversible Vest
This lined vest had the added benefit of being fully reversible, meaning that those who didn't want their brand affiliation displayed could hide it subtly.
Supreme x Nike Fall/Winter 2018 Polo Shirt
The all-over swoosh print pattern is the standout here, moving away from the general workwear influences of the collection. While it's typical to focus on the big outerwear pieces, this might've been one of the stronger pieces from the range.
Supreme x Nike Fall/Winter 2018 Tracksuit
A pared-back addition to the collection, this tracksuit was available in burgundy, black, navy and yellow. This one split the brand name locations, with Nike on the chest and Supreme on the arms.
Supreme x Nike Air Tailwind IV
Supreme's focus on the '90s continued with the release of the Air Tailwind IV. The standout detailing from this was the bouclé panels, with the Supreme branding taking place of prominence on the tongue and heel.
Supreme x Nike Air Streak Spectrum Plus
The Air Streak Spectrum Plus collab incorporated a flame design throughout while also simultaneously keeping Supreme branding relatively subtle, making it both loud and quiet.
Supreme x Nike x NBA Air Force 1
Joining forces with the NBA was an unexpected move for Supreme, having often found itself at odds with the organization in one way or another — as J.R. Smith will tell you. This AF1 was loud, brash and certainly not for everyone, but if you were a fan it's likely you're still wearing these today.
Supreme x Nike Air Humara
This collab saw Supreme move into the world of trail running with the Air Humara. The design was deemed a little overly forward at the time, but we've seen countless trail styles since that have cast this shoe in a better light.
Supreme x Nike Trail Running Jacket
To coincide with the launch of the Air Humara, Supreme also released a trail running-influenced jacket. The bold colors matched the shoes, even managing to outshine them at the time of release as a desired piece.
Supreme x Nike Air Max 98
One of Supreme's most popular collabs, this shoe single-handedly helped popularize the Air Max 98, a shoe that had all but disappeared prior to this release. As you'd expect, the shoe is still highly sought after to this day.
Supreme x Nike Air More Uptempo
The Air More Uptempo is another shoe Supreme helped introduce to a newer audience who perhaps weren't aware of its popularity during its '90s heyday. Despite the chunky old-school silhouette that's difficult to wear with today's clothing, it became a favorite nonetheless.
Supreme x Nike Air Force 1 (2014)
The second of Supreme's reworkings of the Air Force 1, this one came in a red colorway. The detailing was bold on this version, with Supreme in block lettering on the heel, 94 on the tab and "World Famous" on the straps.
Supreme x Nike Air Foamposite 1
The Foamposite is one of Nike's most forward-thinking designs and manages to always look like the future despite its original release date. Supreme's reworking of it saw it use golf leaf designs on the outer panels, making it a shoe that is still extremely desirable to this day on the resale market.
Supreme x Nike Flyknit Lunar 1
It's easy to forget now but at one point FlyKnit was a revolutionary invention. Supreme made the most of it in its Lunar 1 release, using overt branding to make it stand out from the general release versions.
Supreme x Nike Air Force 1 (2012)
The first time Supreme took on the Air Force 1 was back in 2012. This time they opted not to mess around with it too much, with the main detail being the gum sole detailing.
Supreme x Nike x fragment design All Court Low
The first purely Nike shoe collab, Supreme joined forces with fragment design for this iteration of the Tennis model, All Court Low. The subdued shoe was given a loud makeover with Supreme and fragment designs logos used as an all-over print.
Poll
What's the Best Supreme x Nike Collab Piece?
Supreme x Nike Fall/Winter 2018 Chore Jacket
Supreme x Nike x NBA Air Force 1
Supreme x Nike Air Foamposite 1
Supreme x Nike Fall/Winter 2019 Nylon Trackpants
Supreme x Nike Air Streak Spectrum Plus
Supreme x Nike Air Force 1 (2012)
Supreme x Nike Flyknit Lunar 1
Supreme x Nike Air Force 1 (2014)
Supreme x Nike Air More Uptempo
Supreme x Nike Air Max 98
Supreme x Nike Air Humara
Supreme x Nike Fall/Winter 2018 Tracksuit
Supreme x Nike Air Tailwind IV
Supreme x Nike Fall/Winter 2018 Polo Shirt
Supreme x Nike Fall/Winter 2018 Reversible Vest
Supreme x Nike Fall/Winter 2018 Dungarees
Supreme x Nike Fall/Winter 2019 Block Colored Tracksuit
Supreme x Nike Fall/Winter 2019 Nylon Hooded Sport Jacket
Supreme x Nike Fall/Winter 2019 Jumper
Supreme x Nike x fragment design All Court Low