8 Drops You Don't Want to Miss This Week
Featuring Supreme, BAPE, Off-White™, Tom Sachs, NEEDLES and more.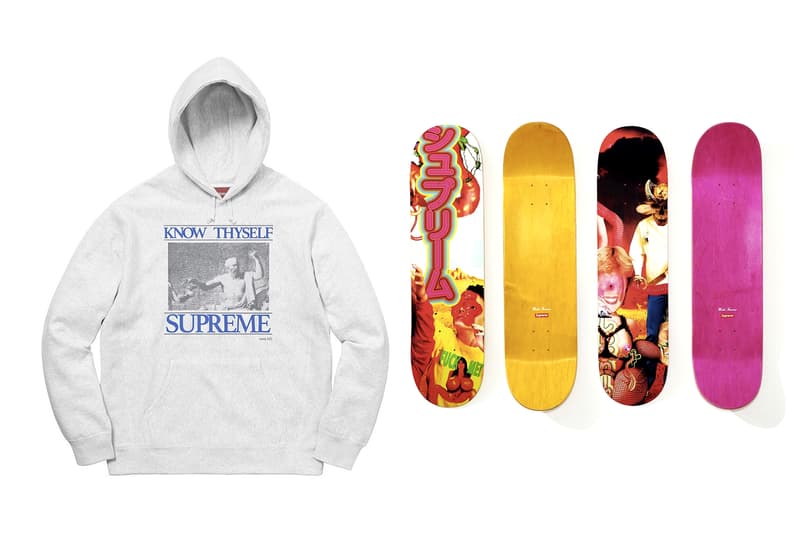 This week's installment of our product drops series is marked by Supreme's latest collaboration with Japanese artist Sekintani La Norihiro. Dipping into the art realm once again, the expansive collection is centered around Norihiro's signature collages of distorted elements of the human body. Accompanying Supreme's Week 10 drop, this week we have an impressive array of powerhouse team-ups, limited drops and collection releases that make up a selection of must-have street staples.
Standout team-ups include the re-release of BAPE's collaboration with Marvel to celebrate the premiere of Avengers: Endgame, NEEDLES' mesh reworked tracksuits created exclusively for BEAMS Harajuku, Off-White™'s carrying options and wallets for Isetan Shinjuku and a lifestyle leaning project from Monocle and Hender Scheme. Gimme5 also returned to celebrate musicians of the '80s with its "All Night Long" capsule, Tom Sachs gave his Shop Chair a grey makeover and Bstroy delivered its experimental Spring/Summer 2019 collection.
Key items this week include Supreme's Sekintani La Norihiro skate decks, Off-White™'s Isetan Shinjuku exclusive tote bags, the Monocle x Hender Scheme Atelier Slippers and Tom Sachs Shop Chair in "Grey Maple & Pine Wood."
BEAMS Harajuku x NEEDLES Spring/Summer 2019 Mesh Tracksuits
Continuing to deliver more collaborative tracksuits, NEEDLES recently teamed up with BEAMS to give the sport-luxe option a lightweight, breathable mesh makeover.
The team up is comprised of a duo of tracksuits that utilize NEEDLES popular black and purple color palette, one uses black as the base and purple for the accents, and vice versa. The tracksuits also come complete with the prominent classic embroidered butterfly logo. Straying away from the already used smooth polyester and velvet, the mesh construction serves a perfect option for the upcoming humid Summer weather.
When: Now
Where: BEAMS
Gimme 5 "All Night Long" Capsule Collection
London-based label Gimme 5 has returned with its latest SS19 release, dubbed "All Night Long."
Referencing the 1980s — which was when the company was founded — the T-shirt capsule is centered around graphics depicting the decade's famed musicians such as Luther Vandross and Lionel Richie. Additionally, the collection also draws from the geometric designs of the early 20th century Bauhaus movement of the '80s. Notable offerings include Luther Vandross "Never Too Much" T-shirt featuring the album art from his Give Me the Reason album and a Bauhaus-referencing T-shirt, which sees block colored circles and triangles alongside thin Bauhaus-inspired font branding.
When: Now
Where: Gimme 5
Off-White™ for Isetan Shinjuku Bags & Wallets
Off-White™ and Isetan Shinjuku have come together once again on a new selection of exclusive bags and wallets. Familiar-looking totes, handbags and wallets have been reimagined with a new array of bright colors and graphics to an extra touch of flair
The "Commercial Tote," offered in two sizes, feature sturdy fiber shells offering a deep body for maximum storage and alternating green and white-striped industrial straps for easy carrying. Contrasting "X" branding accents yellow and black bags, with all sizes featuring long straps for heightened functionality. The shoulder bags and wallets, come in monochrome tones accented by metal "X" accents on the handbags. The leather accessories also come decorated with contrast illustrations, ranging from doodles of eagles to smiling cloud faces and subtle "Off-White™ branding sketched inside the patterns.
When: Now
Where: Isetan Shinjuku
Tom Sachs Shop Chair in "Grey Maple & Pine Wood"
Tom Sachs recently his functional art piece Shop Chair a grey paint job. Identical to the last release, each chair comes hand-engraved and marked with a sequentially-numbered edition plate.
An expression of Sachs' industrial aesthetic, the Shop Chair in its new grey colorway comes fully-assembled and features a maple and pine plywood seat finished with water-based lacquer for a matte finish. Expanding circles bored through each of the perpendicular legs and a single hole located at the top slat serves as the main design elements of the chair.
When: Now
Where: store.tomsachs.org
Bstroy Spring/Summer 2019 Collection
After celebrating its fifth anniversary with a special "Boys Don't Cry" capsule, Bstroy recently dropped its SS19 collection.
Building on the label's experimental edge, the range is lead by graphical styles and casual wear with an unconventional touch. Standout items include the double-edge jeans, double-head hoodie and the "Backpack Parka," offered in navy and red. More street leaning options come in the form of sweatshirts emblazoned with "(b).S. Air Force" patches and T-shirts which have been printed with evocative illustrations.
When: Now
Where: Bstroy
Monocle x Hender Scheme Slippers & Card Case
Hender Scheme has joined forces with Monocle for a set of exclusive leather items. The limited selection comes handmade and constructed of vegetable-tanned leather sporting a dye in line with Monocle's preferred green tones.
Shades of green inform the suede and grain leather panels inside the card case with gold leaf branding for a sophisticated touch. While the matching Atelier Slippers feature an olive flexible suede forefoot strap stitched on to a thin black leather sole marked with embossed co-branding.
When: May 3
Where: Monocle
Supreme Spring/Summer 2019 Collection Drop 10
For Week 10 of SS19 releases, Supreme teamed up with Sekintani La Norihiro for an expansive collection centered around the Japanese artist's signature collages. The vibrantly provocative assemblages comprised of distorted elements of the human body are applied on a range comprised of a coaches jacket, work shirt, long-sleeve top, short-sleeve top, skate pant, three T-shirts and skate decks. Sure to be highly coveted items include the all-over print coach jacket, skate pant and duo of skate decks that can be displayed as street leaning art pieces.
The accompanying SS19 Drop 10 is led by the water-resistant Highland Jacket, twill applique Pinstripe Varsity Jacket, Know Thyself Hooded Sweatshirt and simple Nylon Trail Pants. This week's drop will not feature a boldly branded accessory.
When: April 25
Where: Supreme Online & Retail Stores in NY, Brooklyn, London, France & Japan
Marvel Comics x BAPE Collaboration Spring/Summer 2019 Re-Release
Following an initial release, BAPE is gearing up for a re-release of its  Spring/Summer 2019 collaboration with Marvel Comics to celebrate the release of Avengers: Endgame.
The special range is comprised of graphic T-shirts featuring old school superhero illustrations (Golden Age and Silver Age designs), alongside a matching Ape Head printed with camo and Marvel Comics' logos. Rounding up the release is a selection of accessories which includes stickers, a key chain and an Ape Head-shaped clock.
When: May 4
Where: BAPE