Serena Williams Wears Special Virgil-Designed Nike Apparel in First Round Win
"mother, champion, queen and goddess."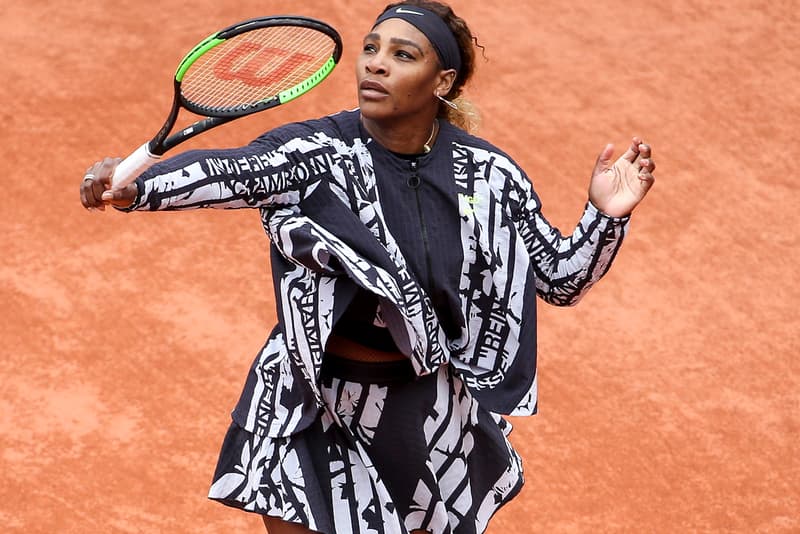 Last week, Virgil Abloh took to Instagram to show a specially made blue pair of the Off-White™ x Nike Air Force 1 inscribing "For Serena Only" over the midsole. Virgil's designs were spotted once again, this time on the tennis courts during the French Open worn by none other than Williams.
Williams' Virgil-designed apparel made just as many headlines as her win over Russia's Vitalia Diatchenko from first-round. She walked on to the court dressed in a monochromatic Nike sports-top and skirt. The words "mother, champion, queen and goddess" were printed amongst vivid patterns.
Williams seemed to have been struggling at the start of the match. She made 14 unforced errors and ended the first set with a score of 2-6, while catching up shortly after the break going 6-1 in the second. The third set capped Diatchenko with no quarter as Williams found footing and finished the match with an astounding 6-0.
So far, it seems Serena's outfit hasn't stirred as much controversy as the catsuit she wore last year, which was actually meant to help prevent the blood clots that she was dealing with since giving birth to her daughter. And while the tennis star seems fine now without the tights, it seems she's being cautious of her left knee. During her match with Diatchenko, Williams appeared to be reaching for shots more than her usual thumping that we would normally see, which may have played some part in her slow start.
The next match sees Williams facing Dalila Jakupovic-Kurumi Nara.
In other related news, Paris Saint-Germain is expected to wear Jordan Brand kits for away games next season.