A Round-Up of the Best April Fools' Day Pranks From 2019 So Far
A hidden copy of "Yandhi, 'Pornhub's Baterade and more make the list.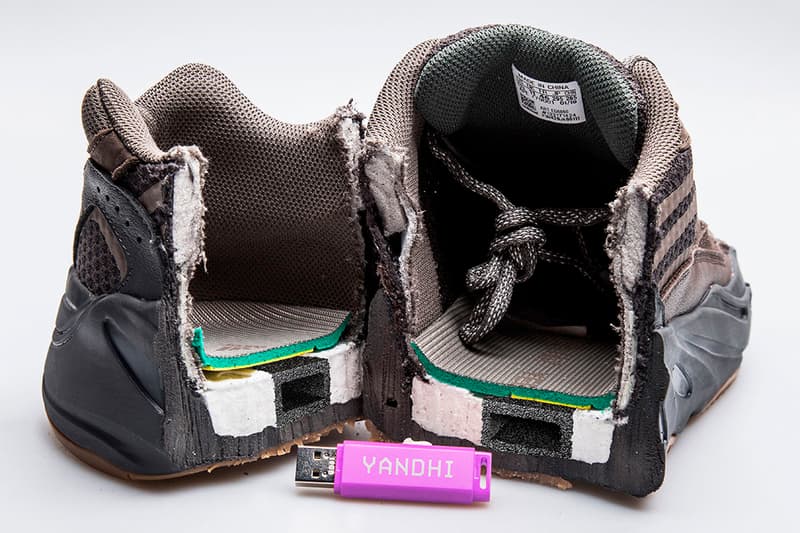 This year's April Fools' Day has landed, meaning for the next 24 hours the Internet will be saturated with fake news and products that interested buyers will never be able to figure out how to purchase.
Media pranks for 2019 included almost convincing gadgets and devices from Sony PlayStation and Google along with health, food and beauty products from Pornhub, McDonald's and our sister site HYPEBAE.
To sum it up, we've rounded the best April Fools' Day pranks of 2019. Peep the list below and let us know which ones fooled you in the comment section.
Kanye's Yandhi Album Hidden in adidas YEEZY Boost 700 V2 "Geode"
Thanks to an in-depth report from Sneaker Freaker some dedicated fans may have just cut open their pair of "Geode" adidas YEEZY Boost 700 V2s hoping that a copy of Kanye's pending ninth studio album Yandhi would be hidden inside. The report went on to state a 15-year-old found a copy of the album via a USB hidden away in the shoe and only 50 pairs, which were sold at West's Lemonade stand, were selected to house the highly-anticipated project which was originally set for a September 29 release.
Google Tulip
From the tech company that brought us Google Assistant, Daydream VR and Google Glasses, it wouldn't be too much a stretch should the Google Tulip actually be a real device. Allowing plant lovers to communicate with their tulips, Google Tulip was created to bridge the gap between humans and flowers allowing for easy understanding of both species' wants and needs. With a high-production video to go along with the prank, the Google Tulip just may be plausible with the constant advancements surrounding Artificial Intelligence. Along with the Google Home add-on, Google dropped the classic game Snake into Google Maps.
Shutterstock's Physical Library
Days of surfing the Internet for the perfect stock image will soon come to an end thanks to Shutterstock and its plan to open up a library. Moving towards a good old fashioned brick-and-mortar spot, the library will carry 250 million volumes of watermarked images and 27 tons of film reels that Shutterstock and all services from the web will cease. "Librarians will be replaced by first of-their-kind AI-powered robots, Cyanotypes, who will quickly search the extensive card catalog to help direct patrons to the image, video or music track of their choice," says Shutterstock.
Baterade by Pornhub
Pornhub may have just won April Fools' again with its very probable energy drink dubbed "Baterade." And the purpose of this new isotonic beverage? To make sure to both men and women from all over the world recover all their fluids…all of them. Filled with "clinically proven" ingredients, Baterade will help drinkers refill all the energy needed to go at it once again. Along with the introduction of this isotonic beverage, a one-minute advert filled with signing was also released filled with catchy lyrics about going for the next round and teaching the world to love which plays on Coca-Cola's iconic "I'd like to buy the world a Coke" ad from 1971. And for all you Mad Men lovers out there, the same visuals that appeared in the series finale. Baterade comes in three tropical flavors of Papaya Squirt, Banana Blast and Nutty Explosion.
HYPEBAE Invisible Makeup
The majority of makeup users want to create a look as if they aren't wearing any makeup at all. HYPEBAE has decided to tap into that need with its new line of invisible makeup for "those no-makeup lovers" out there. The first product of the line is the Hyperreal multi-stick in shades of "Unfiltered," "Seeing Clearly" and "Low Maintenance" which serves as a highlighter, eyeshadow and lip color. Head over to HYPEBAE Beauty's IG account for updates on this unprecedented line.
McDonald's Milkshake Dips
FINALLY! ? pic.twitter.com/v89REJTLXi

— McDonald's UK (@McDonaldsUK) March 31, 2019

There are people out there that enjoy dipping their French fries into ice cream, giving their taste buds a perfect sweet yet salty adventure. To bank in on the deep desires of the public, McDonald's "released" limited edition milkshake dips coming in the flavors of strawberry, banana, chocolate and vanilla to every customer who purchased the edible golden delights. To add to the belief that these dips could actually be real, McDonald's stated the move came from multiple demands in 2016 asking for the milkshake dip option to become a reality.
Tinder's Height Verification
Introducing the thing you never asked for, but definitely always wanted—Tinder Height Verification. Coming soon.
Read more about it here: https://t.co/8MER0L1U6W pic.twitter.com/hZ507zSoic

— Tinder (@Tinder) March 29, 2019

Tinder has now found a way to combat men lying about their height on the dating app with its new height verification feature that is "coming soon." The new feature asks men to take a picture of themselves in front of any commercial building so that Tinder's algorithm will be able to calculate how truly tall they are. Users that pass will get a Height Verification Badge on their profile, letting interested suitors know they aren't being height-fished.
Sony PlayStation Keyrings
For those that love to game on the go, Sony PlayStation tapped into that desire by creating life-sized keyrings of the consoles. Along with the news, a mock trailer was released showcasing the keyrings in action. These "Limited Collectors' Edition Merchandise" are set to drop very soon, although most fans may be waiting forever for their arrivals. What makes this prank even slightly believable is the fact that PlayStation celebrates its 25th anniversary this year.