"That's Why Good Doesn't Prevail" -- Virgil Abloh Addresses Claims of Plagiarism
Abloh also explains his love of Michael Jackson.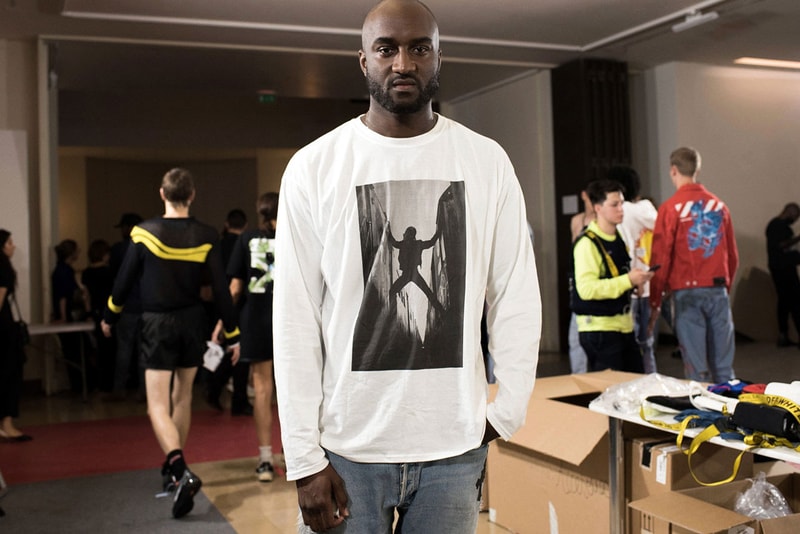 In a comprehensive The New Yorker cover story, Virgil Abloh opens up about a wide variety of topics, touching on his landmark appointment to Louis Vuitton and his time as an architect in Chicago. In perhaps the most candid section of the feature, Abloh addresses the claims of plagiarism often tossed his way.
When asked about Diet Prada, perhaps the most frequent Abloh critic, Abloh initially praised the fashion watchdog: "All props to them, that's a great concept." However, the Off-White™ founder pointed out his problems with the frequent accusations that fly around social media. Abloh specifically took issue with a Diet Prada post from mid-January, in which the Instagram account juxtaposed a look from Off-White™'s Fall/Winter 2019 collection with an outfit designed by indie label COLRS.
"Basically the use of a yellow fabric with a pattern on it [was the entire claim]," he said. "Ring the alarm!" He sighed. "I could go on for a whole hour about the human condition and the magnet that is negativity. That's why the world is actually like it is. That's why good doesn't prevail, because there's more negative energy. You can create more connective tissue around the idea that this is plagiarized. It's better just to sit and point your finger. That's what social media can be. All that space to comment breeds a tendency to fester, versus actually making something."
When asked about other designs that spurred claims of imitation, Abloh jokingly replied, "Duchamp is my lawyer," referencing famed Dadaist artist Marcel Duchamp. The French-born artist frequently challenged the conventions of what defines art, most famously by placing repurposed "readymades" in art galleries. The best-known readymade is almost certainly Fountain, a urinal that sports a handwritten "R. Mutt 1917" notation.
To elucidate his point, Abloh compares streetwear to Duchamp, explaining that his designs are "like hip-hop. It's sampling. I take James Brown, I chop it up, I make a new song. … It's streetwear 10.0—the logic that you can reference an object or reference a brand or reference something. It's Warhol—Marilyn Monroe or Campbell's soup cans." In essence, Abloh posits that he's recontextualizing familiar ideas, taking something old and making it new again via playful references and conscious subversion.
Later, the feature touches on a different kind of controversy when Michael Jackson comes up in discussion. The King of Pop's white-gloved-fingerprints were all over Abloh's Fall/Winter 2019 presentation for Louis Vuitton — prints of the singer appeared on several garments and some outfits were styled in homage to Jackson's on-stage style. Furthermore, The Wiz, a Jackson-starring retelling of The Wizard of Oz, inspired Abloh's LV debut.
An avowed Jackson fan, Abloh told the New York Times that the singer was "the most important person in innovating men's wear ever." Abloh frequently works to Jackson's music, deriving inspiration from the artist's sweeping discography. "When I have Michael Jackson singing in the background," he said, "it's a different type of shirt, it's a different kind of boot, it's a different fit of pants."
At the time of the New Yorker interview, Abloh hadn't seen or even heard much about the recent Leaving Neverland documentary, which alleges that Jackson sexual abused two minors. The film has since inspired swift backlash from social media and celebrities like Drake. When asked about Leaving Neverland, Abloh affirmed that he'd rather consider "the Michael that I thought was universally accepted, the good side, his humanitarian self." The questions probe no further.
Read the entire, expansive Virgil Abloh feature on The New Yorker's site.
Recently, a variety of the creative director's fans and friends shared their favorite Abloh anecdotes.