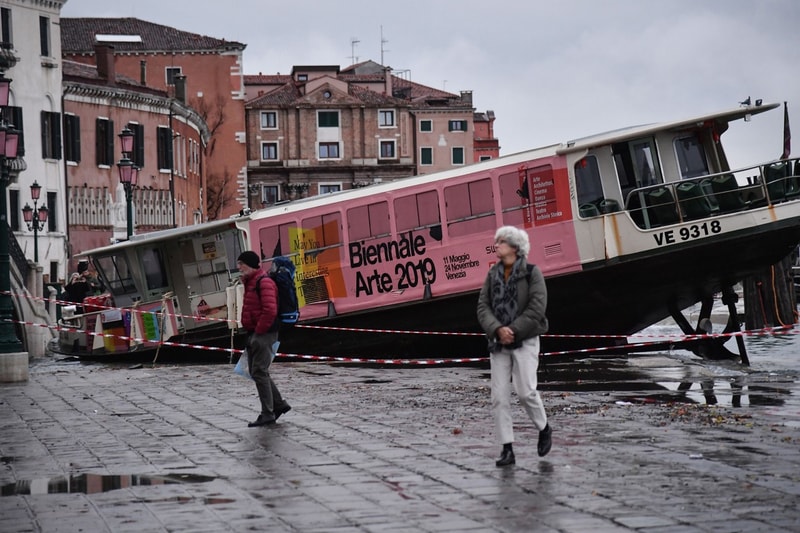 Venice Biennale Shuts Down in Wake of Record-Smashing Floods
Venice's mayor has called for a state of emergency due to the highest flooding in half a century.
---
As severe flooding hits Venice, one of the world's premiere art exhibitions has come to a halt. Luigi Brugnaro, the Mayor of Venice, postponed The Venice Biennale and called for a state of emergency as Venice faces its worst flooding in over 50 years. A mix of rainstorms and an exceptionally high tide have left town squares, alleyways and even Venice's historic basilica partially submerged.
"This situation is dramatic," Luigi Brugnaro, the Mayor of Venice, wrote on Twitter. "We ask the government to help us. The cost will be high. This is the result of climate change." Saint Mark's Basilica, one of the best-known examples of Italo-Byzantine architecture, has flooded fo the sixth time in 1,200 years and the fourth in two decades. Archbishop Francesco Moraglia warns that ancient mosaics and tiling have been badly degraded due to water damage. "I've seen things in San Marco I thought I'd never see," Brugnaro told Italy's Radio24 station. "It is a very difficult situation."
Back in 2017, artist Lorenzo Quinn erected a sculpture of two hands arising from the city's famous Grand Canal to bring a "new focus of attention to a global calamity that we are faced with." The artwork served as a visual reminder of the rising sea levels caused by climate change, as the hands represented either a support system or source of destruction. As Venice battles "acqua alta," an exceptionally high tide, Quinn's sculpture appears to indicate the latter.
Elsewhere, New York cited safety concerns in justifying its decision to move Wall Street's iconic 'Charging Bull' sculpture.