Pleasures Teases Converse Pro Leather Collab
Offering a striking graphic print and plenty of bold embellishments.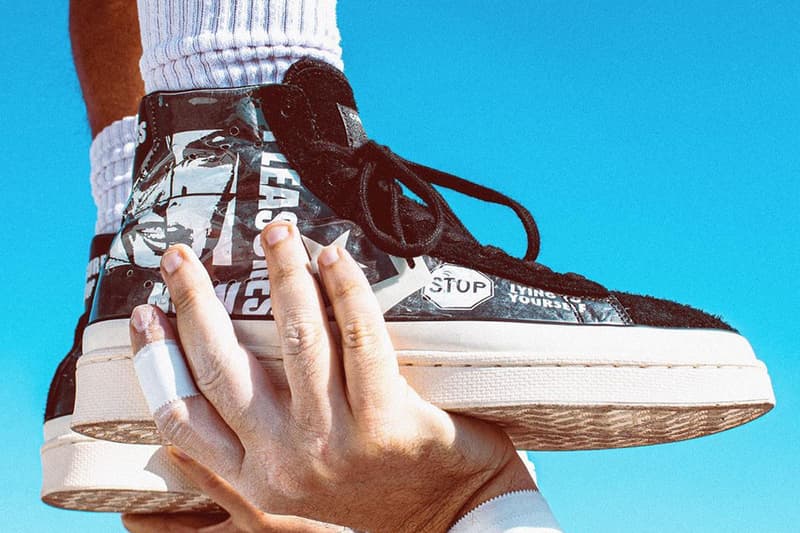 After its full FW19 "Information Overload" collection debuted in August, Los Angeles-based Pleasures is keeping the ball rolling with a brand new collaborative take on the Converse Pro Leather.
Known for its striking branding and subversive references, Pleasures has dressed the classic Converse basketball shoe, one that was once worn by the likes of Julius "Dr. J" Erving, in a style quite unlike anything that's been seen before. Although the shoe is dubbed the Pro Leather, its high-cut upper is constructed of a shaggy black suede and crinkled synthetic material. This unique base is embellished with a bold graphic print featuring everything from a roach-infested ice cream cone to a four-panel face graphic and a "Stop Lying To Yourself" hit. The striking smorgasbord of styles is completely encased in a clear outer layer. All of these accents are brought together by a timeless Converse Star Chevron logo on the midfoot and a rubberized Pleasures Now stamp on the heel.
Normally the upper would immediately give way to the midsole, but there's an intermittent bumper here as Converse Chuck Taylor-style foxing wraps around the entirety of the foot to provide a platform-like aesthetic. Finally, an egret-colored outsole with a red stamp wraps things up.
Neither Converse nor Pleasures have announced a release date for their new project, but it's likely that these punk rock-esque shoes will hit pleasuresnow.com and converse.com before the end of October.
While you await this unique creation's arrival, be sure to check out our interview with Ibn Jasper, where he discusses his Pro Leather partnership.
Pleasures x Converse Pro Leather