Kanye West Will Head to Trial Against Japanese Fabric Company Suing YEEZY for $600,000 USD (UPDATE)
The legal battle will be carried over into 2020.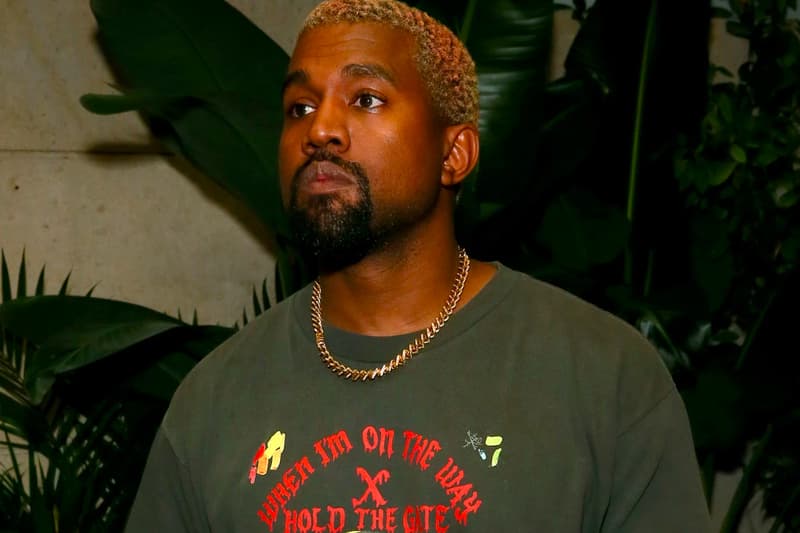 UPDATE (September 19, 2019): In a turn of events, Kanye West will be returning to court next year after being accused of breeching a contract with Japanese fabric company Toki Sen-I Co. that stated YEEZY had ordered 53,000 yards of fleece fabric for shoes. West cancelled the order after Toki Sen-I Co. had already received the fabric shipment, so the company is now dealing with a huge monetary loss and a lack of storage space resulting from excess inventory.
According to new court documents, a hearing was recently held where the judge decided against dismissing claims against West and YEEZY, despite the courtroom previously favoring West's side of the argument.
According to Yahoo Entertainment, Toki Sen-I Co. claimed that West told the company he will not be paying the $624,051 USD he owes for the unused fleece fabric. The fabric company also states that it has offered West various payment plans that have received no interest from the celebrity. On the other side of the argument, West insists the company never delivered the product "as promised," so he refuses to pay the company for its work or for fabric storage fees.
West is demanding the case be thrown out of court, stating that, "Plaintiff (Toki Sen-I Co.) never delivered the allegedly contracted- for product, and Yeezy Apparel allegedly did not pay the full price for that undelivered product. Despite being a basic business dispute between companies, Plaintiff needlessly inflates this case into a 4-count complaint under both tort and contract theories, baselessly including the celebrity member of Yeezy Apparel (referring to himself)."
Regardless, the case will officially go to trial on May 11, 2020, with an expected duration time of four to five days.
UPDATE: The Fashion Law reports that lawyers for Kanye West have responded to Toki Sen-I's complaints against the YEEZY brand. The rapper's legal team is taking a stand against the Japanese fabric supplier's initial claims that YEEZY failed to follow through on a $600,000 USD contract and is "a mere shell and sham without capital, assets, membership interests, or members other than Kanye … intended, conceived, and used by Kanye as a device to avoid individual liability."
Toki Sen-I Co.'s initial lawsuit stated that the YEEZY contract had been created "in reliance on representations" that YEEZY would buy 53,000 yards of "fleece fabric to be used to [make] YEEZY shoes." The company asserted that it trusted YEEZY to follow through on the contract because West's brand is "a very well-known brand, run by a found celebrity, and that shows several millions of dollars in revenue." Instead, Toki Sen-I asserts that YEEZY is "a mere shell and sham without capital, assets, membership interests, or members other than Kanye … intended, conceived, and used by Kanye as a device to avoid individual liability." The suit became Toki Sen-I Co., v. Yeezy Apparel LLC, Kanye West, et al., 19-VECV-00110 (Cal. Sup.)
In response, West's lawyers filed a demurrer, arguing against Toki Sen-I's allegations that YEEZY is a "shell" set up to shield West against personal liability. West's counsel insists that these allegations are "inadequate," and Toki Sen-I must provide evidence that YEEZY is a mere shell for West, such as corporate and individual assets coalescing or West possessing the entirety of YEEZY's corporate stock.
Furthermore, the team insists that Toki Sen-I has yet to come forth with "an identifiable contract" that YEEZY has breached, positing that the "allegations of acceptance and terms are vague," and that the Japanese company hasn't proven that it even carried out the terms of the supposed contract. Finally, West's team maintains that Toki Sen-I's claims "are not alleged with specificity; that the representations are not legally actionable because they constitute predictions of the future events; and that the plaintiff failed to allege intent to defraud."
Judge Huey P. Cotton of the Superior Court of California in Los Angeles gave a verdict in support of the YEEZY team, sustaining the demurrer against all four charges levied against West by Toki Sen-I. However, Judge Cotton is allowing the Japanese company freedom to amend the initial complaint and "attach the emails showing formation of the contract and the remaining terms or to allege those in more precise terms." If completed, Toki Sen-I may be able to then allege punitive damages.
Both plaintiff and defendant will return to LA courtrooms in August regarding the demurrer and the case's potential to continue, if Toki Sen-I's amends the complaint.
ORIGINAL STORY: According to reports, Kanye West is being sued by Japanese fabric company Toki Sen-I Co. for over $600,000 USD.
The textile company is noting that it hasn't received payment for a large order Kanye made for his YEEZY line. Court documents reveal that YEEZY and Toki Sen-I Co. made an agreement in June of 2018 for $624,000 USD of fleece fabric, which YEEZY backed out of via an e-mail. Apparently, the two parties started working together back in 2015 with no issues until now. Toki Sen-I Co. is now seeking $624,000 USD reimbursement with storage fees, as it is unable to offload the 53,500 yards of textiles.
No official word from YEEZY or Kanye West just yet but stay tuned for more details.
In case you missed it, Heji Shin's blown-up portraits of Kanye West sparked controversy on social media.