Foot Locker Bets On Cultural Authenticity With Greenhouse Incubator
The retailer is launching a new platform to change the way it interacts with customers.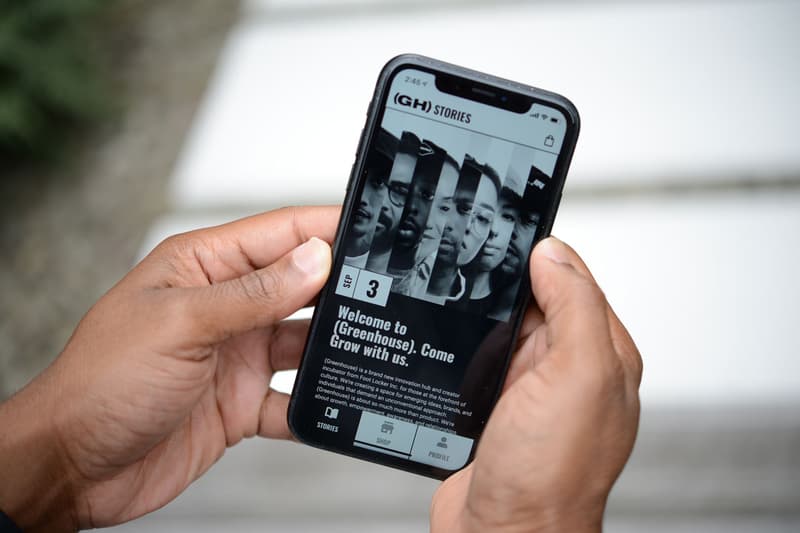 Mel Peralta did not expect to ever join a billion-dollar retail corporation when he first began working in fashion over a decade ago. That isn't a reflection merely of Peralta's disinterest in corporate culture, but, as the co-founder of streetwear-favorite watch brand FLüD, he didn't expect corporate culture to be interested in him. "If you think about the mid-2000s going right up until before 2010, it felt like streetwear was this cute little thing that these kids were kind of playing with, but it wasn't really making money," Peralta explained to HYPEBEAST in a recent interview.
Times have changed. Today streetwear is an unequivocally serious, grown-up business. And now Peralta is no longer hustling to get a brand off the ground, but is the Senior Director for Foot Locker's Project Greenhouse, a new multi-pronged initiative that launched on Wednesday and is intended to alter how the retail giant interacts with its customers, and make the company more relevant to a young, culturally-savvy audience. "Inclusivity, empowerment and innovation are really our three big pillars behind the identity of Greenhouse," Peralta explained.
But the key to reaching that streetwear-driven audience is authenticity — a nebulous concept that is challenging to monetize, as the minute any attempt at monetization becomes evident, the less authentic a given initiative seems.
"Inclusivity, empowerment and innovation are really our three big pillars behind the identity of Greenhouse."
In launching Greenhouse, Foot Locker, which was founded in 1974, acknowledges that it can no longer afford to simply be a middleman between footwear brands and consumers. Instead it needs to cultivate a direct relationship with its customers. The company's leaders are also realistic about the fact that a publicly-traded corporation is not necessarily the best environment to foster innovation and cultural currency in an authentic way.
Because of that, Foot Locker outfitted Project Greenhouse with a whole new staff spearheaded by Peralta, who previously served as Lifestyle Marketing Manager for Timberland, and a separate office across town from the company's Manhattan headquarters.
"These guys, in this building, have a huge business to deliver, which is a daily, weekly, monthly, quarterly, annual P&L responsibility. And that sometimes gets in the way from developing for the future," Foot Locker CMO Jed Berger told HYPEBEAST. "We wanted to make sure that we had a group that was really close to culture, that was not breathing our own air all the time."
According to Berger, Greenhouse began life as a purely internal think tank to cultivate ideas on how to connect Foot Locker with youth culture. But that wasn't enough to produce the results the company needed, so Greenhouse was refashioned into a simultaneously external and internal incubator encompassing three parts: Collaborations, to work with designers and creators directly on projects with cultural impact; Concepts, which aims to connect with brands unconventional ways; and Think Tank, which, like the initial Greenhouse, is about creating culturally-progressive initiatives within the company itself.
As far as the consumer is concerned, Greenhouse will primarily live as an app where customers can purchase exclusive product including footwear, apparel and accessories. Certain products will also be available in select stores as well, with availability communicated through the Greenhouse app and on social media.
But the key impetus behind all of Greenhouse is creating cultural capital, and as such Peralta and Berger emphasize the "storytelling" aspect of the Greenhouse app. With the launch of each collection, Greenhouse will also publish content such as interviews with creators, with storytelling spread out across multiple days around a collection's drop.
"There needs to be a social consciousness piece built in, not only to how we're making the products, but how we're getting the product out there and connecting with the consumer."
The emphasis on the story means finding the right people to collaborate with is a crucial part of the Greenhouse strategy. Foot Locker has stacked Greenhouse's initial launch with a slew of collaborators, including: photographer Christina Paik, Davin Gentry of Diet Starts Monday, Banga of PaperBoy Paris, artist Victor Solomon, designer Nicole McLaughlin, VFILES founder Julie Anne Quay, Treis Hill of ALIFE and Public School's Dao-Yi Chow.
Chow's involvement with Greenhouse goes a step further, as he is also responsible for another initiative within the Greenhouse incubator — O-1, an e-commerce platform that pulls together products produced with sustainability in mind. "You're building products in a responsible way, and we're leveraging the energy behind that exclusive product into activations where consumers aren't just necessarily purchasing it," he said.
As Chow explained to HYPEBEAST, when Foot Locker approached him to join Greenhouse, he felt it was important to look further than single collaborations, which led to the creation of O-1. "There needs to be a social consciousness piece built in, not only to how we're making the products, but how we're getting the product out there and connecting with the consumer," Chow added.
Addressing social consciousness is key, Chow believes, to how businesses will need to interact with consumers if they want to remain relevant and financially viable. "[Consumers] want to really know what sort of values they stand for, how are they helping the world in general," he said.
Greenhouse will also roll out another platform in early 2020 called Project 366, which aims to pluck young talent and help them cultivate their brand through mentorship. Foot Locker is no longer interested in waiting until young designers manage to create a brand with the right structure and support to be sold at an international retailer; the company instead wants to find those would-be designers and help shepherd them to creative and commercial success, with Greenhouse driving the way.
"If we didn't have Foot Locker backing us, we would still be doing the exact same cultural work."
"The old school way of acknowledging is just, 'Oh that brand's on fire let me buy some units and sell it inside of our stores.' This was anti that. This was like, 'No let's create this space for the next generation of designers,'" Peralta explained.
Foot Locker is not alone in seeing the value of making its investment in new talent a public-facing initiative. Take the LVMH Prize for example, or the newly-launched Reebok Studies___. If Greenhouse can establish a positive relationship with the next generation's leading brands, that means Foot Locker will be stocked with prime product for decades to come. It's a mutually beneficial relationship; the young brands and designers receive the support they need to survive, while Foot Locker gets the innovation it requires to stay culturally relevant.
Foot Locker may be preparing for a large change in how it does business, but Peralta says for him and his team, it's business as usual — despite the corporate digs. "If we didn't have Foot Locker backing us, we would still be doing the exact same cultural work," he said of his work at Greenhouse. "It was important that this team had this cultural lens whether Greenhouse existed or not, cause that's the only way to make it successful."
If that all sounds like a lot, well, it's because it is. Foot Locker is confident however that it will be able to let Greenhouse and the collections it produces flourish in their own time, without capitulating to the financial pressures that Foot Locker — and any public company with obligations to shareholders — faces.
As Foot Locker's CMO, Berger explained that part of his responsibilities is to keep "the organization understanding the narrative and overall purpose" of Greenhouse. The app will not sell new items on the daily, but instead will give each launch time to breathe, with about three or four different "stories" dropping each month. "This is not something we're trying to let get lost. It's something we're trying to give its credit and tell a bigger richer story, and have it develop over time. So we can afford to be patient," Berger said. As authenticity is perhaps Greenhouse's most valuable asset, it needs to be safeguarded.
That said, savvy storytelling can only take Greenhouse so far. Whether or not consumers choose to engage with Greenhouse over, say, the many other sites, apps and stores that offer similar styles will ultimately come down to the quality and style of the products themselves. To find out if those products fulfill Greenhouse's goals, the audience will have to be patient as well.