Brazilian Art in the Age of Extremism and Censorship
With right-wing extremism taking hold across the country, Brazil's artistic community rises up in resistance.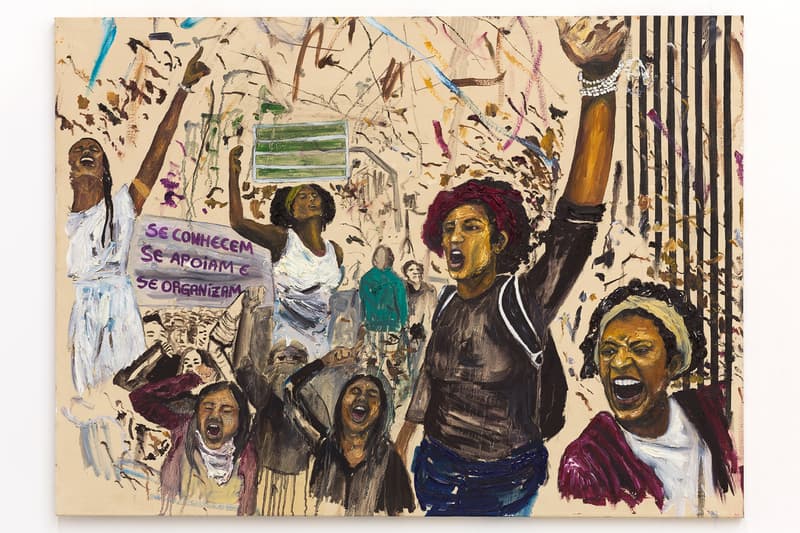 1 of 2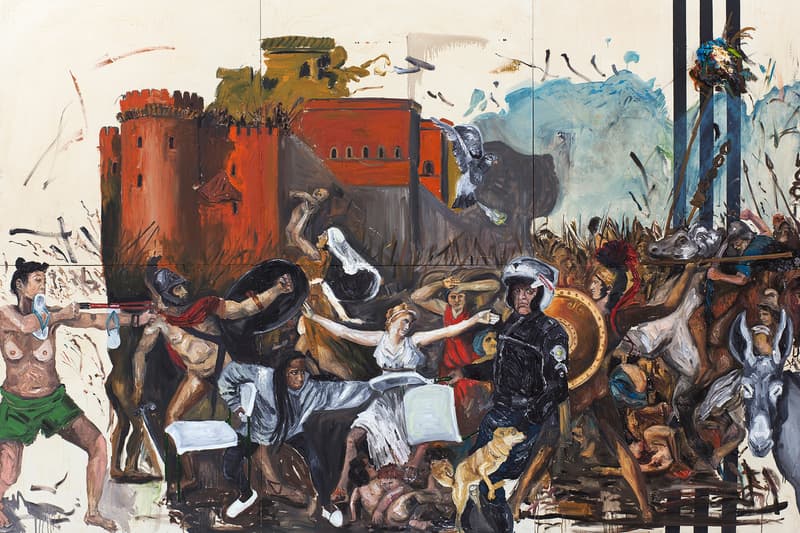 2 of 2
São Paulo-based artist Camila Soato was in Porto Alegre preparing for the Bienal do Mercosul, when she learned of the assassination of Rio de Janeiro city councilor Marielle Franco on March 14, 2018. The day after the news broke, Soato got to work on Presente (Present), a painting depicting Franco alongside other woman protesters. Completed in just three days, the piece was added to Soato's lineup at the Bienal.
"In that moment, I saw that putting that painting up in a museum was the tool that I had to arm myself with," Soato says. The title makes reference to "Marielle Presente," a rallying cry that immediately appeared throughout protests demanding answers for Franco's death. As a black, queer woman from Rio's favelas who spoke out against police violence, Franco had been seen as a progressive light in Brazil's conservative, and mostly white and male, government. Soato says she wanted the painting to say, "We cis, trans, black, indigenous, lesbian women are present. We recognize each other, we support each other and we're readying ourselves to fight."
"In that moment, I saw that putting that painting up in a museum was the tool that I had to arm myself with."
Contemporary artists like Soato see their work as their method of resisting Brazil's descent into fascism. But at the same time, many worry for the future of the country's already fragile art industry, in which long-standing institutions struggle to keep their doors open and progressive installations face outright boycotts. That fear has only grown more pronounced following the October election of former army captain and extreme right-wing politician Jair Bolsonaro as the country's next president, with Bolsonaro's inauguration into office on January 1, 2019, marking a tipping point for Brazilian democracy.
"We're in a very particular moment of losses and damages, unfortunately, but also one of fight and resistance," says Berna Reale. The performance and visual artist based in Belém do Pará has explored themes of violence throughout her work for decades. Her most recent show "GULA" (Gluttony) opened at Galeria Nara Roesler in São Paulo in August 2018 and examined the pleasure those in power derive from exerting force. The show included the photographic series Sobremesa (Dessert), which depicts military police officers indulging in desserts, as well as Comida Caseira (Homemade Food), which makes reference to forced childhood marriage.
"My biggest fear with Bolsonaro is his censorship, his particular way of behaving like a dictator, which is accepted by a large part of the population," Reale says of Brazil's president-elect. The right-wing politician has garnered comparisons to Donald Trump for his racist, misogynist and homophobic rhetoric, with many fearing his authoritarian viewpoints will take the country back to the days of the 1964-1985 military dictatorship. "Art, because of its liberal nature, will in my view be the first to feel this pressure," Reale adds.
Rafael Pagatini, an artist and professor at the Federal University of Espírito Santo, echoes a similar sentiment. "Art is part of diversity, of a plurality of ideas, of expression, of freedom of thought. Bolsonaro has already shown in his speeches that he is against diversity. He preaches an authoritarian Brazil that doesn't respect the other," he says.
"Bolsonaro has already shown in his speeches that he is against diversity. He preaches an authoritarian Brazil that doesn't respect the other."
Much of Pagatini's recent work makes use of archival photographs and media from Brazil's military regime, the aura of which has loomed large over recent events such as the 2013 country-wide protests, and the 2016 impeachment of President Dilma Rousseff. Pagatini's 2017 work Retrato Oficial (Official Portrait) printed close-ups of photographs of Brazil's five military presidents onto hundreds of stainless steel nails. Bem-vindo, presidente! (Welcome, president!) explores how leaders of the dictatorship made use of advertising and the press to transmit their message to the public — a skill Bolsonaro's camp seem to wield as well. Bolsonaro supporters were accused of using WhatsApp to disseminate false information about his presidential opponent, Fernando Haddad. A particularly inflammatory social media campaign alleged that Haddad, formerly Brazil's Minister of Education, exposed children to sexual imagery as part of an anti-homophobia initiative.
Conservative groups used similar tactics to boycott Queermuseu, an exhibition exploring LGBTQ identity. Following its opening on August 15, 2017, at the Santander Cultural Center in Porto Alegre, evangelical protestors accused the show of promoting pedophilia and zoophilia, while the Archdiocese of Porto Alegre said it made a mockery of the Catholic Church. Queermuseu's curator Gaudêncio Fidélis was called in before the Brazilian Senate to explain the accusations, which he says took the works out of context. Santander chose to close Queermuseu on September 10, a month prior to its scheduled end date.
It's not just specific installations that have struggled to stay open in recent years, but the very buildings that host them. The Cais das Artes was slated to open in Espírito Santo in 2012, but constant setbacks have pushed the opening date back again and again, with at least $100 million reals still needed to complete the project. Meanwhile, the Fundação Iberê Camargo in Porto Alegre has been operating on reduced opening hours for more than a year due to a lack of funding. In November 2018, Rio de Janeiro's Museu de Arte Moderno put Jackson Pollock's Number 16 up for auction to raise operational funds, a deeply polarizing decision in Brazil's art community. However, when the painting failed to reach its estimated price of $18 million USD at Phillips Auction House in New York City, the MAM RJ chose to retain the painting.
Institutions like the MAM RJ have reason to fear what diminished resources will bring for their future. On September 2, 2018, a massive fire consumed much of Rio de Janeiro's Museu Nacional, destroying 200 years of Brazilian history and culture. In a painful irony, the museum had just signed a deal to obtain funding for a fire prevention program.
But the artistic community refuses to concede, even as conservative regimes further curtail their already strapped resources. In January 2018, the Visual Arts School of Parque Lage in Rio de Janeiro began a crowdfunding campaign to host Queermuseu. "I wanted to show that Rio's residents would support this exhibition," says Fabio Szwarcwald, director of EAV Parque Lage. That belief was in strict opposition to Rio's mayor, Marcelo Crivella; in October 2017, Crivella vetoed a petition to bring Queermuseu to the Museu de Arte do Rio de Janeiro, saying the exhibition would only take place in Rio "if it were at the bottom of the ocean."
Parque Lage's crowdfunding campaign eventually garnered over $1 million reals – the biggest crowdsourcing campaign in Brazil's history. Queermuseu opened once again at Parque Lage on August 18, 2018, and received 40,000 visitors over 28 days, with lines of up to two hours on the final day. "We wanted to show people that it wasn't just an exhibition, but a fight against censorship," says Szwarcwald. And though Parque Lage was prepared for the many protests that took place in Porto Alegre, Szwarcwald says that in the end, the reception was far more positive than they had anticipated.
"We're living through times of uncertainty, we don't know what our future will be, but we know that we won't retreat any social progress."
Szwarcwald believes that Queermuseu's ultimate success represents an inverse of the struggles and lack of support that have befallen the Museu Nacional or MAM RJ. "We have to be very careful with this new political scene, which is a bit more conservative and could disturb some museums' plans for exhibitions," he admits. "But I think that because of these difficulties, the general population has a higher engagement and concern with the freedom of expression and censorship. And so we may see a reverse, with the people returning to help strengthen cultural institutions."
Jair Bolsonaro was sworn in as the President of Brazil on January 1, 2019, pledging to move away from socialism and political correctness while returning to family values. "We're living through times of uncertainty, we don't know what our future will be, but we know that we won't retreat any social progress," Pagatini says. In the immediate future, the country's artists show no signs of slowing down, with Pagatini's plans including a solo show at SP-Arte 2019 as well as exhibitions abroad. But fortunately, today's artists draw upon a long history of fighting through oppressive regimes, as exemplified by the likes of Cildo Meireles, Antonio Manuel and Hélio Oiticica.
"We're here to resist and organize," Reale says of the incoming administration. "It won't be the first time nor the last that history sees Bolsonaros or Trumps."