These Were New York Fashion Week's Five Best Collections
Genderless style, social justice and 'Jaws' references.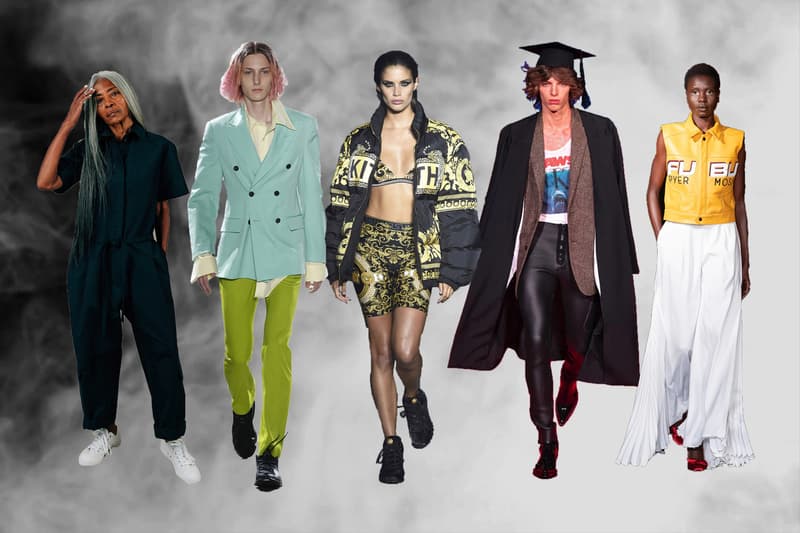 New York Fashion Week arguably lacks the bite and bubbling hype of other events, like its Paris and London-based counterparts. However, if you look closer, you begin to uncover a motley assortment of vibrant ingenuity. Vaquera & Telfar blend circumstance with social commentary, celebrities turn out in droves for John Elliott & Prabal Gurung, and heavy hitters like Coach 1941, CALVIN KLEIN & Marc Jacobs guarantee plenty of industry buzz. Despite NYFW's status of the black sheep of the large Fashion Weeks, you can count on a consistent array of strong presentations, with a select few rising to the top of the heap. This week was no different — these were the five best shows of the season, in no particular order.
Pyer Moss
New York-based designer Pyer Moss's Spring/Summer 2019 collection was a snarling slap in the face, a wake-up call via garments that fused Black American heritage with contemporary styling. Accusatory proclamations of "Stop Calling 911 On The Culture," and "See Us Now?" were bitter reminders of the still-present shadow of institutional racism, but the garments themselves were elegantly restrained. Indeed, the collection's only acquiescence was to punishing summer weather, utilizing drop-shoulder T-shirts, flowing trousers, D-ring-strapped outerwear and cropped Cuban-style shirting to underscore warm weather vibes. Continuing collaborations with FUBU and Reebok reinforced Moss's continuing devotion to sportswear, a style of clothing indebted to decades of black culture.
CALVIN KLEIN 205W39NYC
Although the biker short is currently the sportswear item du jour, Raf Simons may have already figured out its eventual replacement. The CALVIN KLEIN creative officer delivered another progressive collection under the 205W39NYC imprint. While Fall/Winter 2018 blended cartoons and firefighter clothing, Spring/Summer 2019 sees the brand delving into watersports, informed by explicit nods to Jaws. Wetsuits were worn folded over like overalls, transformed into apron dresses, worn under distressed (sharkbitten?) tees and even sculpted into small floral applique. Meanwhile influence from The Graduate yielded cap-and-gown layers and blazers that dressed up the swimwear.
KITH
KITH takes its name from the phrase "kith and kin," which literally means "friends and family." That phrase underscores the entire theme behind the Fall/Winter 2018 KITH PARK presentation (the only FW18 show of the week), which saw Ronnie Fieg's veteran streetwear imprint do what it does best — join forces with key figures in fashion. KITH tapped the heaviest hitting collaborators in its history for the collection, which included Versace, Tommy Hilfiger, Greg Lauren, mastermind WORLD and old friends like Columbia, Converse and Vans. Indeed, the spectacle around the show was perhaps even more important than the clothes themselves, as it represented another significant step towards streetwear and high fashions slow march towards unity.
Matthew Adams Dolan
Though Matthew Adams Dolan is a critical darling, the designer's thoughtful collections have thus far dabbled just outside of mainstream attention, although his subversive, genderless workwear designs have garnered celebrity admirers like Rihanna. Spring/Summer 2019 is a typically clever affair, with Dolan transforming denim coveralls into graceful hourglass-silhouetted blazers and cargo shorts into graceful, flowing skirtlike trousers. Trucker jackets were gently elongated and softened with satin, while nipped double-breasted blazers were layered over oversized shirts, undercutting the masculine origin of tailoring with summer pastel shades.
Deveaux
Having traded his role of street style lynchpin for that of creative director, Tommy Ton demonstrates complete confidence for Deveaux Spring/Summer 2019. Ton has been at the reigns of Andrea Tsao and Matthew Breen's label for about half of a year, and yet seems completely at ease, introducing easy-going, genderless essentials. Men's tailoring is blown out of proportion, with gargantuan jackets, collared shirts that nearly reach the floor and loose, self-belting slacks. Staple garments are subtly rearranged, with internal pockets placed on the back of a vented blazer, a boxy short sleeve shirt cushioned by pink satin and trench coats that swap rain-repelling cotton gabardine for breathable organic textiles. The result is a modular wardrobe that doesn't cater to men or women, but to human beings.
Elsewhere, we highlighted Prague Fashion Week's best runway presentations.