The Five Best Collections From Prague Fashion Week SS19
A look at why the city has become an attractive destination for strong designer names.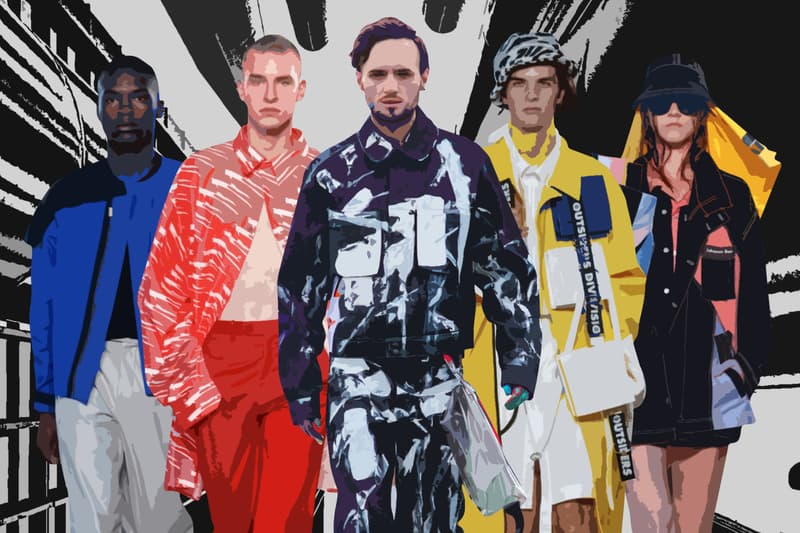 With its amazing cobbled-stone streets and ornate castles, Prague's Old Town once again played host to the September edition of the Mercedes-Benz fashion week circuit. For one whole week the city and its Baroque Clam-Gallas Palace welcomed in the latest Spring/Summer 2019 collections from local Czech designers along with 10 talents from abroad, including locations such as Japan and The Netherlands.
Founded in 2010 Prague Fashion Week, headed by Lukas Loskot and his team, has since become the most important fashion event in the Czech Republic. Though it is considered a small-scale event (especially placed against its larger New York and Paris counterparts), Prague Fashion Week offered us a look at the country's most celebrated stars and emerging surrounding designers. With brands such as Gosha Rubchinskiy and Vetements leading the way in Eastern Europe, Loskot and co. are aiming to shine a light on the country and its surrounding fashion scene. Below are the best collections from Mercedes-Benz Prague Fashion Week Spring/Summer 2019 and a look at why the city has become an attractive destination for strong designer names.
Adam Kost
VAN GRAF Junior Talent 2017 finalist Adam Kost kicked off day one with his vibrant tailored "Revision of Masculinity" menswear collection. As a Czech designer who is trained in classical menswear tailoring at the Academy of Arts, Architecture and Design in Prague (UMPRUM), his simplistic designs featured in the capsule were able to strike a balance between both womenswear and menswear style codes.
Each look was then elevated with bold color choices perfect for the warmer season in orange, red and pink, while a special patterned designed in collaboration with Jan Grabowski was also featured throughout. The young designer mixed in dynamic pieces such as tunics, silk dresses, and shirts with neck bows into the collection to touch upon his aforementioned inspiration of finding equilibrium between women's and men's wear. Oversized knitwear coming in an array of colors were the standout item, adding a bit of volume to the modern cuts.
Jan Cerny
Labeled as one of Europe's "designers to watch," the promising young Jan Cerny presented his Spring/Summer 2019 on the third day of the event at the outside area of Letenska plan. Venturing off from the event's main Baroque Clam-Gallas Palace venue, the vast space was opened to the public, allowing everyone besides those with "invites only" to attend.
Held a few hours after the sun went down, the catwalk was lit using a row of Mercedes-Benz. As each model walked down the runway, they were encouraged to improv their poses and to play around with the surrounding vehicles, adding to the theatrics of the show. To aid in the collection's streetwear appeal, each model was casted through a street casting, veering away from professionals.
Titled "Ego Trip," the collection plays on both the values of doing art for oneself as well as the more literal aspect of travelling. Incorporating both sportswear codes and classic silhouettes, Cerny's edgy looks undoubtably showcases his creativity and attention to detail. Meticulously decorated with paintings from his good friend, Slovak painter Martin Lukac, each look was then heightened with details such as 3M reflective strips and utilitarian elements including drawstring accents.
Crossbody bags and sneakers done in collaboration with Prestige, a local Czech workwear shoe label, finished off the runway looks. On his work the designer states, "My products are for the new generation who are searching for aesthetics that meet their life style needs. I design clothes for myself. I design clothes for people with strong opinions."
Schepers Bosman
Though hailing from Amsterdam, the design duo of Schepers Bosman — made up of Sanne Schepers (a graduate of l'Institut Français de la Mode) and Anne Bosman (a Central Saint Martins alumni) — presented their latest womenswear collection to the fashion hungry situated in Prague as part of the ArtEZ Alumni show curated by Rachid Naas. With their label having only been established since January of 2017, the young pair is no stranger to the fashion world, seeing multiple accolades including winning the design competition at Les Etoiles Mercedes-Benz.
Titled "Urban Survival," the pattern heavy collection shined a light on Schepers Bosman's meticulous skill and attention to detail. Each piece was crafted out of various satin, silk, denim, jersey, and cotton patches, giving the garments a graphic appeal and vibrant look inspired by abstract prints and '50s mosaics, all while keeping a minimalistic aesthetic.
Although only six womenswear looks were presented, the label translated the looks from its Spring/Summer 2019 menswear collection which features an array of essential garments for the upcoming season including colorful button up shirts, lightweight jackets, shorts, pants and a poncho.
Outsiders Division
Barcelona-based fashion and art collective Outsider's Division, made up of David Mendez Alonso, Alberto Perancho and Ales Gallifa, debuted an array of vibrant items for Spring/Summer 2019. Inspired by cult films, underground graffiti and just the simple emotion of joy, the workwear-inspired looks injected mix prints, bold branding and utilitarian-styled accessories, which also played a major role in the label's memorable catwalk.
The eye-catching tones were then offset by more relaxed cuts and outerwear such as the tailored trench coat, while on the other-hand oversized trousers, chunky sneakers and an orange-fur coat added more whimsy to the outfits.
Eva Papouskova
On the second day of shows, young perspective Prague designers from the Department of Fashion Design of Tomas Bata University in Zlín were showcased, and amongst them Eva Papouskova stood out with her "Fashion Follows Function" collection.
With a keen eye for functionality and minimalist detailing, Papouskova was able to effortlessly blend practical needs with sleek silhouettes such as a blue jacket crafted from Ventile® cotton materials which incorporates a fast release zipper system and ergonomical hidden sleeve pockets for carrying sunglasses and other small knick-knacks without damaging them. Designed for contemporary consumers in mind, Papouskova incorporates high fashion style without following seasonal trends and sacrificing functionality.