Who's the Next Off-White™?
5 brands that could fill the mantle.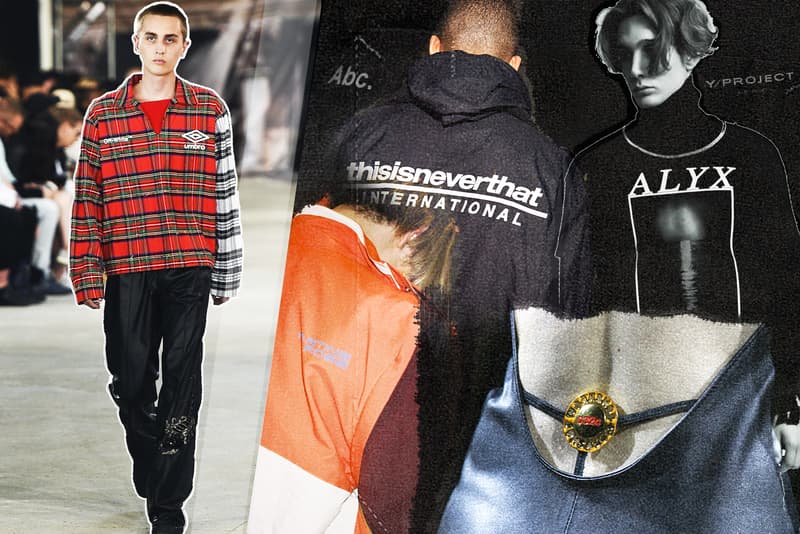 Off-White™ has cemented itself as the ultimate brand known for straddling the worlds between streetwear and fashion. It's a notion that's garnered the attention of global fashion conglomerates, resulting in LVMH bringing Off-White™ creator/designer Virgil Abloh on board as creative director of menswear due to his popularity and marketing prowess.
Simply put, streetwear sells. Prada recently posted positive quarterly results, stating that growth can be correlated to the sales of its sneakers, namely the house's ever-popular Cloudbust footwear design. Now that Abloh has officially achieved his ambitious goal of leading a major fashion house, it wouldn't be much of a stretch to assume that the prime outlet for Abloh's creative output is now Louis Vuitton. This, in turn, means that even while Off-White™ still exists, there's now a void for another brand to claim itself as a top name in the world of high-end streetwear — below are 5 labels that are currently poised to do so.
ALYX
ALYX is a somewhat obvious choice given the connection between designer Matthew Williams and Abloh. With both having worked on Been Trill together, Matthew William's ALYX has been decidedly lower key than Off-White™ while still existing in the same universe.
One of the key measures why ALYX is positioned to replace Off-White™ is its ability to create signature pieces. Williams's imprint has achieved this with its popular rollercoaster belts and chest-rig bags, both of which are frequently worn by music artists and fashion influencers.
The brand has also taken more progressive steps in recent seasons and now it has a collaboration with Nike – the partnership provides the brand affordable price points for those who can't afford mainline ALYX products. The Nike partnership has been a tactic also used by Virgil Abloh which has propelled his name and label to near-pop-culture status. However, only time will tell if the same results will happen for Williams and ALYX.
032C
Magazines have long-wanted to diversify their revenue streams but 032c has been successful doing it as both a fashion publication and a purveyor of style items and accessories. 63 worldwide stockists carry 032c apparel alone. The clothing started out as a side-project, specializing in socks with Germanic humorous quotes that bore sayings like "remove before sex." Small tongue-in-cheek goods such as lighters, duct tape and music tour merch have also been the brand's bread and butter.
Last year, however, 032c rolled out an ambitious fashion show at a grand museum in Florence. The imprint brought out dancers, models and a video of hooligans singing Savage Garden's "Truly Madly Deeply." It was a memorable move and one that puts the 032c name amongst the list of highly-trending labels. Of all the brands involved in this list, 032c probably has the furthest to go in terms of design but it's already got the streetwear/fashion worlds under its ink-sodden thumbs.
Martine Rose
A London favorite for many years now, Martine Rose has long combined disparate but decidedly U.K. based references into its collections season-after-season. With a show that attracts fashion's best — including Abloh, who attended Rose's last show — the designer creates items that play on pop culture while inserting fashion-forward twists.
Referencing Nokia, MTV and Carlsberg, there's a refreshing down-to-earth element in Rose's designs that will attract those who like graphic-led plays on logos. But those who are fans of the avant-garde side of fashion will enjoy the oversized shirting and asymmetric hems employed throughout. While we can't say for sure that Rose desires the kind of notoriety Off-White™ has achieved, there's no question that it has massive potential to do so.
Advisory Board Crystals
Advisory Board Crystals is one of the newer brands on the list and it comes with a fairy tale backstory. As previously explained on an episode of HYPEBEAST Radio, founders Remington Guest and Heather Haber first met in L.A. in the back of a UberPOOL.
The duo bonded over previously working at Band of Outsiders, where Guest was a lookbook model and Haber was an intern. Despite their common work experience, ABC couldn't be further from the world of Band, bringing a psychedelic feel to its clothing — tie-dye is commonly used throughout ABC's frequently dropped capsule collections.
The love of technique comes from the brand's fascination with crystals — which is also how the brand got its name. The imprint, while still a relatively new name, has ways to go but the potential is undoubtedly there.
Y/Project
Y/Project is a testament to the importance of a highly-effective creative director. Originally founded by Gilles Elalouf and Yohan Serfaty in 2011, Glenn Martens was chosen to helm the brand after Serfaty passed away in 2013. Tasked with embodying the brand's spirit, Martens put his unique stamp on the brand by revamping styles that are typically labeled as tacky but given a more fashion-forward twist.
This has led to several unexpected collaborations, culminating in an UGG partnership that essentially evokes the early 2000s distilled into one creation. The rest of the clothing range also plays with expectations, reworking products until they're near unrecognizable, such as the double-layered sweatshirt and tops.
If there's a knock against Y/Project, though, it might be that it's too avant-garde for this list, but Martens clearly has ideas to spare and is capable of creating new instantly-recognizable fashion items.