Will Martyr Creates Bold Circular Paintings for "Fathoms" Unit London Exhibition
Scenic portrayals of the artist's childhood memories.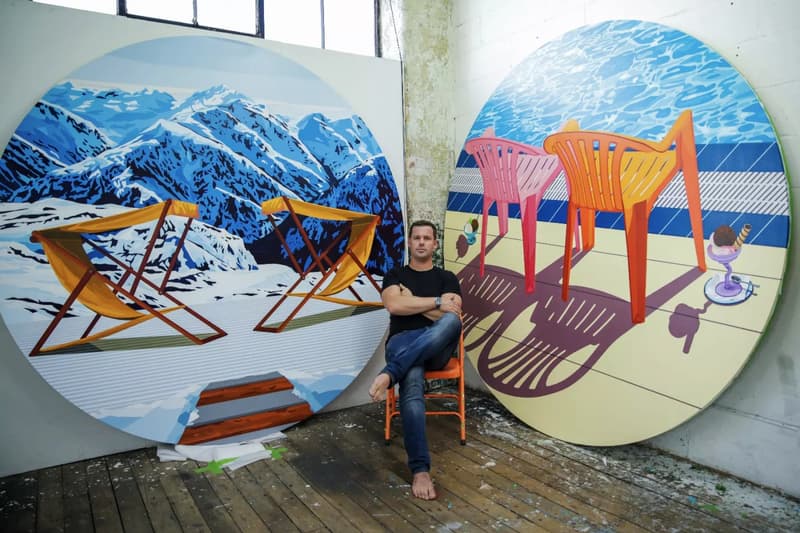 London-based artist Will Martyr is gearing up for a forthcoming solo exhibition at Unit London's Mayfair space. Entitled "Fathoms," the presentation will spotlight a total of eight large-scale tondos (circular paintings) that invoke scenic portrayals of Martyr's childhood memories. These works draw inspiration from David Hockney's dream-like compositions with the artist presenting diverse communal areas in bold and vivid tones. Accompanying the paintings is Martyr's first-ever neon sculpture of a beach parasol blowing in the wind.
"Will's paintings create a very personal reaction when you look at them, creating private reminiscence of playfulness and enjoyment in the viewer. His style is also incredibly precise, and his use luminous use of color creates a warmth and certainty to life, which is both exhilarating and effortless," said Unit London co-founders, Joe Kennedy and Jonny Burt.
"Fathoms" will be open to the public starting August 31 until September 29. Head over to the Unit London's official website to learn more.
Unit London
3 Hanover Square
Mayfair, London W1S 1HD
United Kingdom