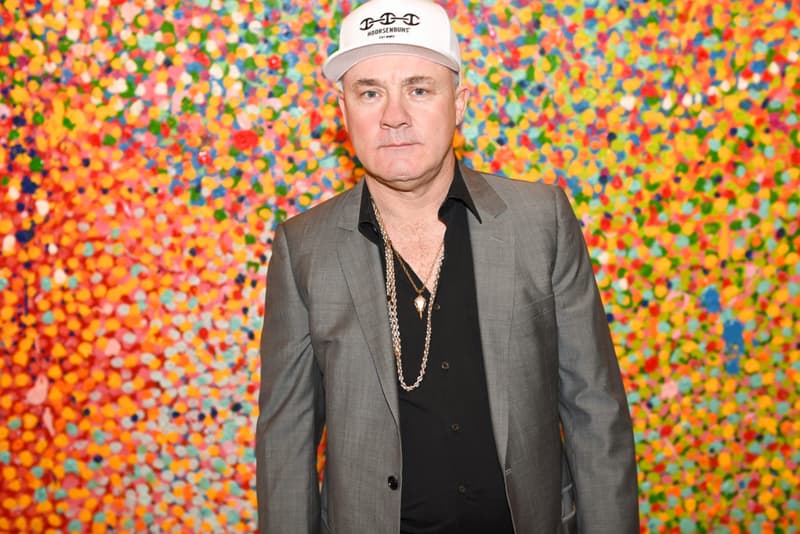 Best Art Drops: Free Damien Hirst Print, 'Robot Surf' Sculpture & More
Including a resin figure of Childish Gambino in "This Is America."
---
Since its debut in 2010, Instagram has become a linchpin in the art industry, for artists, art collectors, and curators alike. Compared to traditional fine art galleries that only select a few choice artists to display and sell their works, the photo and video sharing app is a great democratizer, providing a free digital gallery for anyone to promote their projects.
For this week's best art drops, we highlight emerging artists such as @whereschappell to established artists like Damien Hirst, both of whom have often used Instagram to purvey their latest works. Read on to view more and let us know your favorites.
Damien Hirst to Give Away Free Andromeda Print This Week
Release Date: This week
Release Price: Free
Damien Hirst created a new series of prints portraying his iconic Veil paintings to support the Serpentine Galleries in the United Kingdom. Distributed by Heni Editions, the British artist announced on Instagram that he will be giving away the Andromeda print from the series to "whoever gives the best caption" for the most recent photo in his feed. He will choose the winner sometime this week. Head over to Heni Editions' official website to view more exclusive prints.
Hajime Sorayama & APPortfolio Team up on Robot Surf Sculpture
Release Date: July 6
Release Price: $1,700 USD
To celebrate his upcoming "Sorayama Explosion" at NANZUKA gallery in Tokyo, Hajime Sorayama teamed up with APPortfolio to reissue his classic Robot Surf sculpture. Arriving as a limited-edition of 500, the collectible measures 48 x 50 x 52 centimeters and is crafted out of mixed materials, including alloy. Online orders will be available starting July 6. Head over to APPortfolio's official website to learn more.
Cleon Peterson & HUF to Release Limited "Blood & Soil" Capsule
Release Date: In-store at Over The Influence on July 7 with worldwide release on July 9
Release Price: $40-$80 USD
HUF joined forces with Cleon Peterson on an exclusive capsule to celebrate the acclaimed visual artist's upcoming "Blood & Soil" exhibition at Over The Influence gallery in Los Angeles, California. The limited offering is comprised of hoodies, long- and short-sleeve T-shirts, and tote bags, all of which are adorned with visuals of his paintings to be displayed at the show.
"Known for his monochromatic paintings that depict chaos and brutality, Peterson's latest body of work and capsule collection expands on those themes and portrays the reconciliation of our violent history with present-day violence prevalent across the country," said HUF. The capsule will first release at a pop-up shop at Over The Influence starting July 7 with an online release to follow on July 9. Head over to HUF's official website to learn more.
Over The Influence
833 E 3rd St.
Los Angeles, CA 90013
Artist @Whereschappell Launches "This Is America" Resin Figures
Release Date: TBC
Release Price: $790 USD
British artist @WheresChappell crafted a series of limited-edition figures portraying Childish Gambino from his "This Is America" music video. A total of seven figures have been made and will be auctioned off, with 75% of the proceeds to benefit Melanoma UK, Alzheimer's Association, and Samaritans. One of the figures is alleged to be owned by the multifaceted creative himself. Be sure to follow @WheresChappell on Instagram to learn more about the upcoming auctions.
Robert Alonzi & M.C.Overalls Drop "Canvas" Art Program Workwear
Release Date: Available now
Release Price: TBC
M.C.Overalls recently launched an art program called "Canvas" that sees the UK-based imprint collaborate with diverse creatives on unique items. The inaugural installment is with Belgian artist Robert Alonzi, who embellished his signature motifs on the brand's workwear items. Alonzi is recognized for his figurative works that draw inspiration from pop culture and pastoral scenes, alongside large-scale bronze and resin sculptures of child-like subjects. A total of sixteen works are currently on display and for sale at M.C.Overall's Newburgh Street store in London. Head over to M.C.Overalls' official website to learn more.
M.C.Overalls
14a Newburgh St.
Carnaby, London W1F 7RT