These Are the Must-See Movies and TV Shows Dropping in June
Including Chris Pratt's newest film following Starlord's questionable decisions in 'Infinity War.'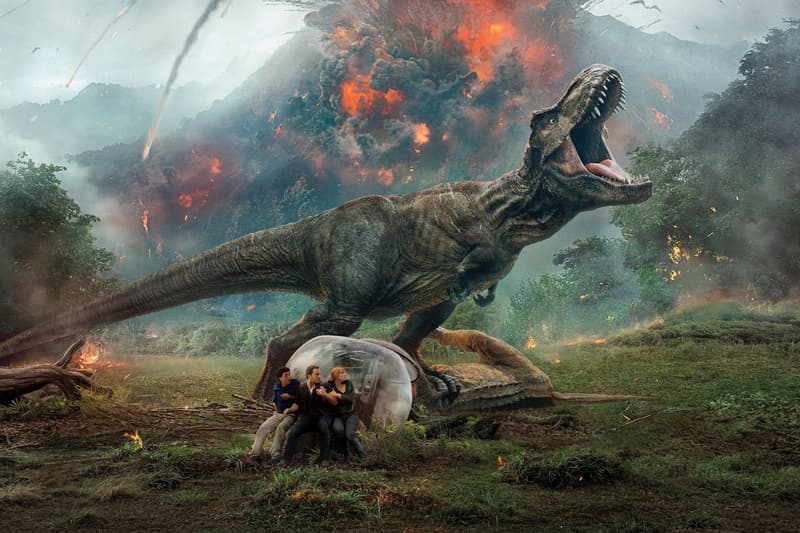 May has come and gone, blessing us with another Star Wars Story and Josh Brolin comic book portrayal. We've officially entered the blockbuster season — a time in which a cornucopia of hot releases will flood the cinemas. This month's offering includes the next installment in the Jurassic World saga, as well as The Incredibles sequel 10 years in the making. We've also got Brolin once again putting his foot down on the neck of summer 2018 with Sicario 2: Soldado alongside the return of the brutal Alejandro played by Benicio del Toro.
Over on the TV side, we've got the return of cult classic anime series Fooly Cooly and two Marvel-based titles. One is the return of Luke Cage as he smacks up crooks in Harlem, while Cloak & Dagger focuses on young love and the developments of superpowers. Check out the list below for some of the must-see releases to the more under the radar films and TV shows to look forward to in June.
Films
Upgrade – June 1
Upgrade revolves around the story of a "technophobe" who aims to avenge his wife's murder and cure his own paralysis with an experimental, dangerous computer chip implant known as STEM. But it's artificial intelligence takes control of its user, committing acts of violence not necessarily under the person's control.
Why it's worth your time:  It looks like Limitless had a baby with Crank and gave birth to Upgrade. The intelligence/dual consciousness angle is interesting as well. The fact that it's also a Blumhouse production leads me to believe those themes will be explored in a dark tone, despite its high-octane approach.
American Animals – June 1
The flick is based on a true story of four young Kentucky men who tried to pull off one of the most reckless art heists in American history. Determined to break away from their mundane lives, the four concoct a daring plan for the perfect robbery, only to realize the plan has taken on a life of its own.
Why it's worth your time: This heist flick looks like it has a lot of laughs in it and the documentary approach is a refreshing change of pace for a film of this genre.
Ocean's 8 – June 8
Ocean's 8 is a spin-off of the Ocean's franchise and sees Danny's sister (Sandra Bullock) alongside an all-female crew setting their thieving sights on the Met Gala. Their plot is to steal $150 million USD worth of jewelry from the Metropolitan Museum of Art's Costume Institute.
Why it's worth your time:  It's the fourth installment in the well-beloved franchise, introducing a cast of brand new characters and further expanding the Ocean's universe. With Matt Damon confirmed to return, it's speculated that a cameo from another Ocean's character is to happen as well. Fingers crossed for George Clooney.
Hereditary – June 8
After the matriarch of the Graham family passes away, secrets of their ancestry begin to haunt them, culminating in the inheritance of a sinister force that begins to tear them apart. The youngest Graham has some sort of connection to a malevolent spirit that has been described as similar to Regan in The Exorcist.
Why it's worth your time:  This A24 flick had a lot of buzz circulating around it during Sundance Film Festival. Plus A24 has been killing it lately with releases like Room, Ex Machina, and The Witch, and this appears to be its next homerun production. It also features breathtaking direction and cinematography in the trailer to whet your horror genre appetite.
Won't You Be My Neighbor? – June 8
This documentary focuses on Rogers's eponymous television show, as well as his participation in the lives of children as a role model. Included in the documentary will be interviews and never-before-seen footage of Rogers being a shining example of great moral compass both on and off the screen.
Why it's worth your time:  Tom Hanks will be playing Mr. Rogers in an upcoming biopic that'll be interesting to stack up against this documentary exploring the real man's character versus his Hollywood portrayal. It will also be fascinating to watch such a wholesome figure become such a big part of pop culture, especially since other wholesome figures these days are outed for being not so squeaky clean.
Incredibles 2 – June 15
Picking up after the events of the original film, this time we follow matriarch Elastigirl as she secretly fights crime and changes the public opinion of superheroes while Mr. Incredible staus home with the variously-powered Jack-Jack.
Why it's worth your time: The sequel is decades late and features fewer members of the original cast but that shouldn't stop any animated fan from seeing it. In this era where superhero films reign supreme, it will be interesting to see if what made the original Incredibles special will retain itself in a climate where capes and cowls are so prevalent in the big screen. Maybe Elastigril and the fam can help change the public opinion of superhero fatigue.
Tag – June 15
Based on the true story of a group of friends whose games of 'tag' continue through adulthood, the films sees the reigning champ (Jeremy Rener) getting married and retiring from the game. His friends, played by Jon Hamm, Hannibal Buress, and Ed Helms are desperate to finally eke out a win before they miss their chance.
Why it's worth your time: This genuinely looks funny. The premise is sophomoric but wholly fresh and original. Plus, casting Renner as this guy pulling off next to impossible feats in the trailer to avoid being tagged is hilariously meta given that he plays Hawkeye in the Marvel Cinematic Universe. Ed Helms also gives it that Hangover vibe and I wouldn't be surprised if it ends up being a breakout comedy hit.
Superfly – June 15
A remake to the 1970s hood classic, Superfly follows growing dope kingpin, Youngblood Priest, as he's trying to get out of the drug game. However, he's attempting to save enough money before he switches into a more legitimate career. The film will take place in Atlanta instead of Harlem.
Why it's worth your time: This looks like a vibe and a half thanks to acclaimed music video director Director X and his penchant for atmospheric visuals. The remake appears to have the potential to join the pantheon of cult hood movies like Paid in Full or the much more visually elevated Belly.
Gotti – June 15
The film stars John Travolta as the titular mobster and showcases his three-decade-long rise to the infamous "Teflon Don" of the Gambino Crime Family. It will also feature his family life and the changes within, between his multiple prison sentences and Greek-like tragedies.
Why it's worth your time: For some reason, we're hoping its a surprise performance from John Travolta similar to Johnny Depp as former mobster Whitey Bulger in Black Mass. Gangster films from once revered actors of yesteryear are the usual career revival move, and this could be it for Travolta. It worked for him in Pulp Fiction following his Look Who's Talking trilogy.
Jurassic World: Fallen Kingdom – June 22
Three years after the events of Jurassic World, Chris Pratt and Bryce Dallas Howard return to the island to save the remaining dinosaurs from an erupting volcano alongside a Dinosaur Protection Group. They soon confront terrifying new breeds of dinosaurs while digging into a conspiracy that threatens the entire world.
Why it's worth your time: It looks like the film will pay homage to moments in the original Jurassic Park films. It's also the sequel to one of the hottest films of 2015. Not to mention, it's Chris Pratt's newest project following Starlord's questionable decisions in Infinity War.
Sicario: Day of the Soldado – June 29
Josh Brolin's Matt Graver returns to enlist Benicio Del Toro's Alejandro to spark a feud between dual cartels. He does this by kidnapping the teenage daughter of infamous drug kingpin Carlos Reyes. But when the covert mission is exposed and Graver orders Alejandro to murder her, the killer's cold disposition begins to fade.
Why it's worth your time: Although Emily Blunt will not be present in this sequel, Brolin and Del Toro will, which already solidifies the crux of what we loved about the original will be retained here. Also, we want to see Brolin crush cinemas for a third consecutive month in a row following his roles as Thanos and Cable.
TV
FLCL: Progressive (Adult Swim) – June 2
This series is a sequel to the 2000 cult classic OVA Fooly Cooly, but instead of following protagonist Naota, it focuses on 17-year-old Kana. This high school junior spends most of her time hanging out with her friends, living pretty unremarkable lives, until a Mecha falls out of the sky, alongside the mysterious Haruko from the original series. Catch the first episode's English dub on Adult Swim at Midnight ET.
Why it's worth your time: If you grew up with the bizarre original then you probably don't need any incentive to catch this once it airs. Its iconic music from The Pillows will be featured alongside new material, as well as a number of returning voice actors. If its anything like its predecessor, expect lots of craziness with sprinkles of human examination throughout the 6 episode series.
Succession (HBO) – June 2
Loosely based on media mogul Rupert Murdoch and his brood, this series will tell the saga of a fictional, American global-media family that is not only rich and powerful but also powerfully dysfunctional. Directed by Adam McKay (Anchorman: The Legend of Ron Burgundy, The Big Short), catch the first episode at 10 pm ET/PT on HBO.
Why it's worth your time: It looks like a slice of contemporary Game of Thrones where instead of massive septs and throne rooms there's corporate offices and tennis courts. It's the story of a dysfunctional family in a position of power, and tales that examine the human consciousness can never go tired. Plus with Adam McKay, the eventual first world problems the family will meet can be tackled from a comedic angle.
Marvel's Cloak & Dagger (Freeform) – June 7
The 10 episode season will follow character Tandy Bowen (Cloak) and Tyrone Johnson (Dagger), two teenagers from different backgrounds who acquire superpowers in the midst of a romantic relationship. They soon discover their abilities work better in tandem, "but their feelings for each other make their already complicated world even more challenging." Catch the 2-hour series premiere June 7 and check your listings for airtimes.
Why it's worth your time:  It's Marvel's Romeo & Juliet, and even though the show is on Freeform and not a part of the Marvel Netflix Universe, it's closer to being part of the MCU than those shows since it airs on a Disney-owned channel. The first episode has been applauded by critics and the characters relationship is one of the highlights in the comics.
Sense8: Finale Special (Netflix) – June 8
Saved from cancellation, cult Netflix series Sense8 about a cluster of eight people across the globe who are connected by thoughts and actions will receive closure with a feature-length finale.
Why it's worth your time: This is strictly for the fans of the show who let their voice be heard when the series faced cancelation. Now all that's left to see is if it was all worth the effort.
Queer Eye: Season 2 (Netflix) – June 15
The updated Queer Eye for the Straight Guy series returns in its second season with a new Fab Five to help straight men refine their wardrobes, grooming, diet, cultural pursuits, and home décor.
Why it's worth your time: Season 1 was greeted with critical acclaim, as it holds a 96% rating on Rotten Tomatoes. And although that season tackled an array of social issues, this season has been confirmed to follow up on those themes as well as delivering more inclusivity by adding more diverse individuals for the show.
Voltron: Legendary Defender: Season 6 (Netflix) – June 15
Creating an alliance with former adversary Prince Lotor following a major win against the Galra Empire, this season will focus on the team as they struggle to trust the prince and develop further as a cast of characters.
Why it's worth your time: This season looks to up the ante by honing on character development, drama, and features possibly the best action the series has seen thus far.
Marvel's Luke Cage Season 2 (Netflix) – June 22
Luke Cage returns, this time embracing his local celebrity status as a hero and issuing an open threat to any and all criminals in the city. However, a man from the islands named Bushmaster answers and beats Cage down so bad that Stephen A. Smith is forced to make a comment on the viral cell phone footage on ESPN. We'll also get to see characters like Misty Knight and Mariah Stokes further develop as characters in a similar theme as the titular hero.
Why it's worth your time: This time around, alongside portraying the African American perspective, the show also delves into the Jamaican American perspective and provides thematical insight for its starring characters as we push away from the events of season one and The Defenders.
Preacher: Season 3 (AMC) – June 24
The trio's quest to find God continues in the third season where the show will begin to loosely adapt the "Until the End of the World" arc from the comics. Jesse and the gang travel to his hometown Angelville where he finds old grudges and deadly obligations waiting for them. Catch the premiere of Preacher season 3 at 10/9c on AMC.
Why it's worth your time: Fans of the book are already on board since the show is faithful to the source material. For newcomers, although it's based on a comic book, it does not follow the normal formula the way a show of its elk normally would, so expect a fresh approach to this comic's adaptation.
GLOW: Season 2 (Netflix) – June 29
GLOW returns for a second round of wrestling fun as this season will introduce the launch of the iconic and very real "Gorgeous Ladies of Wrestling" late-night cable television show. It will also delve into the women's local fame and the realities that come with it.
Why it's worth your time: Despite being '80s-centric and filling that neon void of nostalgia, the show will also explore topics that are current today, such as an upcoming #MeToo-pertinent story angle.