What to Look out for at the 2018 World Cup
Everything you need to know ahead of the tournament in Russia.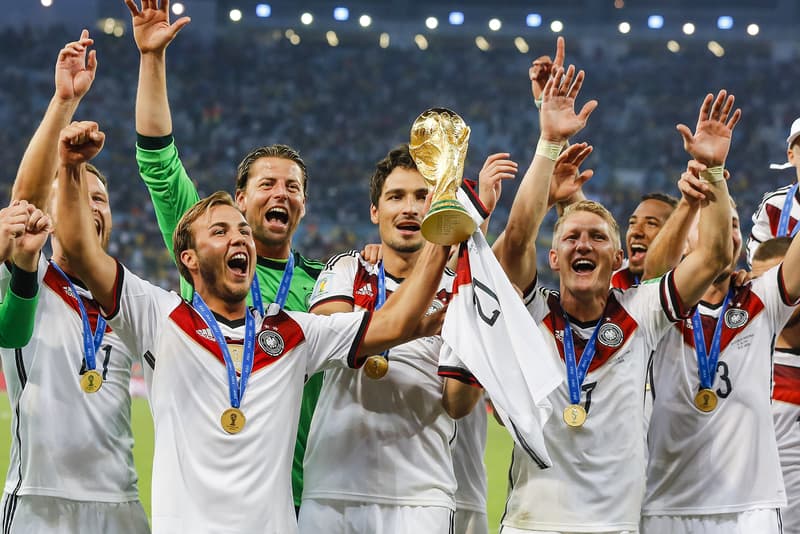 After months of announcements and anticipation, the 2018 World Cup in Russia is here. The 2014 World Cup inBrazil – which was won by Germany — was filled with surprises as Spain failed to make it out of the group and the host nation lost 7-1 in the semi-final. As well as the four-year build up of excitement, the hype for this year's tournament has also been driven by Nigeria's record-breaking new kit and the news that a generation of all-time greats will be appearing at the World Cup for the last time.
Ahead of the tournament's kick-off on Thursday, June 14, we've pulled together a list of what to look out for over the next month in Russia.
Winner
Perhaps unsurprisingly, the early favorites for the tournament are Brazil and reigning champions Germany. Outside of the top two though, there are a couple of teams who are posed to do well, including France, who is strengthened by an EA Sports prediction but only if the attack-heavy team finds some balance in the tournament. Similarly, the Lionel Messi-led Argentina could rally to give the player the last trophy he needs to cap a remarkable career. Spain had been tipped as one of the early favorites, but the decision to sack coach Julen Lopetegui the day before the tournament starts may end any hopes.
Who will win this year's #WorldCup?

— HYPEBEAST Sports (@hypebeastsports) June 13, 2018
Surprise Package
Aside from the big five, other teams that could be in with a shot include Belgium, who's so-called golden generation is yet to deliver on its promise. Similarly, Portugal and Uruguay both boast world class players in Cristiano Ronaldo and Luis Suarez respectively. Elsewhere, teams such as England and Croatia have been mentioned as outside bets, but that looks more likely to be out of hope than expectation. While Nigeria and Iceland probably won't make it very far in the competition, the two teams and their traveling fans are set to be fun to watch and win over new supporters.
Who will be this year's #WorldCup surprise team?

— HYPEBEAST Sports (@hypebeastsports) June 13, 2018
Best Player
The 2018 World Cup marks the last time that a generation of stars will appear at the tournament. Spain and Barcelona legend Andres Iniesta has already admitted that this will be his final World Cup, while it is difficult to see Leo Messi and Cristiano Ronaldo both carrying on for a further four years. All three will be seeking the perfect end to their illustrious careers and — in the case of Messi and Ronaldo — a first World Cup title. This year's tournament also comes at an important junction for Neymar, with the Brazilian forward breaking a bone in his back in his home country four years ago and desperate to prove himself as a legitimate superstar. Egypt's Mo Salah — who comes off a record-breaking season for Liverpool — is also worth a mention, although Egypt may struggle to advance.
Who will be the best player in this year's #WorldCup ?

— HYPEBEAST Sports (@hypebeastsports) June 13, 2018
Breakout Star
Aside from the big names, the World Cup offers the next generation of players the opportunity to announce themselves to the watching world. Potential breakout stars at this year's tournament include Brazil and Manchester City forward Gabriel Jesus, German striker Timo Werner and Serbian midfielder Sergej Milinković-Savić, who has been linked with a $175 million USD transfer to Real Madrid. Other young players tipped for a strong tournament include France's Thomas Lemar and Saul could become an important part of the Spain team.
Who will be this year's #WorldCup breakout player?

— HYPEBEAST Sports (@hypebeastsports) June 13, 2018
Headlines
One of the big announcements in the run up to the tournament was the news that the 2018 World Cup would feature video assistant refereeing. The systems have been introduced in some competitions and leagues across Europe recently, but haven't always been successful and many football fans still remain sceptical about their role in the game.
Aside from the footballing news, another important story around the World Cup has been the potential for hooliganism from the Russian fans. After violent clashes with English fans during the 2016 European Championships, there are fears over the safety of visiting patriots. Lastly, Russia's controversial foreign policy could lead to headlines during the month-long tournament.
Key Games
Although the first game might seem a little underwhelming — it's Russia against Saudi Arabia — it doesn't take long for the bigger games to come round. On June 15, the second day, Spain and Portugal are set to play in Sochi, the first time two established teams play each other. Other first round games to watch out for include returning champion Germany's first fixture on June 17 against Mexico, Argentina vs. Croatia on June 21 and England against Belgium on June 28. The second round kicks off on June 30, with the final at Luzhniki Stadium in Moscow on July 15.
Russia vs. Saudi Arabia, June 14, 4 p.m. CET/11 a.m. ET
Spain vs. Portugal, June 15, 7 p.m. CET/2 p.m. ET
Germany vs. Mexico, June 17, 4 p.m. CET/11 a.m. ET
Argentina vs. Croatia, June 21, 7 p.m. CET/2 p.m. ET
England vs. Belgium, June 28, 7 p.m. CET/2 p.m. ET
World Cup Final, July 15, 4 p.m. CET/11 a.m. ET