Three 6 Mafia's Most-Sampled and Best-Remixed Songs
Rap artists old and new continue to pay homage to the iconic Memphis group.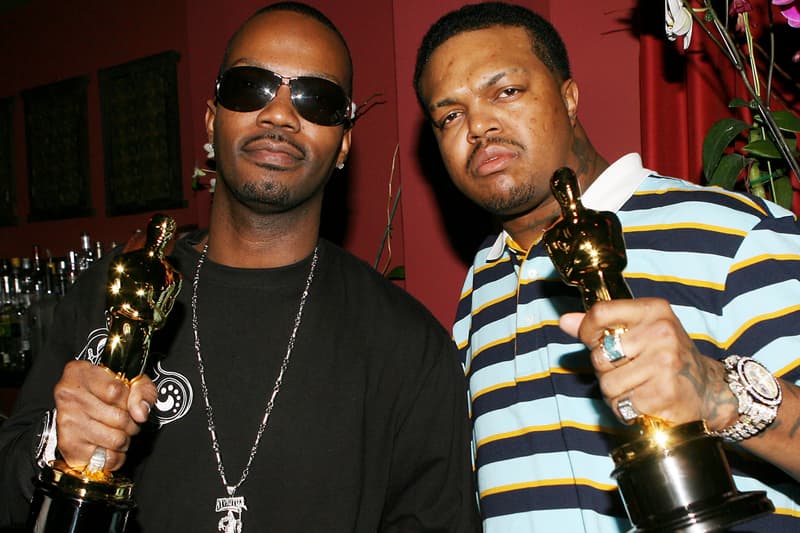 After being in the rap game for nearly 30 years, Three 6 Mafia are finally getting the recognition they deserve. Sure, throughout the years they've managed to get their hands on a handful of platinum and gold records, millions of sales and even an Oscar award, but those numbers and achievements pale in comparison to the Memphis, TN group's true influence on rap and hip-hop music. They're loved and respected by everyone from the genre's purists to casual rap fans and have remained relevant since their debut. While Three 6's sound has shifted over the course of the group's career, it never lost its edge and flavor. Looking back, the group is responsible for influencing most of the biggest trends and sounds in rap including trap, crunk, bounce and snap music and everything else in between.
While a good number of today's most popular rap songs can be traced back to Atlanta trap and Louisiana bounce music, both of these styles are heavily inspired by the iconic Memphis rap sound developed by Three 6 Mafia's Juicy J and DJ Paul in the early '90s. The New Bay and Detroit sound are influenced by '90s Nola bounce, which was heavily inspired by the Memphis crew's sound. The same can be said for the Migos flow and trap production. In 2018, artists not only realizing Three 6's massive influence but are openly paying homage to the Memphis crew in their music.
To celebrate the group's influence in the music game, we've rounded up 12 of their most sampled, remixed or referenced songs in their extensive catalog. Rest in peace Lord Infamous and Koopsta Knicca.
1. Three 6 Mafia – "Stay Fly" (2005)
ASAP Rocky – "Multiply" (2014)
Smoke DZA featuring King Chip – "Weed Raps" (2012)
"Stay Fly" is the lead single from Three 6 Mafia's 2005 platinum-selling album Most Known Unknown. The song, which samples "Tell Me Why Has Our Love Turned Cold" by Willie Hutch and features 8Ball & MJG and Young Buck, is the group's biggest hit — peaking at No. 13 on the Billboard Hot 100. Popular mid-aughts rappers Slim Thug and Trick Daddy make appearances in the video. The first prominent artists to sample the track are Girl Talk in "Overtime" (2006) and Justice in "The Party" (2007). While "Stay Fly" has been remixed and sampled by various rappers over the years, the song was brought to mainstream attention once more when A$AP Rocky dropped "Multiply" in 2014, which not only contains the iconic "Igh, igh-igh-igh, igh-igh, igh-igh, igh" sample covered by Rocky himself but vocals from Three 6 Mafia frontman Juicy J.
---
2. Three 6 Mafia – "Late Nite Tip" (1996)
Plies – "Rock" (2017)
Trey Songz featuring Juicy J – "Late Night" (2014)
Icewear Vezzo – "Money Phone" (2013)
Lil B – "Keep It 100" (2013)
SpaceGhostPurrp – "Pheel Tha Phonk 1990" (2011)
"Late Nite Tip" is the fourth song off of Three 6 Mafia's second studio album Chapter 1: The End, which was released in 1996. The track was later released on their third album, "Chapter 2: World Domination, their first Gold-RIAA certified album. Alongside "Tear da Club Up '97," "Late Nite Tip" was one of the most well-known Three 6 songs in the '90s. The anti-romance track samples Lisa Fischer's Grammy-nominated 1991 track "How Can I Ease the Pain" and features an iconic piano riff that is still sampled in songs today. SpaceGhostPurpp is the first notable rapper to give new life to the song with his 2011 track "Pheel Tha Phonk 1990." After that, artists like Lil B, Plies, Trey Songz, Detroit's Icewear Vezzo and more paid tribute to the song.
---
3. Three 6 Mafia – "Side 2 Side" (2006)
Rae Sremmurd – "Powerglide" (2018)
Young Buck – "Gettin High" (2006)
"Side 2 Side" is the third single off of Most Known Unknown. The song is an anti-dance track, shining light on club-goers who stay posted in the back with their arms crossed and their cap pulled down. The music video used the song's remix and includes appearances by Bow Wow (who is featured on the remix) and Project Pat. An alternate music video, set in a strip club, was also released and featured Xzibit, Travis Barker, Lyfe Jennings and Stevie Williams. Kanye West appears on the track's remix featured on the 2006 Most Known Unknown reissue. The song is not frequently sampled by other artists but Rae Sremmurd & Mike WiLL Made-it recently recycled the track in "Powerglide." It's first single off the former's upcoming album SR3MM and features Juicy J.
---
4. Project Pat – "Chickenhead" (2001)
Cardi B – "Bickenhead" (2018)
Rocaine – "Rubberbands (Chicken Chicken)" (2016)
Project Pat, while not officially a Three 6 Mafia member, is part of the Hypnotized Minds family. He is Juicy J's biological brother and is often featured on the outfit's biggest hits. "Chickenhead" which features Juicy J and fellow Hypnotized Minds artist La Chat, is the first song off of Pat's sophomore album Mista Don't Play: Everythangs Workin. The song samples D.J. Jimi's 1992 track "B*tches (Reply)," which features the iconic xylophone samples from The Showboys' 1986 track "Drag Rap." The term "chickenhead" is derogatory slang that refers to someone who performs fellatio on everybody. In 2016, prominent Detroit rapper Rocaine dropped a remix titled "Rubberbands (Chicken Chicken)." Earlier this year, Cardi B dropped a tribute titled "Bickenhead," which is a track off of her debut album Invasion of Privacy.
---
5. Juicy J – "Slob on My Knob" (1993)
ASAP Ferg – "Plain Jane" (2017)
G-Eazy featuring ASAP Rocky, French Montana, Juicy J & Belly – "No Limit REMIX" (2017)
The oldest track on that list, "Slob on My Knob" didn't get popular until late last year. The song was originally released in his lo-fi Volume 6 mixtape in 1993 but was re-recorded and released on Tear Da Club Up Thugs' 1999 album CrazyNDaLazDayz. "The song never got no radio play 'til now," says Juicy J of the song. He wrote the track when he was still in 11th grade and it was released 25 years ago. G-Eazy's "No Limit" samples the pianos from "Slob on My Knob" and Juicy is heard rapping the song's iconic lines in its remix. ASAP Ferg also paid homage to the song in his smash hit "Plain Jane."
---
6. Three 6 Mafia – "Who Run It" (1999)
G-Herbo, Lil Uzi Vert & Southside – "Who Run It" (2018)
Trippie Redd & Lil Yachty – "Who Run It Remix" (2018)
While "Sippin On Some Syrup" featuring UGK and Project Pat was the biggest song from Three 6 Mafia's fourth studio album When the Smoke Clears: Sixty 6, Sixty 1, "Who Run It" resurfaced in 2018 to become this year's biggest rap tributes. The song, which samples The Delfonics's "Ready or Not Here I Come (Can't Hide From Love)," has been remixed by everyone from Chief Keef to Sauce Twins, 21 Savage, Chance the Rapper, ASAP Rocky and Lil Uzi Vert and more — even Juicy J himself. In late March, G Herbo rapped over the track during his appearance on a Dallas Radio station. "I've been listening for like five days straight to the same 30-second clip," Drake texted Herbo. You should make that a song and just drop it."
---
7. Three 6 Mafia – "Sippin' on Some Syrup" (2000)
Jay Critch featuring Rich the Kid – "Still Sippin" (2017)
"Sippin' on Some Syrup" is second single from Three 6 Mafia's fourth studio album When the Smoke Clears: Sixty 6, Sixty 1. The track features Project Pat on the hook and verses from legendary Houston duo UGK. The track samples the instrumental from Marvin Gaye's 1978 song "Is That Enough" from his album Here, My Dear. It is Three 6's second most well-known song behind "Stay Fly"; the track peaked at No. 30 on Billboard's Hot R&B/Hip-Hop Songs chart. Jay Critch and Rich The Kid sampled the song in their 2017 collaboration "Still Sippin."
---
8. Three 6 Mafia – "Tear Da Club Up '97" (1997)
A$AP Ferg featuring Playboi Carti – "Mad Man" (2017)
Jeezy featuring Puff Daddy – "Bottles Up" (2017)
Desiigner – "Up" (2017)
Future featuring Drake & Juicy J – "Sh!t (Remix)" (2013)
Three 6 Mafia released the first "Tear Da Club Up" in 1995. In 1997, the Memphis group re-released the song with a revamped instrumental. Titled "Tear Da Club Up '97," it came off of their album Chapter 2: World Domination. It was the first minor success for the group. "That song was actually on a mixtape at first, and we decided to redo it, know what I'm saying?" Juicy J said on the hit. "'Cause it was so hot in the clubs. Once we got the major deal with Sony, with Relativity Records, they wanted that song to be on there. It was in the contract that that song had to be in the album, because it was going ham in the clubs." The song has been sampled by A$AP Ferg, Playboi Carti, Desiigner, Jeezy and more.
---
9. Three 6 Mafia – "Playa Hataz" (1999)
$uicideBoy$ – "Temple Spray" (2017)
ScHoolboy Q & E-40 – "Dope Dealer" (2016)
Waka Flocka Flame – "Activist" (2013)
"Playa Hataz" is one of the lesser-known songs on this list, but is definitely a fan-favorite. The track is one of Three 6's earliest recorded tracks and can be found on their compilation tape Underground Vol. 1 (1991-1994), which was released in 1999. "Playa Hataz" samples "Masterpiece" by Grover Washington Jr. and "My Girl" by Joeski Love. It has been sampled by a few artists including ScHoolboy Q and $uicideBoy$.
---
10. Three 6 Mafia – "Poppin My Collar" (2005)
Lil Wayne featuring Curren$y & Mack Maine – "Poppin' Them Bottles" (2006)
"Poppin' My Collar" is the second single from Most Known Unknown and is one of their most popular songs. It peaked at No. 21 Billboard Hot 100, their second Top 40 hit after "Stay Fly." The track contains a sample of "Theme of the Mack" by Willie Hutch. The version on the music is actually a remix featuring Project Pat. Kanye West also makes a cameo appearance in the video for the remix. The song has been remixed many times in the 2000s by the likes of Swizz Beats, DMX, Lil Wayne, Lil Flip, Curren$y and more.
---
11. Three 6 Mafia – "Mafia N*ggaz" (2000)
"Mafia N*ggaz" is technically the most sampled Three 6 Mafia song of all time – Juicy J's infamous "yeah h*e" adlib originally appears on this track. The song is the seventh song on their fourth studio album When the Smoke Clears: Sixty 6, Sixty 1. The "yeah h*e" adlib and has been used by artists from Travis Scott to Wiz Khalifa, NAV to Jay Rock, Rae Sremmurd to Lil Wayne and everybody in between.
---
12. DJ Paul – "Neighborhood Hoe" (1994)
Chris Travis – "Sip That Shit" (2012)
Freddie Gibbs featuring 2 Chainz – "Neighborhood Hoez" (2011)
"Neighborhood Hoe" appears on DJ Paul's 1999 solo project Volume 16: 4 Da Summer Of '94. The tape features The 411, Crunchy Black, Gangsta Blac, Gangsta Boo, Kingpin Skinny Pimp, Lil Gin, Lord Infamous and Playa Fly. The song was re-recorded and re-released in Three 6 Mafia's 1997 album Chapter 2: World Domination. The song samples Jodeci's 1993 "What About Us" and has been sampled by the likes of Freddie Gibbs, Chris Travis and more.