How Night Slugs Became a UK Music Powerhouse
Looking back at the club night turned record label's 10 year legacy.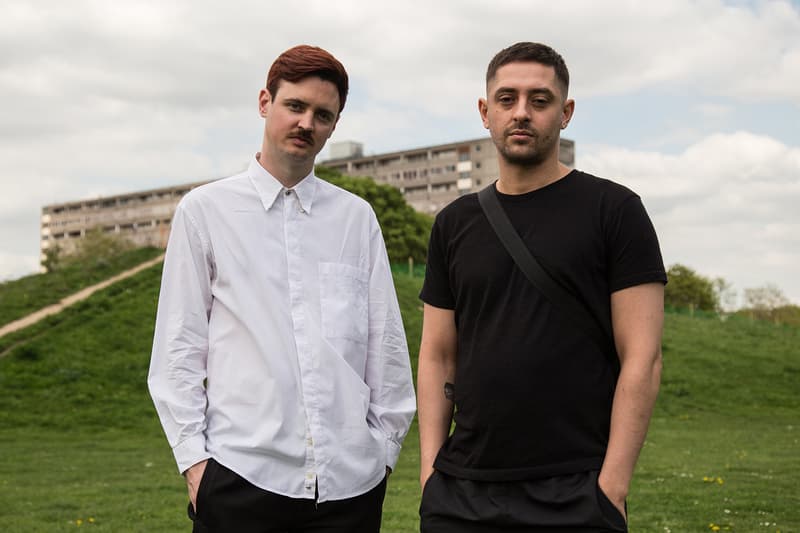 In the 10 years since London-based producers and DJs Bok Bok and L-Vis 1990 threw their first Night Slugs party, UK club culture has changed dramatically. Over that decade, Night Slugs has also come a long way. What started out as a club night for DJs who didn't fit into the scene has grown into one of the UK's most influential forces, with raves at venues across the world including iconic clubs such as Berlin's Berghain and London's Fabric, and a record label that has worked with everyone from Kelela to Jacques Greene.
"We were both DJing and starting to make music around 2007," explains James Connolly, better known as L-Vis 1990, of how the duo met. "I was living down in Brighton, Alex [Sushon, Bok Bok] was up in London. We were both working day jobs. We just started chatting through Myspace," he adds. These early conversations through forgotten social networks and instant messaging services led to a shared view that they weren't fully at home in the British club scene at the time. "We weren't really feeling like we were fitting in to any of the nights we were getting booked at," adds Sushon, who's early DJ sets were largely confined to dubstep raves. "I think both of us just felt a bit alienated by those things. They didn't feel like we could really call any of them our home. So it felt natural to try and do something of our own."
After deciding to host their own party in response to the UK club scene — which the pair describe as "really regimented" — Sushon and Connolly began looking for a name and a venue, eventually settling on the Red Star in South London, an ex-squat that played host to the first Night Slugs parties. There was one thing that didn't need to be decided: "we knew what it was about," remembers Connolly, "we didn't even need to talk about that."
"We all just shared the same influences, that's what's connected us all these years," explains Sushon of the group who started the parties and are still affiliated with Night Slugs, "more so than making the same style of music — because it's quite diverse — everyone's just got a really similar base of influences to draw from." According to Sushon, those early influences ranged from genres such as UK bassline and grime to a range of US styles including Ghetto Tech Shift from Detroit and Juke from Chicago.
"I think we just took all of our influences and put it all into a big bowl and mixed it up," explains Connolly, "we were kind of the first people to be doing that with the UK sounds and US sounds." For Sushon, it was this approach that led to their relationship with wider club culture at that time. "That's why we were having some difficulties fitting in, because nights were really down one mindset, down one mentality." Sushon goes on to recall the less-than-enthusiastic reactions he received when playing different genres at different raves. "But that's what we wanted to do," he adds, "we wanted to create a home for that." Helix — a DJ and producer who became affiliated to Night Slugs in 2012 — believes this has created a movement that transcends club boundaries. "I really think Night Slugs bridges the gap between a lot of people, especially in the UK," he explains, pointing to the diverse collection of club subcultures that came to a recent party. "Everybody shows up and shows out for Night Slugs."
Those early parties were — according to Sushon — young, colorful and energetic: "I remember the first one being particularly wild." Even from those first parties, Night Slugs was drawing people from across the country. People had seen Sushon and Bok Bok DJing around the country and, excited by the eclectic style, had followed their progress. "They'd heard this new stuff that we were playing and came to see us coming home with it," remembers Sushon of those early crowds.
"It felt like we were entering into the fortress of the UK underground."
After throwing the Night Slugs parties for a couple of years, Bok Bok and L-Vis 1990 realized things were changing. "It became clear that we needed to step it up a little bit," recalls Sushon of this time, "it didn't feel like we could fit in anywhere and we'd created this platform that seemed perfect." Around a similar time, Sushon was working on a white label release while Connolly was preparing to self-release his first record after dropping projects on labels including Mad Decent and Sound Pellegrino. For Connolly, something wasn't quite right. "They did not feel like home at all," he explains, "I didn't believe in every piece of music that was being put out."
Just before they turned Night Slugs from a party into a record label, the duo collaborated on their first joint release. "We dropped something on Jackmaster's now defunct label that became Numbers," remembers Sushon. "That definitely felt like the right place to be, we convinced him to squeeze that in because he was about to shut Dress 2 $weat. It was cool to have slipped that in but from there — once we created a platform — it just felt so right."
Around this time, Night Slugs also achieved another important landmark: a regular show on cult London radio station Rinse FM. The move was important for Sushon and Connolly, and represented an important seal of approval from the wider scene. "Rinse is key to everything we do," explains Connolly, before adding that the station has been home to all of their heroes from the UK scene in the past. With Night Slugs originally set up to throw parties for a generation of DJs and producers who didn't fit into UK club culture, this move meant that those ideas were recognized and accepted. "It felt like we were entering into the fortress of the UK underground," Sushon explains.
Bolstered by a new show on Rinse and with Dress 2 $weat closing, Sushon and Connolly felt the time was right to go out on their own, launching Night Slugs as a record label in early 2010. "We were playing a lot more, traveling, playing abroad," recalls Connolly, "it just felt different." Sushon echoes these thoughts, explaining there was "momentum gathering behind it, there was demand for what we were making." The following year saw a string of new releases, beginning with the Square One EP from London producer Mosca and followed by further projects from affiliates and collaborators including Girl Unit, Kingdom, Lil Silva and Jam City. To mark the end of this year, Night Slugs released Allstars Volume 1, a compilation of tracks from the year mixed with highlights and exclusives. Although Night Slugs was growing and changing, its core belief of creating a home for producers of different stripes stayed clear. As Helix explains, his decision to sign in 2012 was partly because "nobody offered me the metaphorical home and freedom that Night Slugs offered."
After almost 18 months operating as a label, Night Slugs expanded the operation into the US with the launch of Fade to Mind in July 2011. The LA-based label — founded by Kingdom and Texan producer Prince William — strengthened the long-term link between the different groups. "We talked about the two labels being 'sister' ventures," tells Sushon of the move, "sort of parallels." To launch the label, Kingdom asked Sushon to design Fade to Mind's logo. This further cemented the visual identity that still surrounds Night Slugs, something Sushon — who used to work as a graphic designer — has been keen to develop. "I just wanted everything to be part of one world, because it felt like the kind of music we were making was feeding towards the same thing," Sushon explains, "I wanted to bring it all into one little universe that it will live in."
The launch of Fade to Mind also made sense for Night Slugs for another reason, building on Sushon and Connolly's longstanding mix of British and American music. "We played so much American music alongside UK music that it always felt it had to be mixed up like that," explains Sushon, "we had to have people from there representing as well." That early transatlantic crossover was possible, in part, because of the time that Night Slugs was launched, with the relationship between music and the internet beginning to enter a new phase.
"It's always an evolution, you take bits you like from certain things in the past and you make it new."
Speaking to Sushon and Connolly about the role the internet played in the label's development, both point to blogs and social networks from a previous era that allowed the pair to find producers, influences and collaborators from across the world. Sushon met Kingdom on Flickr, Myspace was essential to what they were doing, and Egyptrixx was discovered via a long-dead blog. As Sushon adds, the series of blogs and networks that facilitated this transatlantic club culture "felt like a community at that time."
Another key artist and collaborator from the US was Kelela, who was introduced to Sushon in 2012. "I first got introduced to her through Prince William," explains Sushon, "when I arrived in LA, Prince William was in his car playing tracks that she'd vocalled from the old Night Slugs catalogs. I was flawed." From then on, Kelela and the Night Slugs collective formed a strong creative partnership, with Bok Bok, Kingdom, Jam City and Girl Unit all producing on her debut mixtape Cut 4 Me.
By this point, Night Slugs had established itself as one of the most important forces in UK club culture and the wider movement was beginning to gain influence around the world. This status had been reinforced by the release of Classical Curves, the debut album from Jam City and an important crossover point for the label. Looking back on that release in June 2012, Sushon describes it as marking the start of a new phase of Night Slugs. "It was definitely an iconic record for us," he explains, "and one that people talked about at length, both good and bad. That's always the sign of there being some kind of movement in the culture."
Classical Curves had a wide ranging impact on the label, and ushered in a new wave of creativity for the producers. "With our records, I think each record influences what comes after," says Connolly, "everyone's trying to do something, but that's what made it evolve in such a way. When Classical Curves came out, it just set people off on different paths." As well as shaping the Night Slugs output, Sushon and Connolly both believe the release spread out into wider culture, as Connolly adds: "you can hear it in all club music these days." This wasn't necessarily a good thing. "It felt weird when we started hearing this stuff elsewhere," Sushon explains, "It very much felt like it belonged to that project, those ideas, that narrative. He had a really strong set of ideas about what that record meant, and I think it felt kind of cheap for it to start popping up elsewhere."
The next five years saw Night Slugs continue to consolidate its position as an influential force in club culture, with highlights including the arrival of Allstars Volume 2, a series of new releases, a huge South by Southwest takeover, and two consecutive all-night raves at legendary Berlin club Berghain and London's Village Underground. Looking back at these nights, Sushon describes bringing Prince William to Berghain as "one of my personal highlights of the decade."
Ten years since the first party, Night Slugs' role in the wider culture has changed beyond recognition: from a squatted pub in South London to genre-shifting album releases and raves in some of the world's most iconic locations. Over that time, the London club scene has endured a rocky period as a perfect storm of factors combined and led to a long list of venues closing down, including some of the spaces Night Slugs once called home. Despite this, Sushon and Connolly are optimistic for the future.
"It's time to let the kids come in and build something else that's theirs, the same way that we did."
"I think London's the most fertile its been in years and years and years," claims Connolly, "I think it's a coming of age in the internet and the music world, they've actually figured it out." Sushon agrees, pointing to how technology has changed and, with it, music's focus has shifted. "We had to put all that extra effort in to digging away," he explains, "but the fact that it's easier for people means that people can get really good quick. I think that's great, those challenges are structural really. They don't have to exist."
With this new generation coming through, the duo see their roles in the scene changing. "We've been doing this for 10 years, DJing for 18 years," explains Connolly, "It's time to let the kids come in and build something else that's theirs, the same way that we did." Both of them believe their influence will be felt moving forward, and that the past 10 years will help shape the next movement. "I love the idea of building on past platforms and making something of your own, but also building on a heritage," says Sushon. "That's definitely what we did. We took so much from music history, from UK rave history, we brought that to what we're doing."
For Connolly, this progression is a natural part of how culture moves forward. "It's always an evolution, you take bits you like from certain things in the past and you make it new," he adds. "That's life, that's creativity, that's art."