10 Drops You Don't Want To Miss This Week
Supreme x 'Hellraiser' v.s. Supreme x Rawlings Catcher's Mask.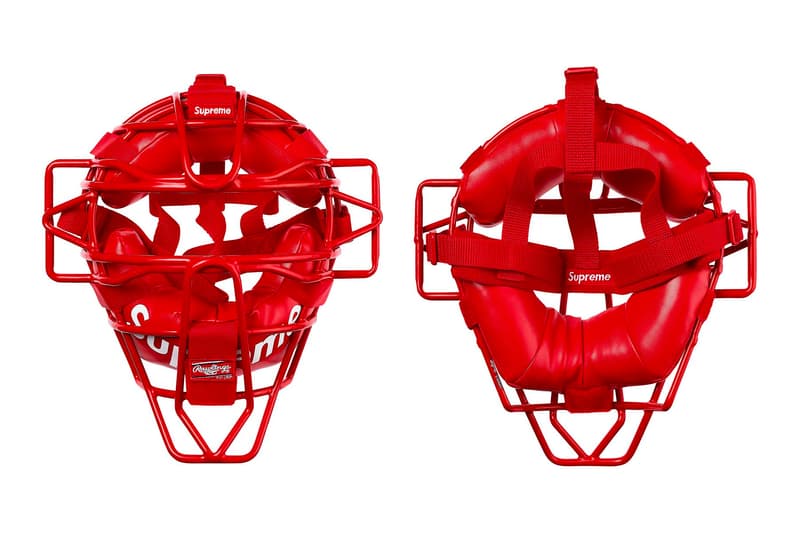 Supreme primed this week's drops roundup with a Hellraiser collaboration that nods to the original 1987 British horror film. It's perhaps no coincidence then that the resurrection of Pinhead comes alongside another head-turning Bogo accessory: the Supreme x Rawlings Catcher mask. With two dramatic — and thematic — collaborations already locked in, the rest of Supreme's week 10 release seems to hit on the snooze button, offering but only a debossed logo corduroy jacket from the Spring/Summer 2018 mainline to excite the monochrome fans. UPDATE: also dropping this week are the tonal suits, which will help pull some weight. Keep checking back for more release updates.
Beyond Supreme and the horror theme, our European counterparts keep it in the safe zone with familiar sportswear codes and streetwear tropes. Palace teams up with adidas Originals on a Summer 2018 collection inspired by vintage football silhouettes featuring color palettes based on the flags of Germany, Italy and France. In line with this sportswear theme is Milanese publication NSS Magazine's Les Vêtements de Football Spring/Summer 2018 collection, whose vintage jerseys spoof the logos of popular fashion brands such as Balenciaga, Vetements and COMME des GARÇONS.
Finally, with the approaching warmer seasons in mind, we have some new eyewear and bag options for this week's lineup. Stüssy's Eyegear Spring 2018 collection and CMMN SWDN x Ace & Tate capsule offer stylish retro-inspired specs and sunnies, while Saturdays NYC x PORTER Yoshida collection and UNDERCOVER x FULL-BK cross-body bag collection turn up the everyday functionality.
UNDERCOVER x FULL-BK Cross-Body Bag Collection
UNDERCOVER recently teamed up with FULL-BK on a new set of waist bags recently unveiled via a styled lookbook by UNITED ARROWS & SONS' Poggy. Uniquely tactical, the quartet of colourful carry options serves as an update of a now archive piece from Jun Takahashi's lauded label. The waist bags are available in black, white, yellow and blue colorways, and are constructed of a string of small compartments arranged on an adjustable belt. FULL-BK's patch logo and a subtle UNDERCOVER badge serve as the main accents for the collab.
When: April 28
Where: FULL-BK's web store, UNDERCOVER's MADSTORE, Isetan's UNDERCOVER outpost
Les Vetements de Football Spring/Summer 2018 Collection
NSS Magazine returns with its Les Vêtements de Football Spring/Summer 2018 Collection parodying some of the most talked-about labels in fashion today: Balenciaga, Vetements, COMME des GARÇONS. This range's lookbook is lensed by photographer Vincenzo Schioppa, who takes on the perspective of a paparazzi. The protagonists of the satirical narrative are the vintage football jerseys, which showout in popular club emblems like Paris Saint-Germain as well as other team strips like Germany, England, Scotland and Holland. Juxtaposed are bold texts such as "Balenciagoal," "COMME des GOAL," or even "HOOLIGANS" — all done up in a familiar font.
When: Now
Where: NSS Mag's online store
Palace x adidas Originals Summer 2018 Collection
Following a series of teasers, Palace and adidas Originals finally unveiled their latest collaboration. Heavily sporting the colors of several national flags, the new Spring/Summer 2018 range serves as the latest addition to the popular Palidas collab series. This time around, vintage sportswear inspirations bring the latest seasonal capsule poolside. The collection is dominated by colors of the German, Italian and French flag, and kitted with terrycloth kits, slides, towels and socks. Also make sure to check out the range's lookbook.
When: April 27 (London 11:00 a.m. GMT; New York 11:00 a.m. EST)
Where: In-store and online at Palace's web store, adidas Originals flagship stores worldwide
Stüssy Eyegear Spring 2018 Collection
Stüssy gears up for the brighter days ahead with its latest eyegear offerings. Teaming up with Japanese manufacturers, the collection is as you'd expect: casual, current and made with quality craftsmanship. The range come kitted with an assortment of shapes and lens tint options, all pointing to earlier times, giving the collection a vintage appeal and timeless quality. Those in need of new shades at a relatively affordable price can consider these.
When: Now
Where: Stüssy JP's web store and Stüssy chapter stores
Ader Error Spring/Summer 2018 Collection
Ader Error never fails to push the boundaries. Rolling out its Spring/Summer 2018 release, the anonymous South Korean design collective excites the eyes with an inaugural "A MOBILE-SPACE (WORLD)" lookbook. By mimicking the iPhone camera roll, the visual narrative underscores a multifaceted perspective on style, playfully mixing and matching garbs through the brands imaginative lens. The diverse collection spans items all the way from deconstructed blazers to oversized track jackets. A bit of lightly-layered '90s business casual and a bit of athletic utilitarian. Distressed denim, angular eyewear and a variation of accessories complete the assemblage.
When: Now
Where: Ader Error's web store
Richardson Spring/Summer 2018 Drop
Returning for Spring/Summer 2018, Richardson released another fresh drop of streetwear offerings. This time around, the magazine's clothing line puts together a range of wardrobe essentials centered around its signature cult aesthetic. Leading the drop is the Baba Yaga Hoodie, which features iconic Richardson branding accompanied by an illustrated graphic that references Slavic folklore. The rugged Rugby long-sleeve shirts are accented by an embroidered exotic dancer chest logo for a sportswear touch.
When: Now
Where: Richardson web store
Heron Preston Transparent PVC Raincoat
Heron Preston released a new PVC transparent raincoat for his Spring/Summer 2018 collection rollout. Through the completely see-through exterior at the rear of the jacket is the recognisable the is the recognizable Great White Heron Bird artwork by John James Audubon, which has been a constant motif in previous releases. Elsewhere, industrial Heron Preston branding and Cyrillic is found on the sleeves for a stylish touch to a useful garment for the transition season.
When: Now
Where: Nubian web store
Saturdays NYC x PORTER Yoshida Collection
Saturdays NYC celebrates its fifth year in Japan by partnering with PORTER Yoshida for a special range of bags that pay homage to its origin city. The collection intends to represent New York City subway's 7 line, 4/5/6 MTA line and 1/2/3 line via a backpack, tote and duffle, respectively. Each bag is constructed with lightweight nylon fabric and is thin enough to be packed in a pouch for on-the-go storage, fulfilling its name, "Commuter Pack". Branding is kept minimal with a mostly all-black design with contrast detailing at the Saturdays NYC diagonal stripe logo and PORTER's classic rectangle patch.
When: Now
Where: Saturdays NYC web store and physical locations
CMMN SWDN Partners x Ace & Tate Eyewear Capsule
With "retro-futurism" in mind, CMMN SWDN links up with Amsterdam eyewear brand Ace & Tate for a '90s rave/The Matrix-inspired collection. Playing off the current position of fashion, the collection takes a whimsical approach to the Summer staple by incorporating hints of pop-culture and catchy silhouettes that are both fun and functional. The sunglasses opt for a much narrower lens as opposed to the traditional larger frame look. The two designs are dubbed the "Neo" and "Pris" — one in acetate and another in metal — named after characters from The Matrix and Blade Runner.
When: Now
Where: Ace & Tate web store
Supreme Spring/Summer 2018 Drop 10
The headliner for 'Preme's Week 10 drop is the Hellraiser x Supreme Spring 2018 Collection, but it's perhaps the Supreme x Rawlings Catcher mask that takes the cake for the most riotous collectible. Nonetheless, Supreme's Hellraiser collection sees a graphic-heavy release working off the unforgettable image of Pinhead that's sure to sell-out quick. It features a trench coat, football jerseys, BDU shirt, skate pants, hoodies, knit sweater, tees, mesh shorts, a beanie, keychain, and a skate deck. UPDATE: also dropping this week are the tonal suits, which will help pull some weight. Keep checking back for more release updates.
When: April 26 — 11:00 am GMT (for London), 11:00 am EST (for NYC)
Where: Supreme NYC, LA, European locations and online at Supreme's web store