Donovan Mitchell Is Crowned the Verizon Slam Dunk Contest Champ
Mimicking Vince Carter's reverse 360 windmill dunk.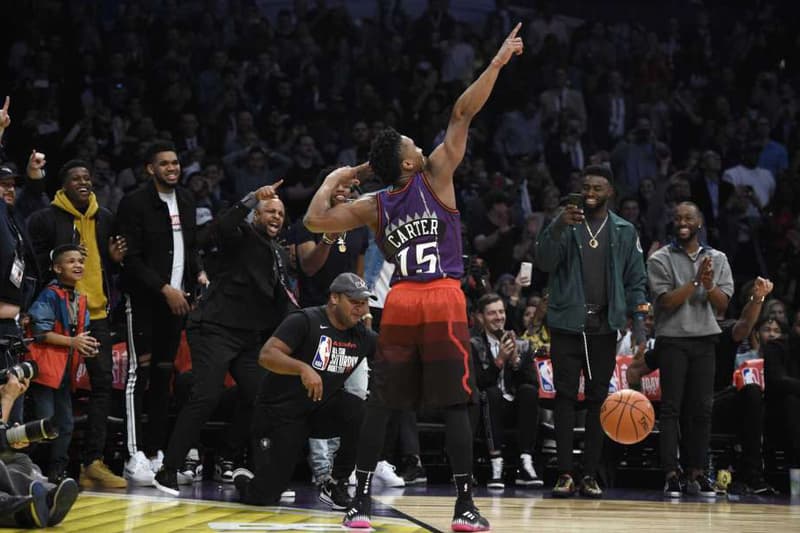 Of the many events to take place during NBA All-Star Weekend, the Slam Dunk contest has proven over the years to be a definitive crowd favorite, with this year's crop of high flyers doing well to impress the crowd. On-the-rise Utah Jazz star Donovan Mitchell — a late addition to the contest replacing Aaron Gordon who is nursing a hip flexor injury — stepped in and immediately excited the judges.
With four dunks in total, including successfully jumping over three people and bouncing the ball off a second backboard only to finish with a windmill flush, Mitchell felt the pressure from Cleveland Cavaliers' Larry Nance Jr. who had impressive slams of his own. Needing a score of 47 on his final attempt to win, Mitchell paid homage to dunk legend Vince Carter by mimicking the former's reverse 360 windmill — in a Carter jersey, no less. The attempt paid off — earning a score of 48 to seal the victory.
In other basketball news, the finalists for the 2018 Basketball Hall of Fame have been announced.
"IT'S OVER!" pic.twitter.com/nsvU4kpU7j

— NBA on TNT (@NBAonTNT) February 18, 2018
"That's what we've been waiting for!"@spidadmitchell posts a 50 with a little help from @KevinHart4real! ? pic.twitter.com/hlI8AtJ8sn

— NBA on TNT (@NBAonTNT) February 18, 2018
.@spidadmitchell starting things off at the #VerizonDunk with some creativity! ? pic.twitter.com/CFIbyzxwAi

— NBA on TNT (@NBAonTNT) February 18, 2018
.@spidadmitchell cocks it BACK! ? pic.twitter.com/09hEom1uLW

— NBA on TNT (@NBAonTNT) February 18, 2018