Best New Tracks: 21 Savage, A$AP Rocky, Playboi Carti, Lil Uzi Vert, Post Malone and More
Add these to your weekend playlists.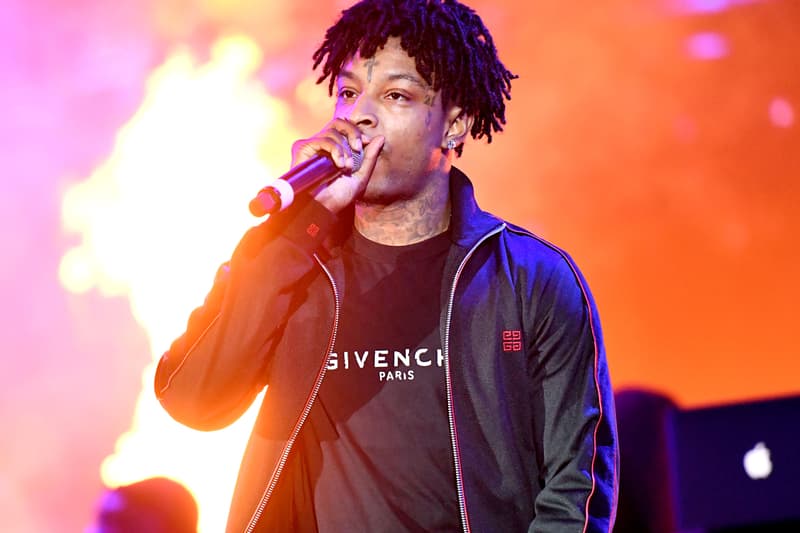 For the latest in our music roundup series, we delve into another big week of music led by an assortment of projects, videos and headlines. Of course, one of the trending items still making waves is Drake's single, "God's Plan." The single has become a phenomenon, reaching not only triple-platinum status in less than a week, but also initiating the viral #GodsPlanChallenge which encourages fans to do something positive for somebody else. This of course spawned Jimmy Kimmel to drop a humorous low budget parody of the video involving his infamous security guard Guillermo who gave out dollars to people at a 99 cent store. On the note of currency, Frank Ocean sued producer Om'Mas Keith this week for allegedly filing false registrations with ASCAP in an attempt to monetize and credit himself for 11 songs on Blonde. Meanwhile, Young Thug is reportedly filing paperwork to legally change his name to "Sex," which if history is any indication, we might be getting a Thug album in the coming weeks.
Check out this week's best new tracks and let us know what you think in the comment section.
A$AP Rocky, Gucci Mane & 21 Savage – "Cocky
As part of the upcoming Uncle Drew film, the movie's first soundtrack cut officially arrived this week featuring A$AP Rocky, Gucci Mane and 21 Savage. The trio of rap royalty added their respective styles to the London On Da Track-produced beat, dressed with their own nods to the game of basketball within their respective verses.
Richard Russell – Everything Is Recorded (Album)
This week, XL Recordings founder and producer Richard Russell shared his new album, Everything Is Recorded. The British producer compiled 12 songs, bringing together several artists from genres spanning from experimental electronic hip-hop and R&B to jazz and indie. Notable appearances include Sampha, Giggs and Kamasi Washington in addition to a multitude of up-and-coming talents. Listen in below.
Lil Uzi Vert & Playboi Carti – "Bankroll"
Late last year, Playboi Carti teased what appeared to be a joint project with Lil Uzi Vert. Since that teaser, there hasn't been much news on the new music until this week when they shared a collaborative track called "Bank Roll," which could very well be the project's first single.
Black Moth Super Rainbow – "Mr No One
Indietronica legends Black Moth Super Rainbow officially made their return this week following a long six-year hiatus. In addition to announcing a new project for 2018 called Panic Blooms, the band also shared the project's first single, "Mr No One," that relives some of their finest material drenched with monosynths and washed out vocals.
Lil Gnar & Germ – Big Bad Gnar Sh*t (EP)
This week, fast-rising Atlanta rapper and skateboarder/fashion designer Lil Gnar dropped a collaborative EP with fellow ATLien Germ called Big Bad Gnar Sh*t. The 6-track project is an assortment of bouncy flows and addictive trap instrumentals. In addition, the project also featured appearances from MadeinTYO and production from Izak, Purpdogg and more.
Towkio – WWW. (Album)
After years of releasing loose singles and building himself a sizable following, Savemoney's Towkio has officially dropped his debut album, WWW. as of this week. The project released under Rick Rubin's American Recordings label and arrives with 13-tracks, including fan favorite cuts, "Hot Sh*t," "Drift" and "Symphony." Listen in below.
Flatbush Zombies – "Headstone"
In addition to announcing a new album for 2018, Flatbush's beloved sons, Meechy Darko, Zombie Juice and Erick Arc Elliott dropped off their first album single this week titled, "Headstone." Accompanied with a Luke Monaghan-directed visual, you'll find the rap trio return to their stomping grounds of Brooklyn in celebration of their long-awaited comeback. Press play to listen and watch below.
Post Malone & Ty Dolla $ign – "Psycho"
After leaks began making their rounds, Post Malone decided to unleashed the full version of his new Ty Dolla $ign assisted record, "Psycho." The Beerbongs & Bentleys album single finds the two hitmakers showcasing their melodic-focused styles, exchanging harmonic verses over a slow-burning, percussive beat. Listen below.
SOB X RBE – Gangin (Album)
Buzzing Vallejo-based rap collective, SOB X RBE, dropped their long-awaited debut album this week. The 15-track offering from Slimmy B, DaBoii, Lul G and Yhung T.O fall in place after their meteoric rise in 2017 that saw them go from local Bay Area stars to getting placements on the TDE-produced Black Panther soundtrack. Stream below.
Be sure to check out our previous music roundups for the best drops of weeks past.