adidas' SPEEDFACTORY Aims to Change the World of Football
Revolutionizing stateside sports.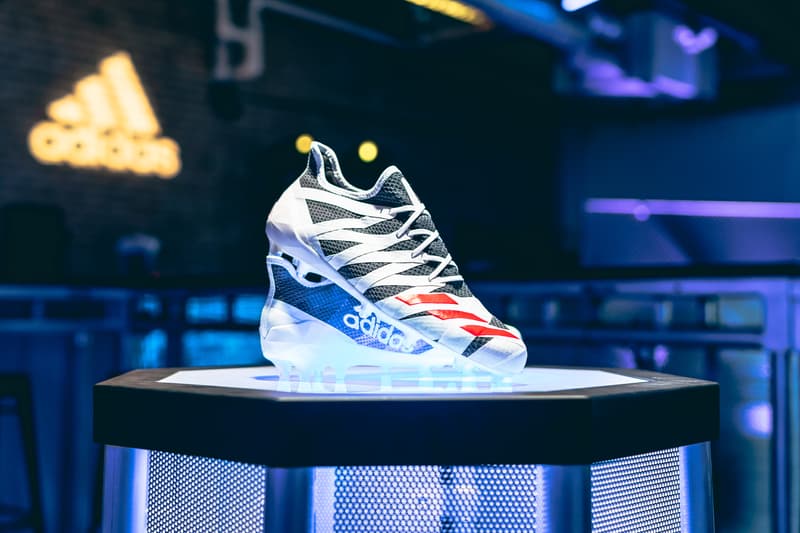 As sneakerhead culture continues to infuse itself into sports, one brand that has seamlessly been able to blend the two worlds together is German sportswear giant adidas. Since its introduction back in the late '40s, the Three Stripes has managed to greatly influence both worlds by pushing the boundaries and creating exquisite, game-changing technology time after time.
By the end of 2015, adidas had once again managed to reinvent the footwear and innovation game with the launch of its SPEEDFACTORY in Ansbach, Germany. Set as the next evolutionary stage of the manufacturing process, the groundbreaking initiative aims to create more bespoke, custom shoes while reducing adidas's carbon footprint on the environment. Followed in September of 2016, the public was introduced to the first pair of SPEEDFACTORY sneakers to come off the line: a very limited-edition running shoe dubbed Futurecraft M.F.G. (Made for Germany).
With that, the stage was set for another significant creation, the AM4 (adidas Made For) series. As the SPEEDFACTORY's very first fully-formed project, it gave birth to a line of sneakers designed and tailored to the needs of runners in a specific city. Already meeting the demands of the London and Paris running scenes, New York, Los Angeles, Shanghai and Tokyo are set to be next in line. Nevertheless, as with any brand, progress needs to be made and to showcase its latest advancements, adidas took to football's biggest event, Super Bowl LII as the perfect stage for debuting its latest significant SPEEDFACTORY creation: the high-tech, digitally-created custom adidas Made for Minnesota (AM4MN) cleats.
To celebrate the launch, the adidas Super Bowl VIP Suite was set up right in the heart of downtown Minneapolis, which became the weekend's go-to hangout spot for the likes of NFL superstars Dak Prescott, Aaron Rodgers and Von Miller; entertainers Jamie Foxx and 21 Savage; and cultural icons Pharrell Williams and Snoop Dogg.
"It's super fast, but it's still also about craft; it's still also about innovation; it's still also about making the best product. Regardless of how fast you make it. So we still have standards, it still has to be amazing."
With an exclusive invitational and firsthand look, it was easy to see why the AM4MN cleats are so special, filled with its multitude of technical details, highlighted by its short 14-day manufacturing time that Joe Robertson and Todd Rolak, Senior Directors of adidas Football, believe is helping adidas to push past its competitors. With a production time that's three times faster than normal, adidas is able to take the needs and wants of NFL athletes and continuously reinvent and recreate them just days before being produced, delivering a precision fit that is specifically tuned for them.
Crafted and shaped by ARAMIS, a motion-capture system used by NASA that helps determine the amount of strain and tension caused by different materials, the results give insight on how the foot moves throughout a football game, making the design process that much easier. The cleat's Primeknit upper is then pieced together with a speed-spat seam tape adding support during acceleration, cuts, direction changes and quick stops. To finish it all off, the AM4MN also boasts adidas' SprintFrame and SprintStuds for multi-directional speed, strength and traction. "We studied the athletes' movements, used those movements to apply technology to harness what they need and put support where they need it," Robertson states. "It's super fast, but it's still also about craft; it's still also about innovation; it's still also about making the best product. Regardless of how fast you make it. So we still have standards, it still has to be amazing."
However, football cleats traditionally have no appeal other than the necessity to play in them. To make performance footwear in football as interesting as the sneaker market, adidas also aims to infuse cleathead culture into the mix by allowing athletes and customers the ability for self-expression, as seen on Pharrell's custom "LIBERTY + JUSTICE" cleat and by embracing creatives such as Soles By Sir. "We have methods to produce faster and more colors and graphics, to bring self expression to the forefront," explains Robertson. "Athletes want that, they want to stand out, they want to show off, they want to have a voice and this example is how you can do that."
Though the adidas SPEEDFACTORY has only just begun to revolutionize the world of football and the sports market stateside, bigger plans have already been set in motion with a second SPEEDFACTORY expected to land in Atlanta, Georgia later this year. As the name indicates, SPEEDFACTORY is set up to make adidas faster than its competitors and the AM4MN cleat is the first physical representation of that approach; it's just a taste of what's to come in the future of athletic shoes.
In case you've missed it, Pharrell explains how his adidas "LIBERTY + JUSTICE" cleats are honoring NFL players.