How Pharrell's adidas "LIBERTY + JUSTICE" Cleats Are Honoring NFL Players
Skateboard P talks to us about the current political climate in sports during Super Bowl LII.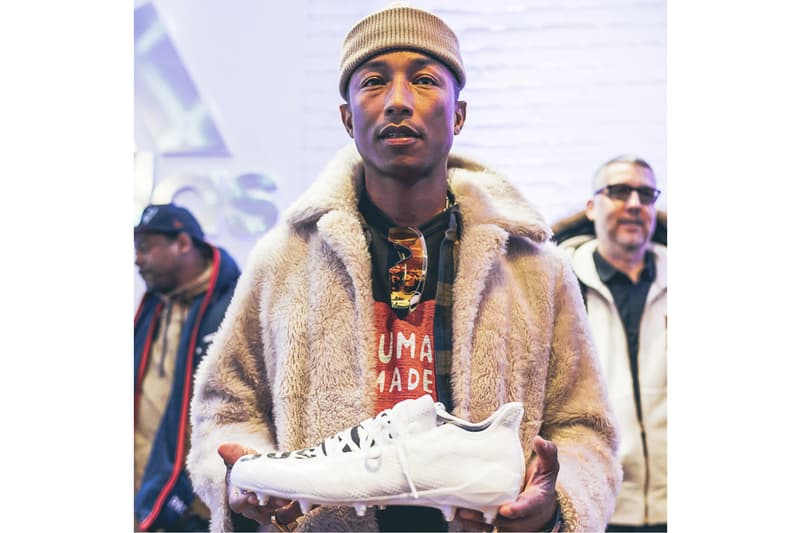 It all began in 2016 when then San Francisco 49ers quarterback Colin Kaepernick pioneered the "Take a Knee" stance, a gesture used during the playing of the U.S. national anthem to protest against police brutality and racial inequality. This protest then swept through the NFL on September 24, 2017 when over 200 players knelt on one knee in a show of defiance against President Donald Trump, who called for owners to fire their protesting players. Trump's attacks on the sports world have prompted many celebrities to speak out in solidarity to show their support for NFL players staging demonstrations — amongst them is cultural icon Pharrell Williams.
Believing in self-expression and freedom of speech, Pharrell and longtime collaborator adidas went on to unveil a set of custom "LIBERTY + JUSTICE" cleats just days before football's biggest game, the Super Bowl LII. During the height of Super Bowl weekend, HYPEBEAST — along with Nice Kicks and UPROXX — got a chance to catch up with Pharrell at the adidas Super Bowl VIP Suite, discussing political issues in the NFL and where we stand today as a nation.
"Liberty and Justice for all. That's what needs to be on their feet, every step that they take."
Always set on taking risks and pushing the boundaries forward, it's not always easy to create a product that can act as an activator for societal justice and change. With that, adidas was far from shy in choosing Pharrell as the face of its latest project. "Pharrell has a message of positivity; we [adidas] have the message of wanting to change lives through the power of sport and that's just an easy marriage," states Todd Rolak, design manager of U.S. sports. "This is the perfect platform to unite instead of divide and using sports for good. Pharrell's cleat embodies that."
Pharrell's custom, digitally created "LIBERTY + JUSTICE" AM4MN (adidas Made for Minneapolis) cleats made in conjunction with adidas' SPEEDFACTORY, is the latest outlet for NFL athletes to express themselves in today's political climate. As the pair flows from the same vein as the lifestyle line, Pharrell Williams x adidas Originals Hu, it was only natural for the duo to pivot into sports. On having the opportunity, Pharrell answers without hesitance, "to have a brand that sees what's going on with the NFL, sees people in a position of power say these really disparaging things that could become discouraging to these players, adidas really gets that. It's an honor to work with a team like that, having our morals and ethics aligned." Pausing for a moment he continues, "the NFL guys are risking everything; risking their minds, risking their bodies, risking their spirits. They risking everything and this is the verbal environment that they have to endure?" With "LIBERTY" and "JUSTICE" placed on the upper of each shoe, these two small words are far from simple in their meaning, encompassing a movement for fundamental American rights. "Liberty and Justice for all. That's what needs to be on their feet, every step that they take," Pharrell proclaims.
Pharrell being no stranger to protests also shares the same values of the NFL players. During a performance in Charlottesville, Virginia back in September of 2017 — the site of far-right marches held earlier in August — Pharrell knelt in front of the crowd saying, "If I want to get on my knees right now for the people of my city, for the people of my state, that's what this flag is for," referring to the star-spangled banner. He also called for "freedom of speech, freedom of religion, freedom of belief, freedom to live."
Placing two simple words on a cleat should not be considered a risk, but with so many critics still present in the NFL, how does Pharrell combat the negativity? "We got to talk about tough things in life and make it so it doesn't feel so contentious, just fair. I can't wear the word 'liberty' now? I can't wear the word 'justice'? Is that what you saying? Yet, you want me to sing it?" he explains. "You either get with it or get out the way." Meanwhile, in the face of all this political adversity, "these guys are standing up for our culture. And it isn't just the black players; it's the white players doing it too. You got this political noise getting in the way of all this." Elaborating more on the situation, Pharrell continues, "They not holding up signs, they not throwing rocks, they are just exercising their liberty and their justice for all. That's really all this is."
"I think these football players that are expressing themselves, not just on the field but right before the game, I think that is a very positive thing."
To further honor the athletes and culture of American football, Pharrell presented his custom AM4MN cleats to the likes of Snoop Dogg, Chad Johnson, Von Miller and DeAndre Hopkins. Personally hand delivering each pair, Pharrell graciously states, "I'm honored that the players see that we are trying to support them and it's just a good time right now."
As the room begins to fill up with admiring athletes and VIP attendees vying for Skateboard P's attention, he leaves us with his final thoughts on where the nation stands today. "If you hear any of us being proud it's because we are proud of the progress. We are also proud of the possibilities for things to get even better," he exclaims. "I think so much is possible, and I think these football players that are expressing themselves, not just on the field but right before the game, I think that is a very positive thing. And to me the idea that a big major corporation like adidas is willing to stand behind these players, I think we are making some progression."