These Are the 30 Best Horror Films to Stream This Halloween
Across Netflix, Amazon Prime, Hulu and even Shudder.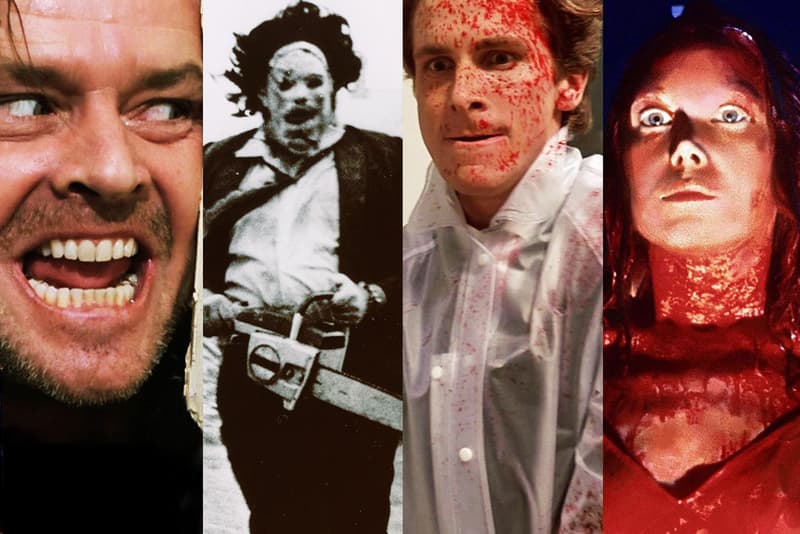 It's that time of the year where horror movies reign supreme. Although the genre has had a stellar year in its own right so far, there's a ton of content, old and new, premiering this month over the range of popular streaming services. Varying from Netflix, dedicated horror platform Shudder, Hulu, and Amazon Prime Video, the movies below are the best horror films available to stream this year's Halloween. The selections below feature a ton of Stephen King, A24 flicks, and a couple Mike Flanagan-directed films before he tackles his biggest project to date Doctor Sleep, the sequel story to the original The Shining.
Check out the list below and share your thoughts in the comment section below.
Netflix
The Ritual
Scare factor: 3/5
After reuniting following the tragic death of a friend, four college friends hike through the Scandinavian wilderness and end up in mysterious forests from Norse mythology. They are soon hunted by an ancient evil. This is one of the first horror-based Netflix Originals to arrive this year, and it's a quality film, a quality that gives us hope that the rest of Netflix's upcoming Halloween content will follow suit. The reveal of the monster is great, but it's the dread-filled lead-up and the dwindling of their group that's the best.
Gerald's Game
Scare factor: 3/5
The first of many Stephen King adaptations — as well as the first of two Mike Flanagan-directed films — Gerald's Game, see a couple try to spark their love lives in a remote location in the woods. However, as the husband handcuffs his wife to the bedpost, he suffers a Viagra-induced heart attack, leaving her strapped in a room alone to hallucinate and relive haunting memories. This one is more of a psychological horror than anything, but still features dark imagery and a bevy of eerie situations that could arise being stuck in a single location.
Let the Right One In
Scare factor: 3/5
A bullied 12-year-old Swedish boy meets his mysterious neighbor Eli and becomes friends with her. However, it becomes apparent Eli isn't a normal girl; she's secretly a vampire who needs the boy in order to survive. This foreign film has a different approach to horror, weaving a story that makes you care about the characters first, making what eventually happens to them more dreadful. There's, of course, some macabre imagery and violent kills but at the heart of it all, like any vampire story, is a story about romance. It's therefore the perfect horror movie for couples. Whatever you do though, do not watch the American remake Let Me In starring Chloë Grace Moretz.
The Conjuring
Scare factor: 3/5
The Conjuring is in part responsible for the big boom in quality horror films in recent years. It spawned its own MCU-like universe with Annabelle and The Nun, incorporating real-life haunting stories from our protagonists Ed and Lorraine Warren. In this film, they investigate a ghostly presence in The Perrons' family household. The film has breathtaking cinematography, awesome camera work, and genuine scares not manufactured by loud noises. It will also make you want to explore other horror movies within its cinematic universe.
The Witch
Scare factor: 4/5
The Witch is like Hereditary, dealing with the inner destruction of a family unit except it's set in 1630's New England, as reflected in the dialect of every character. The family drama is paralleled with the horrors of witchcraft, and the slow burn culminates in a more-than-satisfactory third act. If you're a fan of cinema as well as horror, this is a must-see for its masterful cinematography, atmosphere, and build-up of dread.
Hush
Scare factor: 3/5
Some may say Slashers are dead, but Hush shows there's still plenty of compelling stories to tell within the sub-genre with director Mike Flanagan at the helm. The film follows a deaf writer living in solitude in the woods, who must fight for her life in silence when a masked killer appears at her window. The absence of sound from our protagonist lends itself to introducing certain scares a film wouldn't be able to portray otherwise.
Train to Busan
Scare factor: 3.5/5
As a zombie outbreak sweeps the country, a dad and his daughter take a harrowing train journey in an attempt to reach the only city that's still safe. This one puts a totally different spin on zombie movies, something desperately needed for the sub-genre. As folks become more ingrained within its tropes, it takes something truly imaginative to stand out from other films in the genre. Train to Busan does so without turning its back on what people love about the undead.
The Shining
Scare factor: 5/5
If you've never seen The Shining, disregard everything else on this list and go see it first. What can be said about this Stanley Kubrick classic that hasn't already been said? Most agree this iteration of the Stephen King novel is better than the source material, much to the chagrin of the author. It showcases Jack Nicholson at his most nutty, and a level of camera work that has gone on to inspire the look of some modern-day horror films that appear on this list, such as The Witch and The Conjuring. An alcoholic author and his family get to spend time at a snowy retreat that, surprise, is haunted by the spirits of those who died there. Fun fact: actress Shelly Duval was berated by the director in order to generate genuine emotion for some of the scenes she's crying in.
The Invitation
Scare factor: 3.5/5
This movie flies low under the radar, making it a hidden gem within the endless options of content Netflix has to offer. During a dinner party at his former house, a man begins to suspect his ex-wife and her new husband are attempting to recruit them and the rest of their guests into a cult. It's the paranoia of our protagonist that drives the film's horror elements for the first two acts. He's likable and trapped in a damming situation on two fronts, confronting his ex-wife and their drama, and the threat of being in danger. Seeing if his decisions throughout the film are validated is what makes it worth watching until the very end.
The Void
Scare factor: 5/5
A police officer rushes a bloodied man to a short-staffed hospital, where mysterious figures surround the building's exterior. These figures turn out to be part of a greater scheme to reach a higher ascension and it appears all those stuck inside are involved in an offering. The film features some grotesque imagery that utilizes practical effects, making its appearance all the more disgusting to look at. This is a top-tier Netflix offering with an out-of-this-world ending.
Shudder
Hellraiser
Scare factor: 4/5
Hellraiser is a classic that looks to the erotic culture of BDSM and flips it on its ear to produce one of the greatest body-horror films ever made. The story follows a sexual deviant named Frank who unleashes these beings from Hell that tear him apart. When his brother and ex-lover (now sister-in-law) buy his house, he attempts to convince the latter to lure men home so he can kill them and rebuild himself. This is by far the best entry in the franchise, and although the flick isn't for everyone (much like BDSM), it's a gateway to an entire Hellraiser lore built throughout the years that diehard fans devour to this day.
Night of the Living Dead (1968)
Scare factor: 5/5
This is the George Romero film that originated zombies, establishing tropes and interactions within the sub-genre that would remain unchanged for decades. Even though it's a 1960 black-and-white flick, it still holds up in terms of plot and scares. We watch as several people barricade themselves inside a rural house in an attempt to survive the undead nightmare outside. The film even features a social commentary that can be appreciated or totally ignored without a dip in quality from the story. This is truly one of the best horror movies ever made.
The Evil Dead (1981)
Scare factor: 4/5
A group of college students finds a Sumerian Book of the Dead in an old wilderness cabin during a weekend getaway. They ignorantly unleash evil spirits and demons while reading its incantations, then mayhem ensues. The Evil Dead is another classic, directed by Sam Raimi before he became known for his mixed-reviewed Spider-Man trilogy. The malevolent forces in this film are over the top cruel for today's standards, and its grainy B-film quality lends itself to the overall macabre atmosphere the plot is soaked in.
Halloween (1978)
Scare factor: 5/5
The Boogeyman is coming. Halloween follows a crazed lunatic stalking a babysitter, killing all her friends in the process. The film lives as one of the greatest horror films of all time for a reason, and that's because it stands the test of time. It's shot well and has a simple enough story that it will never feel outdated. It also displays Michael Myers as a force of nature that sleuths in the shadows as The Shape. An unmoveable quality of the character the original film laced with metaphors and nuance before it became a near-laughable trope as the franchise pushed forward. This classic is the perfect film to watch this holiday season for obvious reasons, and essential if you intend to see the new film coming out October 19.
Halloween 4
Scare factor: 2.5/5
This movie disregards almost everything from the original film and its sequel, and has Myers stalking his young niece, in an apparent mission to kill off everyone in his bloodline. Myers doesn't get anymore campy than Halloween 4 and 5, a far cry from the grassroots approach of the original or violence the sequel produced. Instead, this film offers a nightmarish look at the man, putting his Boogeyman monicker on full display. It also features a great ending that is in no way followed up in Halloween 5. Therefore, do not watch Halloween 5, which is also available on the platform.
American Psycho
Scare factor: 3/5
Set in the cocaine-fueled streets of 1980s New York, wealthy businessman Patrick Bateman (Christian Bale) spends his days pretending to be a normal member of yuppie society while he spends his nights serial killing. The film offers a ton of commentary and nuance into the mind of a sociopath and materialism. It also leaves you guessing the nature of the film, and if everything being presented is actually happening. However, if you're looking for something traditionally scary, this may not be your first choice.
Starry Eyes
Scare factor: 3/5
Determined to make it as an actress in Hollywood, Sarah Walker takes the leading role in a new film from a mysterious production company that demands a high price. It takes the Casting Couch mentality Hollywood is known for and dips it in a horror aesthetic that parallels with occult elements masterfully. This is another gem many horror fans may have missed but is very deserving of a midnight viewing.
Rear Window
Scare factor: 3/5
An injured photojournalist confined to his tiny, sweltering courtyard apartment with nothing to do but look out on his unsuspecting neighbors through the film's titular portal. It's all harmless voyeuristic fun until during one hot, restless night he thinks he witnesses a man murder his wife. This is an Alfred Hitchcock classic that flies a bit under the radar when compared to more popular titles of his like Psycho and Vertigo. This one utilizes suspense more than anything and doesn't really have any grotesque imagery to fall back on. But that's what makes this so deserving of a watch. It doesn't rely on anything else but suspense and a gripping story. Making its ability to produce scares all the more impressive.
Re-Animator
Scare factor: 4/5
A dedicated student at a medical college and his girlfriend become involved in foreign practices focusing on the re-animation of dead tissue when a weird new student arrives on campus. This is one of the more fun entries on the list, as the film expertly blends elements of horror, fantasy, and comedy to produce a spirited Halloween movie that is the best in director Stuart Gordon's gruesome H.P. Lovecraft adaptations.
The Texas Chainsaw Massacre (1974) 
Scare factor: 5/5
What makes The Texas Chainsaw Massacre stand out against its contemporaries The Exorcist and Halloween is just how visceral it is. To the filter the film is shot in, the setting, its documentary-style visuals and "true story" angle, the picture comes off as a bonafide snuff film to this day. Despite the fact that there's little to no blood shown, this remains one of the most violent movies ever made, and worthy of your time this holiday season.
Hulu
Carrie (1976)
Scare factor: 5/5
This timeless Stephen King classic sees a tormented girl with an overzealous mother develop psychokinetic powers in the wake of a horrible prank. Sissy Spacek nails the role of Carrie and shoulders a large portion of the film on her own. But her mother, played by actress Piper Laurie, chews the scenery whenever she's on display, delivering lines that will haunt men and women for years to come. If you haven't seen this film, go out of your way to catch it this month. Again, whatever you do, do not watch the remake starring Chloë Grace Moretz.
The Amityville Horror (1979)
Scare factor: 3/5
Based on the supposed true story of the Lutz family, this film sees them move into a new home that possesses whomever lives there. The story of this film is more well-known than the actual events, which may turn people off from watching the movie. However, the way in which the performers take the over-the-top material seriously is what keeps the film effective and worthy of your viewing.
Child's Play (1988)
Scare factor: 4/5
Child's Play is a timeless classic of a voodoo-practicing serial killer trapping his soul in a Good Guy doll to avoid death. The original Child's Play is by far Chucky's scariest outing before he followed in the comedic footsteps of other horror icons like Freddy Krueger. It's a tale of something pure and innocent being perverted into something corrupted and gaudy — a happy medium between the creepy kid and demonic possession sub-genres of horror.
Jacob's Ladder
Scare factor: 4/5
Jacob's Ladder offers several different genres wrapped into one: drama, mystery, and of course horror. After returning home from the Vietnam War, veteran Jacob Singer struggles to maintain his sanity as he's plagued by hallucinations and flashbacks that morph and twist his reality with disturbing images. It also features a twist ending that will either make or break the entire film for you.
VHS
Scare factor: 4/5
VHS is the modern day Creepshow (albeit with less notable names attached), hosting four horror shorts that compile into one noteworthy anthology film. The structure of anthology films harken back to the nature of scary campfire tales, which is perfect for the holiday season, but it also features some truly disturbing images and clever subject matter we wouldn't mind seeing played out in a full-length feature.
Amazon Prime Video
Return of the Living Dead
Scare factor: 2.5/5
This is one of the most celebrated zombie movies for its off-kilter approach to the genre, well before funnymen Simon Pegg and Nick Frost realized the undead have a lot of laughs to offer alongside their scares. It's also very decidedly punk rock, down to the outfits of most characters, to its death rock filled soundtrack. It also features Pretty Ricky himself Miguel A. Núñez Jr. as one of several punk rock teens who must survive a gang of brain-eating zombies.
Pet Sematary (1989)
Scare factor: 5/5
With an upcoming remake already set to release, this Stephen King classic tells the tale of a cursed cemetery with the abilities to bring back the dead. So when a family moves a hot skip and a jump away from it and their infant son is tragically killed, you can pretty much expect what comes next. Although a lot of the plot's consistency won't hold up in hindsight, the horrors displayed here remain as potent as when it originally released. It also features one of the best exclamations of "Noooo!" ever put to film, and the family fallout from the resulting reaction is on Hereditary levels of unsettling to watch unfold.
Unsane
Scare factor: 3.5/5
Unsane makes you second guess signing forms at the hospital. The film follows a woman attempting to avoid a stalker by moving to a new town. When she visits her psychiatrist, she unwittingly admits herself to a behavioral center where people treat her like a crazy person, especially when she believes her stalker is one of the nurses there. Unsane draws a lot of social parallels in regards to mental disorders and women in society without sacrificing its psychological horror elements. It's also impressive to watch, given the entire film was shot on an iPhone.
Green Room
Scare factor: 4/5
This film features "Captain Picard/Charles Xavier" himself Sir Patrick Stewart as the leader of some neo-nazis who are out to kill these young band members after they witness a murder in his establishment. This one is scary because it could very well happen in real life and because the deaths on display here are severely brutal. If you're looking to watch a horror movie with a group of people this year, Green Room is on the top of our recommendations.
The Blackcoat's Daughter
Scare factor: 3/5
Two girls must fight a mysterious evil force at a deserted prep school while everyone is on winter break. This one relies on unnerving atmosphere to produce its scares and goes out of its way to subvert expectations one may have walking into the film. This one is a slow burn that goes down best if you like your horror films a little more nuanced.