These Are the Must-See Movies and TV Shows Premiering in October
It's time to get spooky.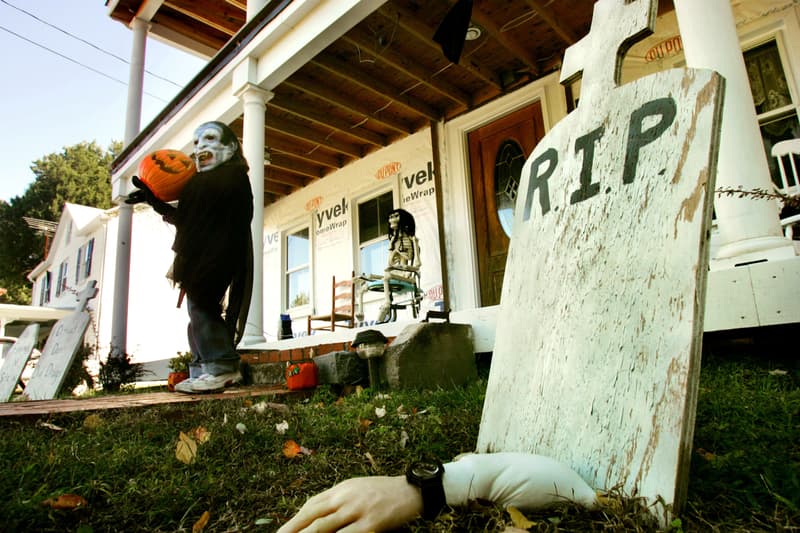 It's Halloween time this month, which not only means we've got fresh new content, but that we also have a slew of horror shows and movies releasing. The granddaddy of all Halloween movies is getting the soft reboot/sequel treatment that's sure to confuse anyone not invested in Michael Myers lore. Before then, however, we've got Tom Hardy's Venom coming the weekend of New York Comic Con. Will it be a bust immediately given its dropped connections to Spider-Man and the greater Marvel Cinematic Universe? Or will Hardy's star power result in sold tickets?
Over on the TV side, we've got a lot of gems from Netflix, such as Making a Murderer season 2, Daredevil season 3, and a Sabrina The Teenaged Witch reboot we never knew we wanted. Check out the list below, ranging from some of the must-see releases to the more under-the-radar films and TV shows to look forward to in October.
Films
Venom (October 5)
Journalist Eddie Brock (Tom Hardy) is investigating Carlton Drake (Riz Ahmed), the notorious and brilliant founder of the Life Foundation. While doing so, one of Drake's alien experiments latches onto Eddie's body and merges with him to create Venom — leaving him with superhuman strength and power. The alien also has a consciousness of its own, and it's up to Brock not to fall for the temptation of their new power.
Why it's worth your time: It's Venom on the big screen being done as close to his comic book counterpart as we've seen so far in Hollywood. Even though the character isn't in the Marvel Cinematic Universe, this is the first step in that potentially happening down the line. And we wouldn't be surprised if there's more than a few easter eggs and shout-outs to the web crawler that'll support that they'll be in the same universe soon enough.
22 JULY (October 10)
Based on the 2011 Norway attacks, this film dramatizes the country's deadliest terrorist invasion, in which a homegrown right-wing extremist murders 77 teens at a youth camp. 22 JULY uses the lens of one survivor's physical and emotional journey of the aftermath to portray the country's path to healing and reconciliation.
Why it's worth your time: These acts of violence are a worldwide epidemic, and to our knowledge, this is one of the first dramatizations dealing with these current events. With the Academy Award-nominated filmmaker Paul Greengrass at the helm, this is expected to be great.
Apostle (October 12)
This is one of Netflix's first horror-centric releases this month. The story follows Dan Stevens' Thomas Richardson as the "prodigal son" who returns home and finds his sister has been kidnaped by a religious blood cult. The protagonist then vows to retrieve her by traveling to a remote location and infiltrating the cult. In the trailer above, we can measure that the rescue doesn't go according to plan.
Why it's worth your time: It looks like a quality horror film that can get folks in the mood for the holiday season. It also looks bloody and visceral, which is probably due to The Raid director Gareth Evans being at the helm.
First Man (October 12)
Director Damien Chazelle and star Ryan Gosling reteam for First Man, the story of NASA's mission to land a man on the moon, zoning in on Neil Armstrong (Gosling) and the years 1961 to 1969. The film is also based on the book by James R. Hansen of the same name.
Why it's worth your time: It could potentially be the sixth Academy Award for the team of Chazelle and Gosling, and given its subject matter, it probably will be. This is one of those films that's prestigious solely based on its talent and subject matter, plus, it'll dive into personal matters for Armstrong and the stress his mission put on him and his family.
Halloween (October 19) 
Taking place after the original film and disregarding any previous installment, Halloween returns to check in on everyone's favorite babysitter and home invasion slasher 40 years later. We see some documentarians present the franchise's iconic mask to the incarcerated Myers, setting off a chain of events in which the killer escapes and a Loomis-esque Laurie Strode comes strapped with a gun and a contingency plan. It's got callbacks to classic situations from the original film, and even has the original director John Carpenter heavily involved.
Why it's worth your time: If you've got any sort of Halloween spirit in your body, this is the perfect movie to usher in October 31. It's got Carpenter doing more than your typical executive producer, even providing the score of the film. If all that, in addition to having both the original Myers and Laurie actors back, isn't enough for you, the film received a standing ovation when it premiered at TIFF this year. The Boogeyman is coming.
Mid90s (October 19)
Mid90s stars Sunny Suljic (Atreus in God of War) as 13-year-old Stevie living in 1990s L.A. who soon makes friends with a group of skaters that rubs his older bully brother (Lucas Hedges) the wrong way.
Why it's worth your time: It's a coming-of-age tale filled with debauchery, growth and self-realization. The A24 film has a Kids vibe with themes of youth, skateboarding and older siblings coming into the fold. It's also Jonah Hill's directorial debut.
Suspiria (October 26)
This horror remake follows Susie Bannion, played by Dakota Johnson (Fifty Shades of Grey), attempting to join a foreign dancing school and potentially land work with a touring company. She meets a cast of strange people while attending, including a dancer played by Chloë Grace Moretz, who used to be favored by the head instructor Madam Blanc (Tilda Swinton), before she realized she's being groomed for a benevolent spirit.
Why it's worth your time: It's a remake of one of the greatest foreign horror movies of all time. And if you're already a fan and apprehensive because the remake lacks the hallmark Italian Giallo vibrancy of the original, watch the trailer above. We felt the same when the first trailer was released, but something about the second trailer honored the fantastic story elements and creep factor of the 1977 classic. It's since become one of our most anticipated films of the month.
TV
Joe Rogan: Strange Times (October 2, Netflix)
Joe Rogan is back at it with another Netflix standup special following his acclaimed Triggered set. Although Rogan's been a household name since Fear Factor and crescendoing his notoriety with a podcast, he's quickly gaining prominence with audiences for his comedy.
Why it's worth your time: His last one was great, and if you're a JRE fan, you know the brand of humor you're in for going into this.
Big Mouth: Season 2 (October 5, Netflix)
The brazen animated series about the horrors of puberty returns this fall with more hormone monsters and puberty fairies than before. Complete with 10 new episodes, relive some of your most awkward moments as a teen through the eyes of these animated caricatures.
Why it's worth your time: It's one of Netflix's original adult animated shows that is actually good, alongside newcomer Disenchantment. It's a good substitution for Family Guy as well, given the platform recently removed it.
Star Wars Resistance (October 7, Disney XD)
A daring pilot named Kazuda Xiono embarks upon a secret mission against the First Order as a spy with a lot of help from his friends, including his recruiter Poe Dameron.
Why it's worth your time: It follows Star Wars Rebel in terms of the animated series and will lead into the introduction of the new season of Clone Wars. There's no doubt this show will connect more dots and weave itself into the animated universe of the galaxy far, far away. It will even utilize an anime aesthetic, a nod towards the Japanese lore the franchise was founded upon.
 The Walking Dead: Season 9 (October 7, AMC)
Negan has been thwarted and thrown in captivity, leaving Rick and the gang to unite all compounds into one thriving community. Now it's time to see how they mess it all up with in-house fighting, drama and human tribes that throw walker skin on their faces and kill people.
Why it's worth your time: The death of Rick Grimes has become part of the marketing for TWD at this point, and it's working. We're genuinely interested to see how the show rids itself of its main character, especially since he and Carl are still central to the plot of the comic. After his death, we just may quit the season along with the entire rest of the series. But if done right, it could potentially breath new life into the show.
Black Lightning: Season 2 (October 9, The CW)
As a father and principal of a high school that also serves as a safe haven in a neighborhood overrun by violence, Jefferson Pierce is a hero to his community. He's also a hero of a different sort. Gifted with the superhuman power to harness and control electricity, he keeps his hometown safe as the masked vigilante Black Lightning.
Why it's worth your time: It's probably one of the only CW comic book shows worth watching these days, and for good reason. It differentiates itself from other superhero shows on the network with its subject matter and social issues. Plus it's just cool seeing Scooter from Living Single finally get his day in a successful lead role.
The Haunting of Hill House (October 12, Netflix)
Based on the Shirley Jackson novel and 1963 classic of the same name, the series follows a mother whose family is cursed with ghostly experiences living in a haunted house in the country. The series narrative will jump back and forth between the past and present to unfold its story, focusing on the five lead children as they grow up, still reeling from the tragedy of the haunting.
Why it's worth your time: Another strong horror-centric original from Netflix for Halloween. Except this one seems to focus more on the fallout of being victimized by lingering spirits, which is a different angle for a horror-based film or series to take.
Titans (October 12, DC Universe)
When Dick Grayson's Robin and Rachel Roth's Raven assemble assistance to deal with a plot that threatens the entire planet, they join with Koriand'r and Gar Logan (Starfire and Beast Boy, respectively) to form the Teen Titans.
Why it's worth your time: "Fuck Batman" notwithstanding, this is the live-action show DC decided to premiere it's streaming service with. It's also the beginning of a new line of superhero television shows alongside the CW and Netflix, with the possibilities of delivering a different tone than we're used to. Yeah, this looks like an overly gritty take on the team, but it may introduce an entirely new dynamic,one that could take us by surprise.
Harvey Birdman, Attorney General (October 14, Adult Swim)
The half-hour cartoon mashup special will feature Stephen Colbert once again portraying supervillain President Phil Sebben, who has made Birdman the new attorney general. Birdman has ulterior motives, however, as he looks to use the newly-appointed position to get Sebben out of office.
Why it's worth your time: It's the return of a late-night classic, bringing back most of the original cast, including Gary Cole as Birdman. The revival also looks to be parodying the current Trump administration.
Making a Murderer: Season 2 (October 19, Netflix)
The sequel to Netflix's critically-acclaimed series will focus on the post-conviction process of Steven Avery and Brendan Dassey, showcasing the emotional toll the verdicts have taken on their respective families, including Brendan's mother, Barb.
Why it's worth your time: The conspiracy behind the entire affair is shocking, and it's even more shocking (as well as sad) that there's more to unpack in this story, or that these two are still incarcerated following the original series. The story captivated the nation when it originally released. And in these tumultuous times, Part 2 is sure to awestruck viewers again.
Daredevil: Season 3 (October 19, Netflix)
Following his apparent death at the end of The Defenders, we pick up with Matt getting bandaged up in a church, setting up the events for season 3, where Murdock will be forced to deal with Elektra's death, his presumed death by the public, as well as the fallout of him revealing to Karen Page he's Daredevil.
Why it's worth your time: We've actually gotten to see the first six episodes, and this season promises to be one of the best to come out of Marvel x Netflix. It seems to be adopting two classic Daredevil stories, one of which being Born Again, one of the character's most acclaimed stories. There will also be an introduction to a classic Daredevil villain that will make fanboys revel in this slightly morphed retelling.
Castlevania: Season 2 (October 26, Netflix)
The gory trailer for Netflix's breakout anime series highlights the violence by tying events from the previous season, showing Alucard teaming up with protagonist Trevor Belmont to take down the former's vampire father Dracula.
Why it's worth your time: Castlevania season one was shockingly good. It nodded towards its video game source material when it needed to, and told a finely crafted story that made us sympathize with the antagonist of the series before the hunt to take him down even began. It's a great Halloween alternative and happens to drop when the Castlevania Requiem: Symphony of the Night & Rondo of Blood bundle hits PS4.
Chilling Adventures of Sabrina (October 26, Netflix)
Based on the darker take of the original Sabrina The Teenaged Witch comic of the same name, this 1960's coming-of-age story follows Sabrina Spellman (Kiernan Shipka) as an orphan of a warlock and human whose turning 16 and attending a Hogwarts-like school for magic folk. However, her half-mortal-half-witch heritage is making her question her place in the world.
Why it's worth your time: Did you know the original '90s show was originally a comic book? Neither did we, but in our current climate of comic book adaptation, it has us intrigued to see how a Sabrina story tied close to its source material will look. Especially given its tonal shift from a sitcom to a horror drama.