What's Fueling the Sneaker Craze?
Thanks to celebrity endorsements and degrees of rarity, lucrative reselling continues to grow.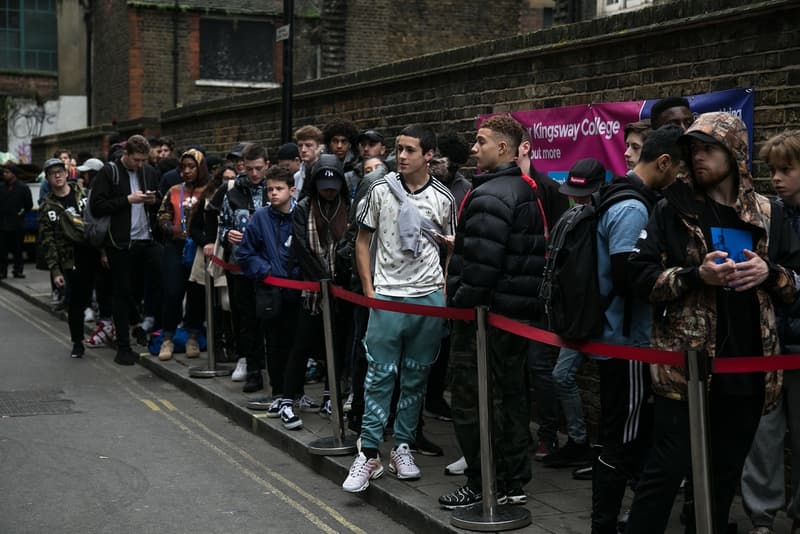 Some say that people in Hong Kong love to line up for things. In fact, this happens everywhere in the world, especially when sneakers are involved and sometimes it has tragic consequences. In Chicago in 2005, two men murdered a 17-year-old for a pair of Air Jordans. In 2012, two teenagers who had successfully purchased Air Jordan 11's were robbed and shot in New Jersey. In 2016, over 500 people lined up overnight outside an adidas store in Taiwan for NMD sneakers and several people were injured in the ensuing stampede. In 2017, a man lining up for the atmos x Nike Air Max 1 outside a Nike store in Hong Kong was attacked. Although these are isolated cases, what we can't deny is that this problem is escalating.
According to the stats on StockX.com, in 2014, resale of sneakers in the USA clocked up $1.2 billion USD and generated a profit of $308 million USD. Nine million pairs of sneakers were sold. You can clearly make a lucrative profit by reselling sneakers that you line up for. But what have been the hottest and most valuable sneakers of the past few years?
Triple Collaboration – USD$32,000 USD
Cantopop musician Wyman Wong recently wore the collaborative Hu NMD by Chanel x Pharrell x adidas Originals to the opening of the Chanel Mademoiselle Privé exhibition. Customers could only attempt to purchase this pair of sneakers via the Colette website and raffle winners were drawn in November 2017. However, despite being limited to 500 pairs, over 120,000 people registered for them. In other words, there were 240 entries fighting for each pair. Though the retail price was €1,000 EUR, resale for the sneakers topped $32,000 USD. Lots were drawn in order to ensure the fairness of the purchasing process.
Why was the "Chanel x Pharrell x adidas Originals" collaboration so popular? Aside from featuring some of the most well-known names in fashion and music, the success of the 2016 Hu NMD collaboration between adidas and Pharrell can possibly explain why. The sneaker is made of adidas's Primeknit material with the words "Human Race" printed across it. The five subsequent collaborations continued this theme with slogans like "Human Being" and "Human Species". I believe that this design connected with customers and is the reason the Hu NMD became the most successful collaboration between adidas and Pharrell. For the latest collaboration with Chanel, four pairs of adidas sneakers were picked by Pharrell with the final selection of the Hu NMD being eventually selected by Karl Lagerfeld himself. Yet, instead of a collaboration, it's more like a combination of the logos of both parties. Selling for $32,000 USD, is it worth it? That depends. What is indisputable is that without the previous collaborations and support by Chanel and Colette, the sneaker would have been considerably less hot.
The Top of the Hill Is Just the Bottom of the Mountain – $100,000 USD
Last year, in "Vote Forward" on Air Max Day, Nike invited 12 creators to re-design Air Max sneakers. Sean Wotherspoon, founder of sneaker boutique Round Two, designed the winning model, the Air Max 97/1. Notable features of his design included the combination of the Air Max 97 upper with Air Max 1 soles and the use of multi-coloured corduroy taken from a vintage 1980's hat for the body of the shoe. In addition to incorporating the classic Mini Swoosh style into his design, the Swoosh on the soles was turned into a smiley face, furthering its vintage, retro ties. Recently, a sample of the sneakers sold on eBay for $100,000 USD. If you're familiar with the heritage and significance of Round Two, then you'll understand why this pair of sneakers costs even more than the collaboration with Chanel and Pharrell.
Founded in 2013, there are three Round Two locations. The store mainly sells vintage items from the 1980's and 1990's, but what makes Round Two special is that the products it stocks are some of the most coveted in the fashion industry. Supreme Box Logo Tees, throwback Tommy Hilfiger and Nike Air Maxes line the shelves. Plus, as vintage styles have gained more popularity, a spotlight has been cast on Round Two — attracting fans like Travis Scott and Virgil Abloh. Their archive was so good that allegedly Tommy Hilfiger himself visited Round Two to acquire a Tommy Hilfiger item from the 1990's. When the second branch opened, over 100 people lined up, proving just how influential Round Two had become. This raises questions as to whether designs like the Air Max 97/1, when compared to a collaboration featuring the words 'CHANEL' and 'PHARRELL' printed on the sneakers, are worth more due to their stories and creative designs behind them.
High Fashion Influence
Demna Gvasalia has created many hot items. Since becoming creative director of BALENCIAGA, the Triple S sneaker has become extremely popular. His personal brand, VETEMENTS, has an on-going collaboration with Reebok. From their first graffiti Instapump Fury, to the Pump Supreme, to the Genetically Modified Pump, the collaboration has returned all these sneakers, which have long been a part of street and sports culture, to a state of cool. It was almost impossible to imagine this kind of partnership before 2010 since street fashion and high-end fashion were just too different. But now, the Nike R.T. series designed by Riccardo Tisci, the Raf Simons x adidas Stan Smiths and the Rick Owens x adidas sneakers are just a fraction of examples of this new dynamic. One of the first of this kind of collaboration was the CHANEL x Reebok InstaPump Fury, featured in its 2001 S/S fashion show. As it was not mass produced, each pair currently sells for $18,000 HKD in the resale market.
Is the Sneaker Craze Solely Down to Reselling?
In Hong Kong, if you are a fan of sneakers, you've likely heard of Horace Leung, who owns more than 600 pairs and once spent $1000 USD to buy a pair of limited edition Air Jordan XX3 that retailed for only $275 USD. In a Complex interview, DJ Khaled showed off his gigantic sneaker collection. He has made a lot of money just by reselling sneakers. Currently, the value of the global sneaker market has reached 6 billion USD with the market share of the USA occupying 1.2 billion USD.
The Influence of Celebrities
Perhaps unsurprisingly, products become even more popular when they are endorsed or supported by celebrities. Air Jordan is a very good example of this. After 30 years, it is still one of the most popular footwear brands. Last year, whenOff-White™ announced "THE TEN" series, many of my friends sought out the Air Jordan design. When Forbes announced the ranking of NBA stars' income generated by their signature sneakers, it was revealed that Michael Jordan made $101 million USD.
The Rarer It Is, the More Popular It Is
Simply speaking, sneakers have become more valuable when brands deliberately make them hard to obtain. The harder it is to purchase a shoe, the stronger the demand for it. Some brands even raffle off their limited edition items. For example, Nike has released an app called SNKRS, which was used for the Off-White™ x Nike "THE TEN" series. However the system eventually crashed as there was too much traffic.
Sneakers – A Combination of Fashion, Art and Culture
Consumers are attracted to cool colors, high-tech materials and artist and designer collaborations. Kevin Ma, founder and CEO of HYPEBEAST loves to collect sneakers. He once said in an interview, "[when you're young] You can't own cars because you can't afford them. You can't own lofts, or watches, or things like that. So the closest thing you could own was sneakers. Also, with sneakers there was a community of like-minded people." Sneakers even represent trends, art and culture. "That's why we started out with sneakers," he said. "But at the time, there were a lot of different collaborations – so you would learn about brands, musicians, and graffiti artists from these different collaborations. I didn't come from art – I didn't paint trains – but I learned about art through sneakers. So it was more like a learning process – learning about street fashion and street art, to then learning about high fashion and high art. It was like a tree branching into different areas."
As a Cultural Entrepreneur, Adrian Cheng has been a pioneer in the concept of "museum-retail" by founding the brand K11 in 2008, and subsequently founding the K11 Art Foundation in 2010 which serves as a platform to incubate Chinese artists and curators. He's also initiated cross-cultural collaborations between his K11 Art Foundation and international museums and art institutions such as Palais de Tokyo in Paris, MoMA PS1 in New York and Institute of Contemporary Arts in London. His LUXBA group is a leading fashion management arm which manages multiple international labels.

Follow Adrian on Instagram, Facebook and also through #byAC story.