In L.A. Retail, The Battle for Streetwear Relevancy Booms
The convergence of luxury and street culture is more apparent now than ever.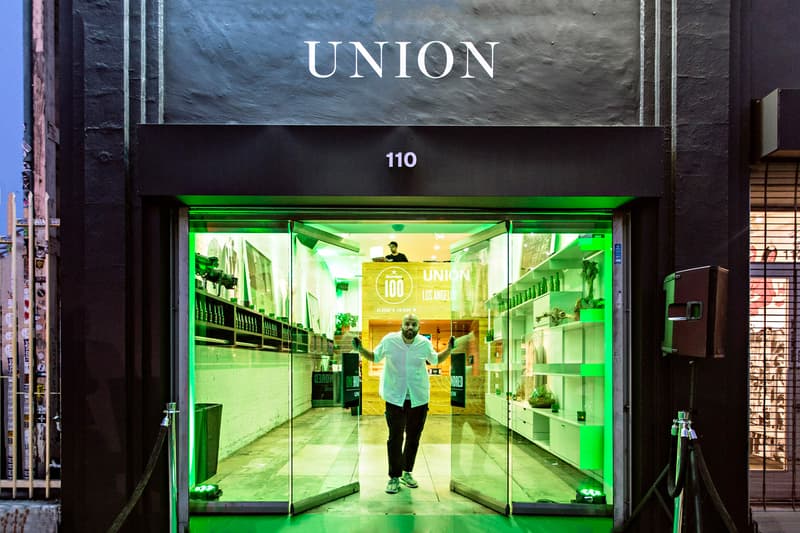 Los Angeles, California is experiencing a retail revolution. In the past few months alone, a number of established brands have either opened or announced setting up shop in the City of Angels. Among them are 3sixteen, Schott, Dover Street Market, Stone Island, and most notably, the return of BAPE.
Fashion insiders have long kept eyes on L.A., waiting to see if the city has what it takes to become one of the fashion capitals of the world. The arrival of Hedi Slimane in 2012 fulfilled a long awaited prophecy. "We have noticed a clear shift in the retail atmosphere thanks to Hedi Slimane, who based his creative studio in Los Angeles when he took the helm of Saint Laurent in 2012," recalls Peter Utz, chief branding officer at Maxfield L.A. Indeed, Slimane's collections that draw from Southern Californian youth have inspired a wave of other designers to showcase throughout California, leaving L.A. ripe for a new influx of fashion.
Los Angeles is certainly no stranger to streetwear, serving as home to iconic brands like Stüssy, FUCT and UNDEFEATED. Recently, these brands have passed on the torch to a new crop of players like Jerry Lorenzo's Fear of God, STAMPD, Enfants Riches Déprimés, RHUDE, and John Elliott — L.A. has wholeheartedly welcomed them.
This emergence of newcomers — retailers and brands alike — is promising for the future of L.A. retail, but with the constant change comes a battle for relevancy amongst the established and new.
The Streetwear Stockist Balancing Act
In the relatively 12 or so years of streetwear prominence, brands have come and gone, suffering shutdown at the hands of short-lived trends — large cartoonish graphics, unimaginative collaborations, and even parody-themed designs. The turbulently changing landscape of streetwear thus poses the challenge of striking the right balance between new and old brands to maintain loyal customers while simultaneously attracting new ones.
Chris Gibbs, original champion of streetwear and owner of renowned boutique Union L.A., has witnessed this changing of the guards first hand. "The core of our store are brands we have been carrying for over 12 years," explains Gibbs. "So yes we do have a loyal following but I think our customers are some of the best and smartest in the world — they are people who have knowledge of self and style so they are always down to try new shit."
Meanwhile, Peter Utz, chief branding officer at Maxfield L.A. – a shopping establishment since the '60s — sees the modernization of streetwear in the city as a way to change with the times. "In order to continue developing this structure (the mix of new and heritage brands) and to target an even younger clientele, we have worked hard to spotlight new design talent that is in line with our brand ethos," Utz states. "Our partnerships with Jerry Lorenzo (Fear of God), Virgil Abloh (Off-White™), Guram Gvsalia (CEP of Vetements), and the robots from Daft Punk are exemplary of this strategy."
Additionally, the cohesive convergence of luxury and streetwear is more apparent these days, especially in L.A. In its infancy, Union's stock catered to the sreetwear purist, concentrating heavily on brands like NEIGHBORHOOD, WTAPS, Vans, and visvim. Now, these labels sit right next to Raf Simons, Thom Browne, and Acne Studios at the shop. It is indeed a balancing act and also a trend that other independent shops and bigger luxury retailers like Barneys and Bergdorf have replicated.
City of Pop-Ups
As more and more destinations like Union and Maxfield L.A. take bigger risks on emerging quality streetwear brands, the savvier the customer becomes. This then leads to shops trying to get more creative to impress and hold onto their newfound patrons. Specifically, pop-up store events in the Hollywood area have become the golden standard in the retail game.
Maxfield Gallery's recent activations included transforming its space into a dry cleaning outpost for Vetements and a pawn shop for Enfants Riches Déprimés. Musically focused pop-ups have also become the trend as Union partnered with The Weeknd on special merch releases and Maxfield converted its store into a memorabilia museum for a Daft Punk-themed drop. Jerry Lorenzo, whose Fear of God brand is synonymous with vintage-style rock tees has also executed his own special pieces.
"The response to our pop-up events has beyond exceeded our expectations," Utz claims. "We set out in hopes of creating a completely authentic and unique shopping experience that would drive our model of a concept store to the next level – it is very exciting to see that our clients have been so receptive and engaged at these events and that we have been able to attract a new clientele to experience our boutiques."
As for L.A.'s big music influence, "We have always had a close relationship with music," Gibbs says. "We still work very closely with the music industry. As far as the sustainability (music's relationship with clothes), I think it's here to stay. Musicians have now started to apply the 'streetwear' mentality to their merch. It's no longer a throwaway item to them, it's now quite considered and well made and thus something that would fit in our store."
Meanwhile, Mac Hadar, owner of the contemporary boutique H.Lorenzo, has gone the art installation route with progressive London label, A-COLD-WALL*.
"We always keep our ear to the ground with what is happening in London and I was impressed by the way ACW* (Samuel Ross) takes inspiration from his surroundings and architecture and bridges high fashion and street culture," Hadar says.
Art and fashion will always intersect and while an installation like this is nothing new to retail, H.Lorenzo is, however, introducing to L.A. one of London's most heralded designers of the moment. Hadar's commitment to both local and global thinking by bringing in visionary talents like Samuel Ross is another stark example of L.A.'s retail scene taking a more conceptual approach.
New players are also looking to get into pop-up game but will be more strategic with their roll out. "It is something that we are willing to explore, says Sung Bang, director of the newly-opened LOIT store on West Olympic Boulevard. "We will work with our partners to create an event that's suitable for us. We don't want to follow or replicate what's already been done."
Shifting Stages of Gentrification
Like any other metropolis, L.A. has gone through some dramatic changes in the past few decades. The influx of new cultures has transformed the city into a place where residents and outsiders alike can discover a variety of new experiences. This is key for Tinseltown's retail landscape as more customers are willing to take chances with the way they shop. Not to mention, location is one of the most important factors in a retailer's success.
"When Union opened here (La Brea) in Los Angeles in 1991, it was a relatively desolate block — there was a huge printing factory across the street. It was rather industrial and not really a "neighborhood" so to speak. American Rag was there but that was it," recalls Gibbs. "If you look at La Brea now, there are restaurants, cool shops, art galleries, coffee spots, etc. In the earth, moon, and sun/son reference of streetwear, La Brea is like the moon of streetwear with UNDEFEATED, Stussy and of course, Union," he adds.
Indeed, whereas Fairfax was once legendary for being LA's main streetwear strip, La Brea has slowly crept up as its shinier new cousin, housing some of the most buzzworthy names — both longstanding and new.
But as for the new crop of fashion retailers sprouting in the area, who perhaps can't quite foot the bill of securing real estate on Fairfax or La Brea, they've been tasked with identifying the next spot to grow a new wave of streetwear — scouting locations that hold cultural and financial promise. "Our goal was to expand our business into an area that had a potential to grow," explains LOIT's Sung Bang. "The idea was to pioneer into an area of L.A. that needs a boutique like us, not to avoid competition, but ultimately be in an area where it made sense for us as a business, and our potential clients — to be frank in business terms, the ROI (return on investment) made sense."
On the mainstream level, L.A.'s shopping scene is still strongly tied with its lavish Beverly Hills shops and isn't necessarily the "cool" picture the city's retail culture represents. Selecting prime positioning for retailers, in areas like La Brea, Melrose, Fairfax, and DTLA can, therefore, plays a vital role in determining the retailer's success and relevance.
With L.A.'s strong streetwear roots, popular mainstays like Stussy, UNDFTD, and FUCT should further see longevity as they've successfully braved the great streetwear collapse of the past. Newer labels such as Fear of God, 424, and Anti Social Social Club are experiencing success now but it's still too early to tell how well they'll fair in the future. As for other emerging brands just starting to create buzz — Brain Dead, PLEASURES, Midnight Studios, etc. — they're part of the next batch of imprints pulling more eyes to L.A., meanwhile fighting to establish their own place among the streetwear retail landscape.