A Roundup of Global Art Shows That Are Colorful & Delicious
A watermelon homage in NYC to a rage room in Denmark.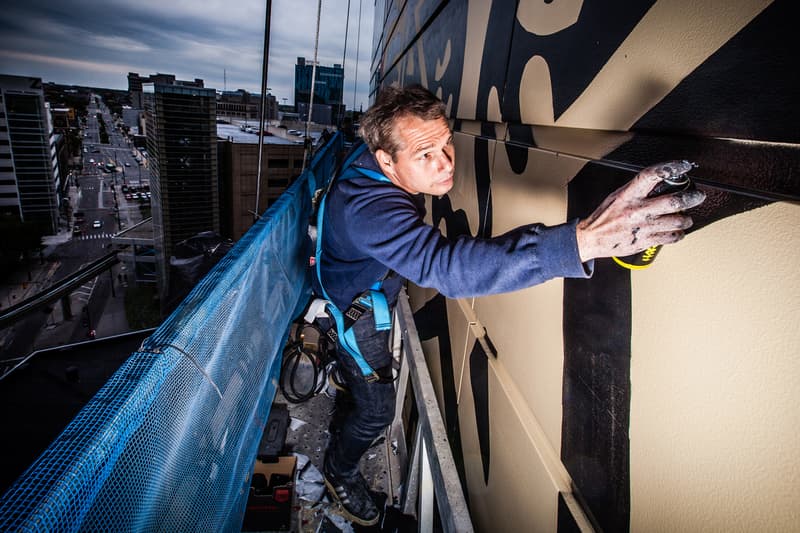 The world can never be too full of art exhibits and installations. There are perhaps hundreds of events occurring as we speak from various locations around the globe and it's this synchronous yet sporadic nature of art that makes the industry, as a whole, super interesting. On the one hand, it becomes increasingly difficult to filter out the best ones to attend. Luckily for all you art enthusiasts out there, we rounded up several of the most captivating shows that are now available for public viewing.
From a striking group show hosted by Shepard Fairey in Los Angeles to an immersive installation in Denmark where you can pulverize domestic products, take a look at our list below and let us know if you're willing to attend.
"TWENTY-ONE" Group Show by Subliminal Projects in LA
Shepard Fairey has launched a new group exhibit called "TWENTY-ONE" over at his Subliminal Projects gallery in Los Angeles, California. The collaborative showcase offers a diverse range of contemporary art, street art alongside product collaborations on display that were created from a total of 50 acclaimed artists. More precisely, graphic art, illustration, photography, and time-based media are a few of the works that are currently presented at the space. Participating creatives include Mark Gonzales, Space Invader, Todd Francis, Nil Ultra, Thomas Campbell, The London Police, Clint Peterson, Ben Venom, Apparatus, and more.
"The driving principle of Subliminal Projects is that art should be accessible to everyone and that art can come from many different perspectives and cultural niches. Good art is good art, whether it's done on an album cover, a skateboard, canvas, or found cardboard," Fairey expressed in a statement.
"TWENTY-ONE" is currently available for public viewing up until July 15. Head over to Subliminal Projects' official website to learn more.
Subliminal Projects
1331 Sunset Blvd
Los Angeles, CA
90026
Mark Flood's "GOOGLE MURDER-SUICIDE" Exhibit in NY
Houston, Texas-based artist and Supreme collaborator, Mark Flood, recently launched a new solo show entitled, "GOOGLE MURDER-SUICIDE." The exhibit channels Flood's captivation with memes and echoes his past work that is filled with anarchistic as well as punk fauna. All in all, the showcase consists of new paintings that touch upon society's obsession with technology. This exhibit marks Maccarone Gallery's second exhibition with Flood in New York City. "GOOGLE MURDER-SUICIDE" is currently showing up until July 28.
Maccarone Gallery
630 Greenwich St
New York, NY
10014
Doug Aitken's The Garden in Denmark
California-based artist Doug Aitken is set to launch a new immersive installation at the ARoS Triennial in Aarhus, Denmark. Titled The Garden, the presentation is not only a work of art but also a rage room where visitors can destroy a bevy of household items inside an all-white room surrounded by tropical flora. The room is protected by bulletproof windows and inside are chairs, tables, cabinets and lights that participants can obliterate to their heart's content.
Expect the installation to launch on June 3 and end on July 30. Find more information by visiting ARoS' official website.
ARoS Aarhus Kunstmuseum
Aros Allé 2, 8000
Aarhus, Denmark
Cy Twombly's "DIVINE DIALOGUES" Exhibition in Athens
Cy Twombly was proficient in a multitude of creative mediums. He was an American painter, sculptor and photographer who rose to prominence during the era of Robert Rauschenberg and Jasper Johns. The luminary is currently the subject of a new exhibit at the Museum of Cycladic Art in Athens, Greece. Dubbed "DIVINE DIALOGUES," the presentation reflects on Twombly's fascination with Greek mythology—mainly Olympian Gods such as Achilles—and his work that consists of large-scale drawings of Venus, Orpheus and Apollo are shown side-by-side with Archaic as well as Classical Art.
"The Greek world played an immense role for Cy Twombly, among his heroes we find ancient Gods, Alexander the Great as well as Achilles. To be able to show his work in Athens within the context of Greek antique art is a fascinating challenge for a curator," Jonas Storsve, curator of the exhibition professed in a statement.
"DIVINE DIALOGUES: Cy Twombly and Greek Antiquity" will run up until September 3.
Museum of Cycladic Art
Neofitou Douka 4
Athina 106 74, Greece
Sam Friedman's "Watermelons" Exhibit At Joshua Liner Gallery in NY
New York-based artist Sam Friedman is a master of mixing the abstract with the representational. The 32-year-old artist was an apprentice to KAWS for approximately four years and has worked with major clients such as Nike and the New York Times. He is known for utilizing vibrant colors which are portrayed in an extensive series of both paintings and murals. Friedman has just opened his new "Watermelons" exhibit at the Joshua Liner Gallery in New York City. The show consists of over 35 freehand brush paintings that don't involve masking, projecting or sketching. The exhibition is currently running through June 30.
Joshua Liner Gallery
540 W 28th St
New York, NY
10001