How Did Outsider Art Find Its Way Into Fashion?
And the parallels between artist and streetwear collaborations.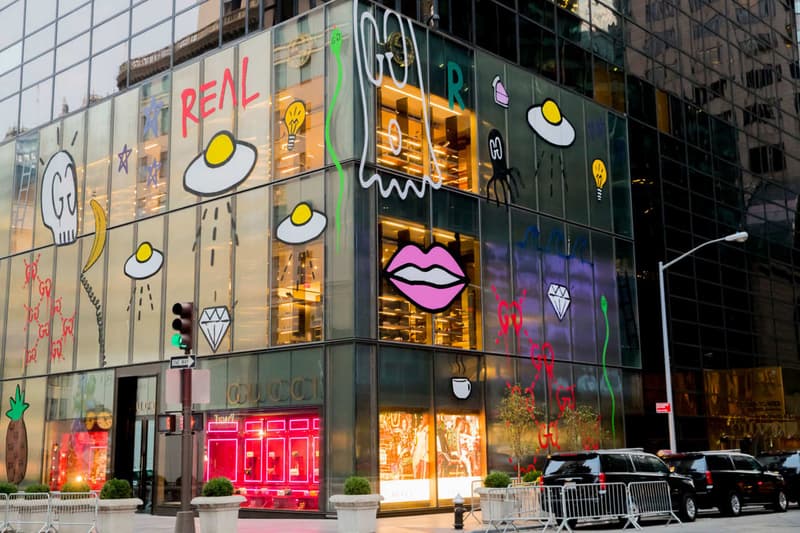 For lack of a better word, fashion is an art form and like the art world, fashion has an industry and establishment that sets a high bar for entry. On the back-end, designers and creative/artistic directors are more often than not alumni of exclusive art/fashion/design schools, tenured by industry experience, and with an extensive network of connections within the fashion world.
As in fashion, artists have long been frustrated by these barriers and gatekeepers, curators and gallerists. The resultant Outsider Art movement eschews classical techniques and pretension, resulting in a pure if amateur expression of artistic intent, unfettered by the demands of the art market. According to Christie's, the term Outsider Art was first "employed as a synonym for Art Brut, a label used to described art formed beyond the boundaries of the mainstream art world." In recent years, Christie's notes "the label has broadened to encompass work by artists who have not had any formal training, and who have never been a part of the art establishment." Imitators and appropriators of Outsider Art, meanwhile, are shunned and shamed for trying to imitate the "real thing's" authenticity and raw appeal — a cheap cash-out. Stop me if this sounds familiar.
In many ways, streetwear was fashion's Outsider Art. Upstart brands and collections often created on a shoestring budget, with little to no respect for intellectual property laws or seasonal calendars. These aspiring designers worked on the fringes, collaborating with their friends, peers and inspirations to create the clothing that they want to see, buy and wear. Where previously, trends were born on the runway and trickled down to the high street; nowadays, however, the runway looks more and more like the high street: slouchy hoodies, sneakers, puffy coats and collaborations have become more of a rule than an exception. With Supreme's recent domination of Louis Vuitton's recent runway collection, all of this begs the question: how did the outsiders find their way in?
In his song "The Story of An Artist," Outsider Artist and singer-songwriter Daniel Johnston sings about the alienation that many artists feel in society:
"Friends and family saying, 'Hey! Get a job! Why do you only do that only? Why are you so odd? We don't really like what you do. We don't think anyone ever will. It's a problem that you have and this problem's made you ill.'"
This is a sentiment that musicians and designers can relate to in equal measure: the creative arts provide next to no job security and money is hardly guaranteed. Any art school hopeful and dropout can surely relate.
Meanwhile, Johnston has inadvertently found himself at the epicenter of the fashion world's obsession with merchandise. Aside from his prolific musical output, Johnston is perhaps best-known for his DIY merch, namely his "Hi, How Are You?" T-shirt worn by Nirvana frontman Kurt Cobain. sacai recently released its own rendition of the alien tee, complete with side zippers, for upwards of $300 USD. Aside from being rehashed, Johnston has gone so far as to connect with Supreme on two separate collaborative capsules, both of which sold out instantly. Scott McClanahan, author of The Incantations of Daniel Johnston says that Johnston's greatest lasting contribution to popular culture is his DIY aesthetic: "The homemade quality of the early work. I feel like that's everywhere now… I guess in terms of fashion it's pretty much the same. Skate culture, hip-hop culture, Larry Clark white trash culture."
As for Johnston's merch, McClanahan says, "The whole T-shirt idea originally came from his manager, Jeff Tartakov. I think he understood an artist like Daniel had to be contextualized for people to understand him. Ninety-eight percent of people have no taste at all and get their taste from elsewhere. Brands like Supreme have understood that. The T-shirt did that for Daniel in the early '90s."
The relationship between fashion and outsider art runs surprisingly deep. Missoni once shot a lookbook using the works of Peter Blake, the artist responsible for The Beatles's iconic Sgt. Peppers Lonely Hearts Club Band artwork. Blake wrote the following next to one of the objects used in the photoshoot: "It's amazing, isn't it? When you see something separately it becomes extraordinary." As with all art, context is crucial, but so is credit and credibility.
Nowadays, social networks have made these cross-cultural, multimedia collaborations that much easier. Artists, designers, DJs and models are all just an Instagram DM away. The ease of communication has brought many young upstarts into the fashion world. Since taking the creative helm at Gucci, Alessandro Michele has been praised across the board for breathing life into a brand on the brink of kitsch. Much of Michele's efforts have centered around him bringing his favorite outsider artists like GucciGhost and @UnskilledWorker off Instagram and into the fold, letting them loose to doodle and spray paint on the brand's luxurious items. This embrace of post-Internet art has been seen as a progressive step forward from the efforts of designers like Jeremy Scott, who simply culls from the graffiti culture without cutting the artists into the massive profits.
Gucci's invitation to its Fall/Winter 2017 presentation was a chrome gatefold invitation with "What are we going to do with all this future?" scrawled across its mirrored surface. Once the dust settled and everyone got their Future jokes off, art aficionados were keen to find out who had done the illustration. Many were under the impression that the hand style belonged to none other than Jim Joe, the reclusive street artist responsible for the chicken-scratch cover for Drake's If You're Reading This It's Too Late, but when the Italian brand started pushing promoted tweets, the scrawl turned out to belong to artist Coco Capitán.
In a string of now-deleted Instagram posts, industry insiders like Heron Preston and No Vacancy Inn's Acyde posted photos of a defaced Gucci shirt that read "Artist or Asshole," voicing their support of Jim Joe. While the details of the incident are still hard to parse out, it's clear that the idea of authenticity is at the heart of the issue. The incident is similar, however, to the recent string of plagiarism and intellectual property theft cases wherein fast-fashion companies are charged with lifting designs and motifs from independent brands on Etsy, Big Cartel and elsewhere around the net.
As trends and brands continue to trickle up from the street and onto the runway, brands are continually searching for inspiration on the fringe. Artists like Johnston, GucciGhost and Capo Capitán are but a few examples of the rugged, raw and amateur aesthetic that luxury fashion companies crave when marketing for younger consumers. Reaching out to artists has never been easier, but designers should be careful in making sure to give credit and context where its due.