The Emperor's New Clothes: Charting Vetements' Influence on Contemporary Fashion
We explore the design collective's meteoric rise and seismic influence, with words from Virgil Abloh and Joerg Koch.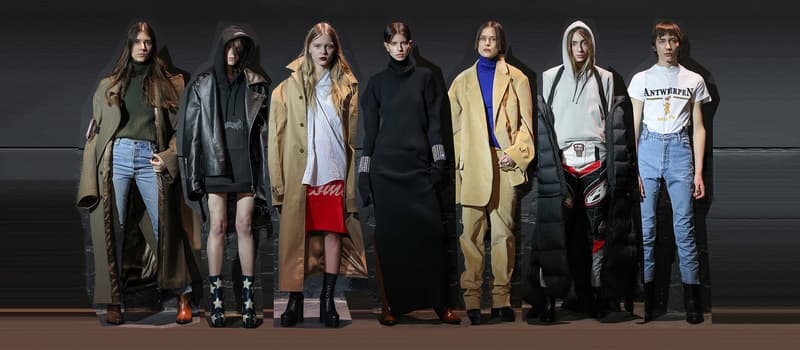 At first glance, Vetements looks like the rare example of an overnight success story in fashion. In the span of just two years, the design collective has turned out subversive street-ready looks that have captivated fans and critics alike, all under the leadership of Georgian-born designer Demna Gvasalia. These are the same fashion shows that notoriously feature friends and family of the brand — like photographer/stylist Lotta Volkova and designer/photographer Gosha Rubchinskiy — walking garments down makeshift runways in dodgy sex clubs and shabby Chinese restaurants.
Beyond its anything-goes aesthetic, Vetements has found itself at the epicenter of the fashion universe: after the controversial fashion shows came the photos of haute celebs like Rihanna, Kanye West and G-Dragon wearing the brand's hoodies at Paris Fashion Week 2015 and beyond, ushering the brand into the streetstyle spotlight; then came the October 2015 announcement that Gvasalia would be taking the helm at Balenciaga, replacing former artistic director Alexander Wang; most recently, Gvasalia graced the cover of Business of Fashion's "New World Order" issue, where he outlined his plans to upheave and rebel against fashion's outdated and creatively stifling cycle system in favor of a more direct system of distribution. Meanwhile, the brand's aesthetic has steadily bled into the collections of competitors and contemporaries alike.
Hot on the heels of its latest ready-to-wear collection, here's a quick overview of Vetements' seismic influence on fashion today; images on the left belonging to Vetements while the influenced is on the right.
1 of 2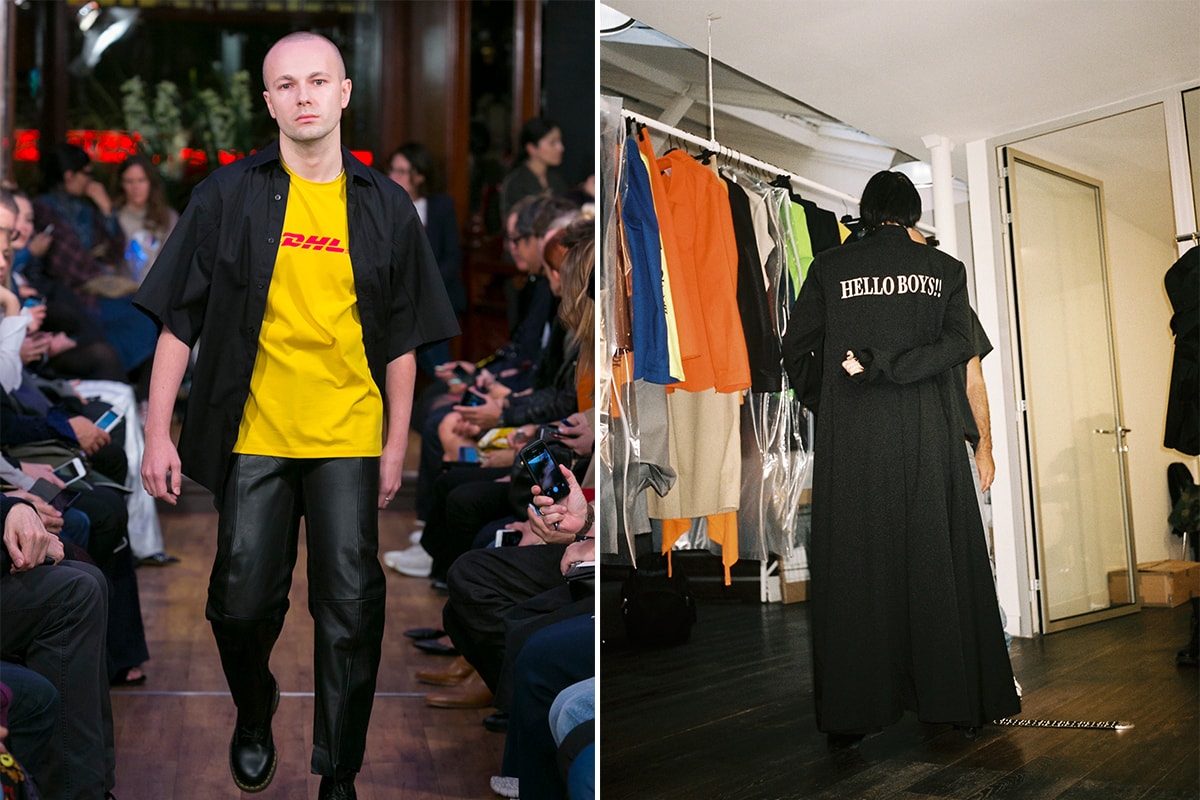 2 of 2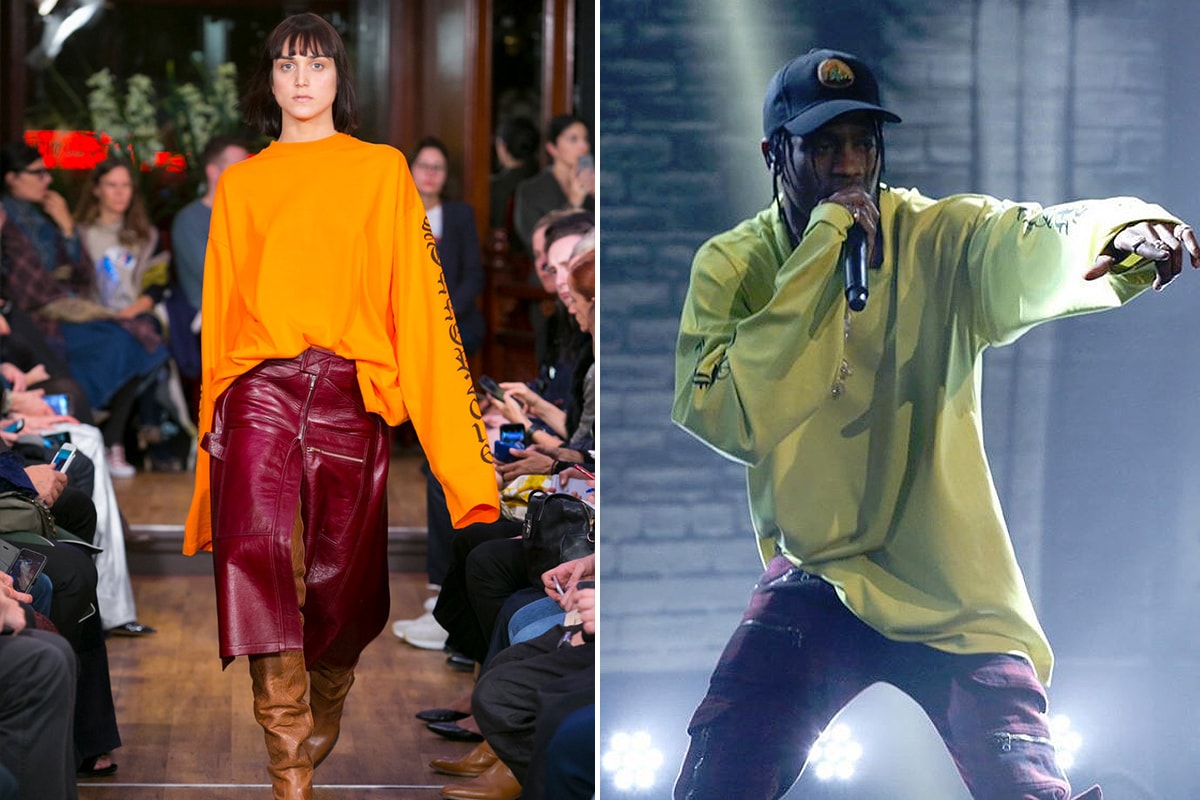 Androgyny and Unisex Styling
Recent research has found that the modern man's shopping habits are not so different from women's after all — namely, male fashion consumers are spending more time browsing, impulse shopping and experimenting with trends. Habitually browsing sites like HYPEBEAST is proof enough of this concept. So too is the pattern that Gvasalia has noted amongst the brand's customers, as he told BoF: "Due to our aesthetic that has a very masculine origin, we have a lot of male customers that buy our clothes, which are not really made for male customers." Despite this, Vetements usually walks a co-ed collective of models down the catwalk, despite formally being labeled and marketed as a womenswear brand — a savvy choice that seems all too appropriate for the age of gender fluidity. The womenswear label hasn't stopped male consumers and media outlets alike from gender-bending by wearing garments designed with the feminine silhouette in mind: Kanye West was an early adopter of the trend, second only to Gosha Rubchinskiy modeling the brand's skinny-fit screen-printed DHL tee. Tastemakers and acolytes soon followed suit.
1 of 2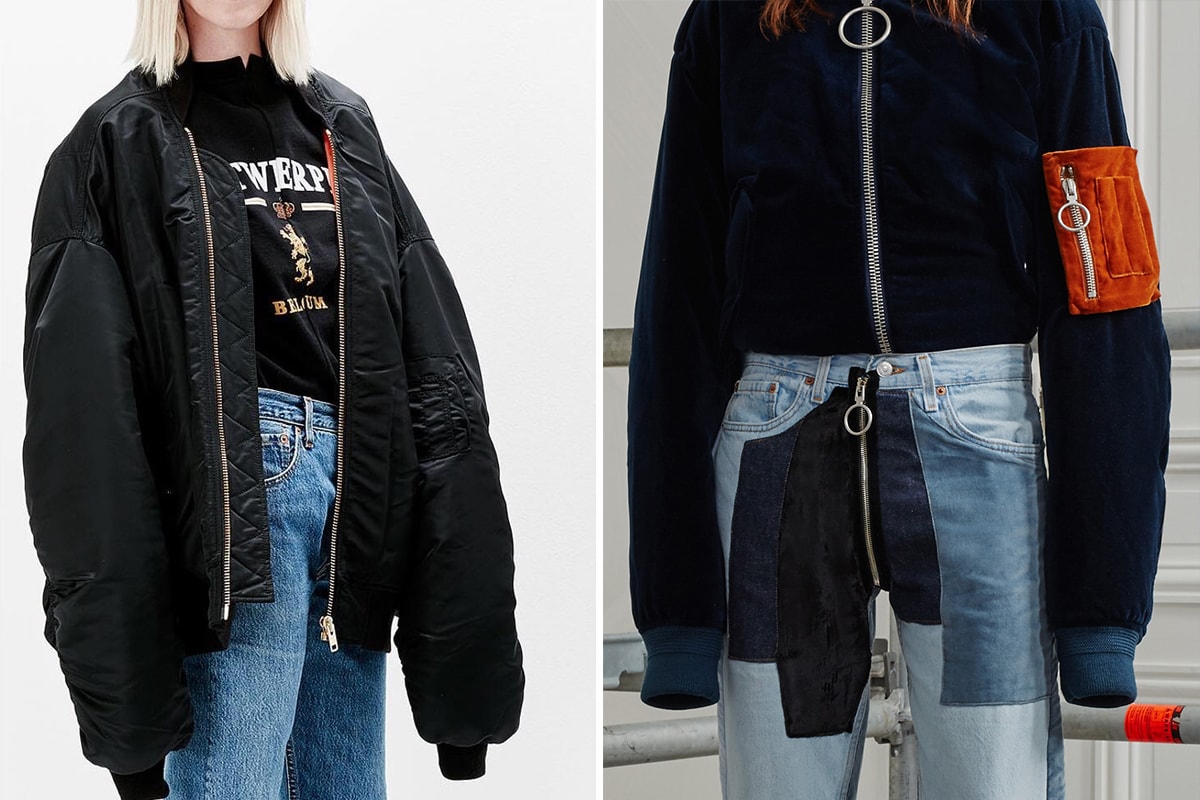 2 of 2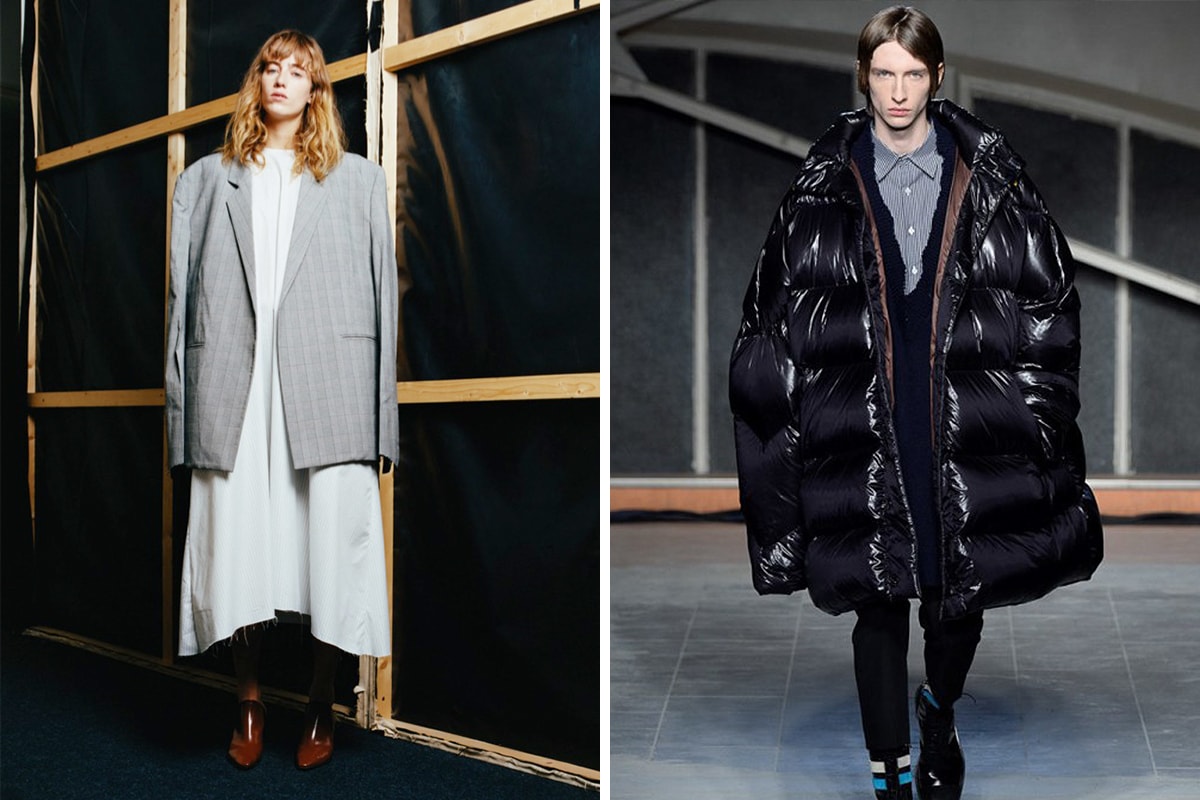 Exaggerated, Voluminous and Oversized Outerwear
Practically every menswear vertical on the Internet has been abuzz calling oversized bombers, parkas, overcoats and other outerwear the next big thing in fall fashion next year, and it's not hard to trace this particular trend's DNA back to Vetements' past couple of presentations: beyond the aforementioned hoodies, Gvasalia's exaggerated and distended outerwear silhouettes give the impression that models were shrunk in the wash before donning cartoonishly oversized pieces. And again, the real significance here is the effect that this aesthetic choice has had on menswear designers in particular.
Gvasalia's influence is apparent when you look at Virgil Abloh's recent OFF-WHITE collections. When asked about Vetements' influence on his aesthetic, Abloh noted the following: "A keen eye can see a unique design theory we employ of bending reality which brands like Vetements and OFF-WHITE are based on and relish in the freedom of this new vein of 'fashion.'" This principle of reality distortion has been echoed elsewhere amongst menswear's elite; Raf Simons' last PFW show, for example, featured several hyperbolically stretched-out collegiate sweaters, challenging the conservative semiotic underpinnings of these very garments. Joerg Koch, founder of 032c Magazine echoed this sentiment: "Not only are the garments deconstructed, but it seems also the idea or code of that specific garments is newly programmed." The endgame of this reprogramming, according to Abloh, is "to represent a sub-section of young people and put it on a platform to be considered amongst the old guard."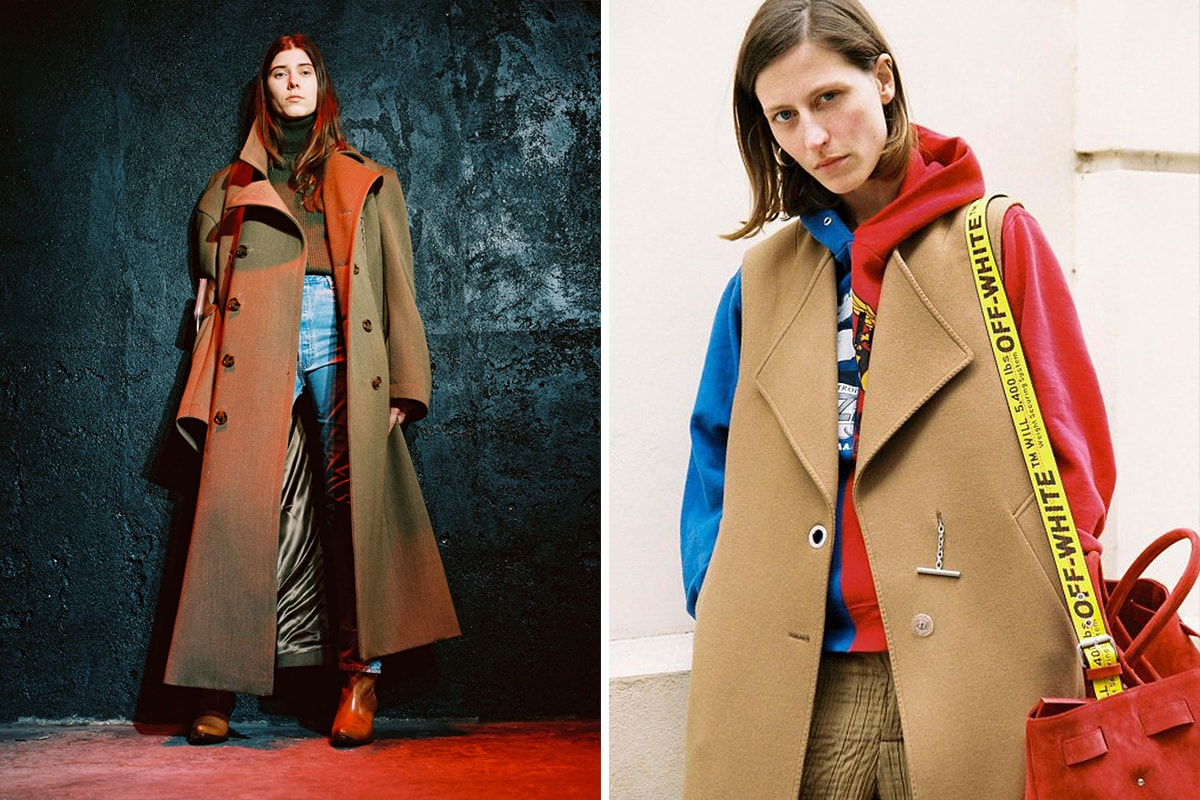 See It Now, Buy It Now, Wear It Now!
While these fingerprints on contemporary fashion's aesthetics may be a testament to Vetements influence, they are only skin-deep; Gvasalia's greatest influence may be his vocal and active rebellion against the fashion cycle as presented by the Old Guard. The collective's figurehead has gone on record as stating that "the creative cycle didn't really coincide at all with the production side, and the demands and the number of pieces that we had to make." Continuing, Gvasalia bemoaned that "pieces became kind of soulless because they had to be made, but didn't really have a reason to be." 
Elsewhere in his BoF interview, Gvasalia stated simply: "A garment is a product. It's not made to be in a museum. It's meant to be in somebody's wardrobe." This product-oriented philosophy is apparent in the design collective's very name: Vetements is not about a name-brand legacy — like Gvasalia's new post at Balenciaga — but rather about clothes, plain and simple. The company is aware of the hype generated by Fashion Week presentations and would rather strike while the iron is hot, rather than waiting for production and distribution cycles to catch up with trends. This idea has been echoed by designers and executives at Tom Ford, Burberry, and even Kanye West himself. Bu Koech notes, "Demna and his brother Guram are fantastic business people who know how to shift clothes. They simply analysed the current market situation and have found a solution for their label. Copy paste that strategy for another label and it might not work."
Only time will tell if Gvasalia and Co.'s strategy will pay off, but the shift toward a more immediate manufacturing and distribution cycle will hopefully help brands like Vetements capitalize upon hype and deliver sufficient supply to sate voracious demand. Ideally, this principle will diffuse throughout fashion's elite, challenging the undeniable connection between luxury, hype and scarcity.