Here Are All the Supreme Pieces That Showed up on Louis Vuitton's 2017 Fall/Winter Show
Including the official collaborative box logo.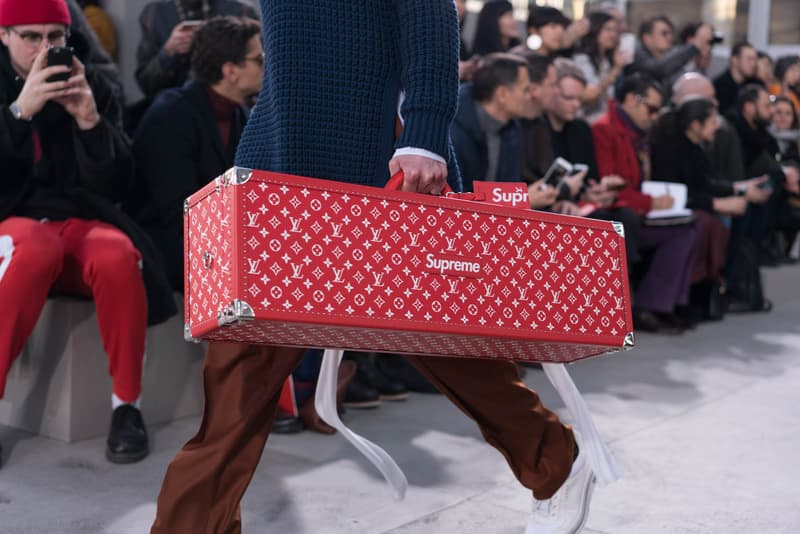 1 of 7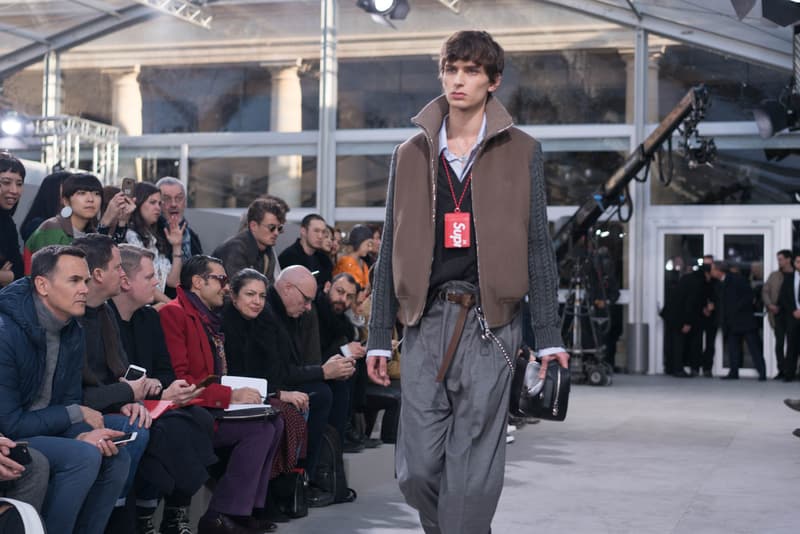 2 of 7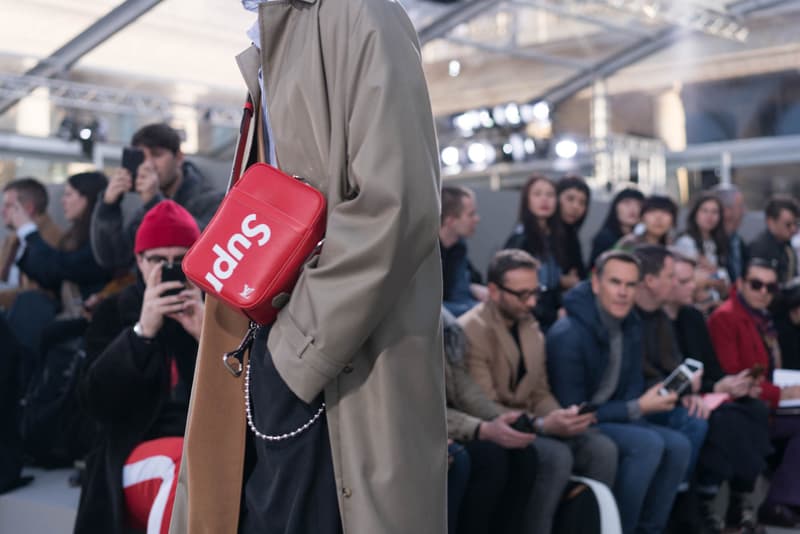 3 of 7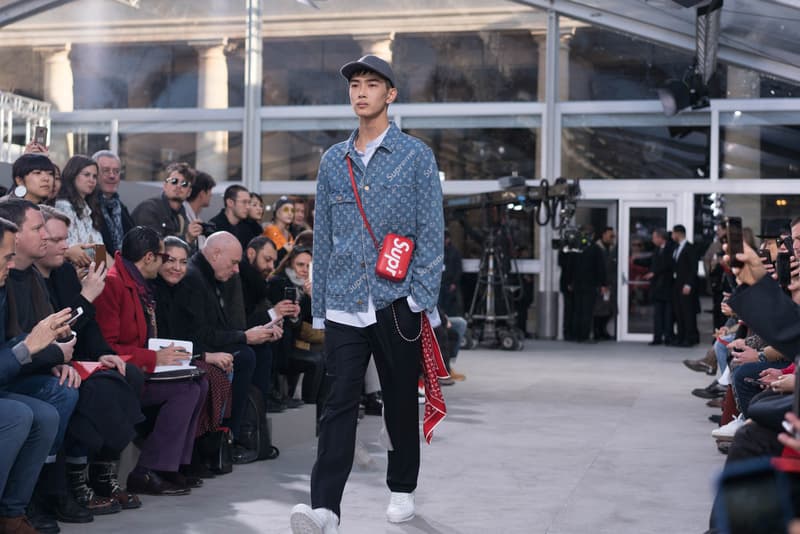 4 of 7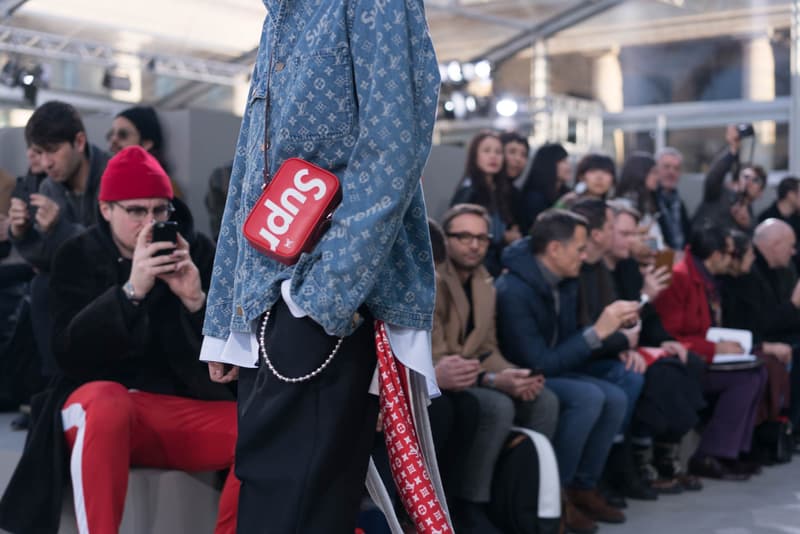 5 of 7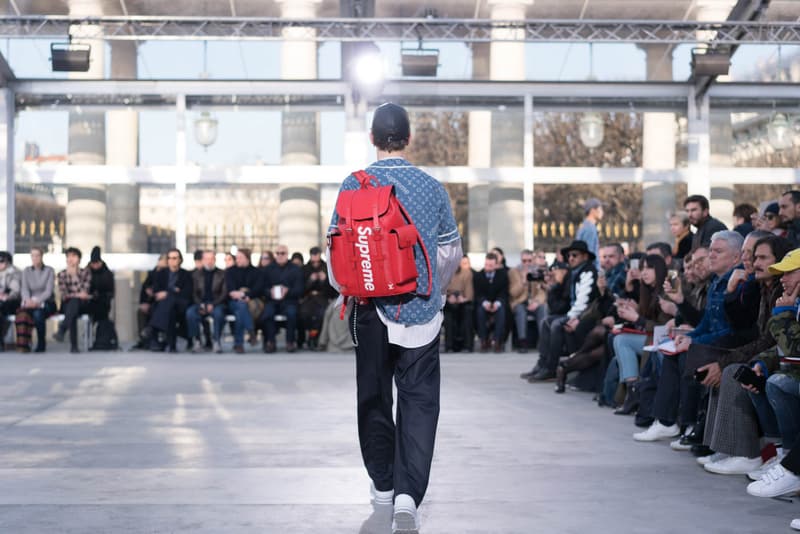 6 of 7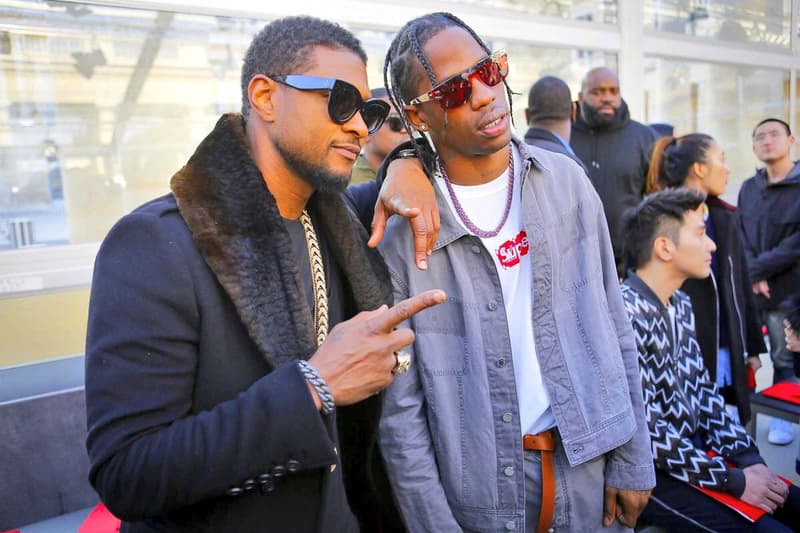 7 of 7
Louis Vuitton's 2017 fall/winter presentation 100% confirmed our speculations that collaborative Supreme items would be showing up on the runway. The New York imprint has steadily walked the line between skate and high-fashion, being beloved by both skaters and cool style aficionados. But now that it has appeared on LV's runway for the first time since its inception, the coveted label has further solidified itself as a name consistently trusted by luxury houses as well.
For 2017 fall/winter, Louis Vuitton pulled out all the punches for its collaboration with Supreme. The bigger picture as imagined by Kim Jones for the entire LV collection is New York Culture-inspired — the city's past, present, uptown and downtown areas, artists, musicians, and of course, Supreme. Part of an official statement reads:
Supreme and Louis Vuitton collaborate for the first time, creating a capsule collection of clothing, accessories and jewelry, showcased alongside Vuitton's own. A new Monogram variation is here interrupted with Supreme's iconic Box Logo. It is showcased in a range of garments, woven in classic pale washed Japanese denim and camouflage jacquard, fils coupé on pyjamas as well as in a cognac and chocolate colour way referring to the original 1896 Monogram canvas. More than a collaboration between two labels, this represents the excellence a New York street style and the Louis Vuitton's French savoir-faire.
It's also reported that the pieces from the collaboration will drop on July 17 at LV stores and possibly at strategically-placed pop-up shops. Keep in mind that price tags will reflect Louis Vuitton pricing, so don't be surprised at the astronomical numbers slapped on these special pieces.
Below are the Supreme x Louis Vuitton items that showed up on the runway by looks according to the program sheet:
Look 1
Gold Louis Vuitton x Supreme bottle opener
Red Epi Louis Vuitton x Supreme bum bag
Look 2
Red Epi Louis Vuitton x Supreme keepall
Look 3
Red Louis Vuitton x Supreme zip folio
Look 4
Red Epi Louis Vuitton x Supreme Zippy wallet
Look 5
Black Epi Louis Vuitton x Supreme bum bag
Look 6
Tanned cowhide leather Louis Vuitton x Supreme charm on a silver wallet chain
Black Epi Louis Vuitton x Supreme wallet
Black Epi Louis Vuitton x Supreme card holder
Brown Louis Vuitton x Supreme Monogram handkerchief
Look 7
Red Epi Louis Vuitton x Supreme wallet
Brown Louis Vuitton x Supreme monogram handkerchief
Look 8
Red Epi Louis Vuitton x Supreme Trousse Toilette
Look 10
Indigo Monogram washed Louis Vuitton x Supreme baseball shirt
Red Epi Louis Vuitton x Supreme Christopher backpack
Red Epi Louis Vuitton x Supreme wallet and charm on a silver wallet chain
Look 11
Red Epi Louis Vuitton x Supreme Danube messenger bag
Look 12
Indigo washed Louis Vuitton x Supreme Monogram barn jacket
Red Epi Louis Vuitton x Supreme Danube messenger bag
Red and white Louis Vuitton x Supreme handkerchief
Look 13
Indigo washed denim Louis Vuitton x Supreme Monogram jeans jacket
Monogram Macassar and silver and red Louis Vuitton x Supreme badges
Tanned cowhide leather Louis Vuitton x Supreme charm on a silver wallet chain
Look 14
Silver Louis Vuitton x Supreme bottle opener on a silver beaded wallet chain
Black Epi Louis Vuitton x Supreme Trousse Toilette
Red Epi Louis Vuitton x Supreme card holder
Look 15
Red Epi Louis Vuitton x Supreme charm
Look 16
Red Epi Louis Vuitton x Supreme charm on a silver beaded wallet chain
Red Epi Louis Vuitton x Supreme wallet
Look 17
Silver Louis Vuitton x Supreme bottle opener on a beaded wallet chain
Look 18
Red Epi Louis Vuitton x Supreme charm
Look 20
Gold Louis Vuitton x Supreme bottle opener on a silver beaded wallet chain
Black Epi Louis Vuitton x Supreme wallet
Black Epi Louis Vuitton x Supreme zipped wallet
Look 23
Gold Louis Vuitton x Supreme Dice Holder on a silver beaded wallet chain
Look 24
Khaki Louis Vuitton x Supreme camouflage denim jacket
Khaki Louis Vuitton x Supreme camouflage carpenter pants
Look 25
Gold Louis Vuitton x Supreme bottle opener on a silver beaded wallet chain
Look 26
Red Epi Louis Vuitton x Supreme wallet
Khaki Louis Vuitton x Supreme camouflage Keepall and bum bag
Look 27
Khaki Louis Vuitton x Supreme camouflage denim barn jacket
Khaki Louis Vuitton x Supreme camouflage bum bag
Look 28
Brown Louis Vuitton x Supreme Monogram wool scarf
Look 29
Gold Louis Vuitton x Supreme dice holder on a silver wallet chain
Look 30
Natural cowhide leather Louis Vuitton x Supreme charm
Look 31
Brown Louis Vuitton x Supreme Monogram handkerchief
Look 32
Monogram Macassar Louis Vuitton x Supreme pen knife on a silver wallet chain
There are of course, still items in question that weren't listed on the looks sheet, but showed up on the runway. A few of them would be the red zip folio and the trunks. There were also pieces that showed up on some attendees that had the Supreme x Louis Vuitton branding on them like a red box logo T-shirt on Travis Scott, gloves, cardholder, sunglasses, a Monogram cap, a phone case, and even sneakers. See those below: (UPDATE: we will continue to post Supreme x LV items we come across social media accounts here)