Potential 2017 Supreme x Louis Vuitton Pricing List
$485 USD for the Box Logo.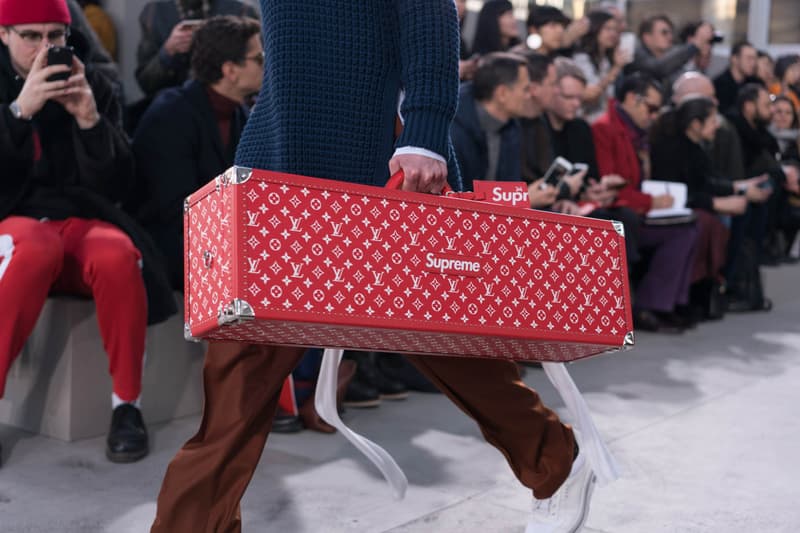 Supreme has just dropped off its 2017 spring/summer lookbook, but the fall/winter Louis Vuitton collaboration is still fresh in everyone's mind. According to @hyped_distribution on Instagram, possible price points for each of the coveted pieces have surfaced via pricing sheets. In addition, there may be hints at pop-up shops coming for this release as some goods have a red "POP UPS ONLY" tag above them. Multiple items in red colorways are starred with a "Key Investment" tag and some of those key pieces which many are sure to want include the Bumbag, Keepall Band 45, Monogram Box Logo T-shirt, 5 Panel Cap and Bandana.
Take a look below at the list of potential retail prices (USD) on pieces in the upcoming collection.
CTY Bags
Christopher Backpack: $4,350
Danube PM: $2,410
Danube PPM: $1,800
Bumbag: $2,310
Apollo Backpack: $2,580
Nano Backpack: $1,840
Bumbag: $1,690
Small Leather Goods
Pochette Jour GM: $890
PF Slender: $705
Org de Poche: $445
Porte Cartes Simple: $305
PF. Brazza: $860
Chain Wallet: $860
Zippy Organizer: $1,270
Travel & Phone Accessories
Keepall Band 45 Red: $3,750
Keepall Band 45 Camo: $2,290
Keepall Band 55 Black: $4,150
Set of 2 Name Tags: $385
iPhone Folio 7: $385
iPhone Folio 7+: $420
Eye Trunk 7: $1,270
Eye Trunk 7+: $1,350
Footwear
Calf Leather & Monogram Canvas Sneaker: $965
Plain Calf Leather Sneaker: $955
Calf Leather Slipper: $850
Looks
MNG Denim Overshirt: $860
Washed Denim Bans Jacket: $2,185
Camo Denim Bans Jacket: $2,185
Camo Regular Jeans: $860
Camo Denim Jacket: $1,375
MNG Box Logo T-shirt: $485
Leather Blouson: $4,350
Textiles
5 Panel Cap: $435
Wool-Cashmere Scarf: $1,550
Cushion: $665
Bandana: $370
Scarf: $585
Baseball Gloves: $875
Belts
LV Leather With Monogram Pattern: $760
Sunglasses:
City Mask Sunglasses: $505
Downtown Sunglasses: $505
Fancy Accessories
Key Holder & Bag Charm – Bottle Opener: $480
Key Holder & Bag Charm – Pocket Knife: $730
Bag Charm: $585
Downtown Key Holder & Bag Charm: $290
Fashion Jewelry
City Badge Brooches: $425