10 Best Posse Cuts of 2016
Songs featuring Kanye West, Travis Scott, Kendrick Lamar, A$AP Rocky, Earl Sweatshirt and more.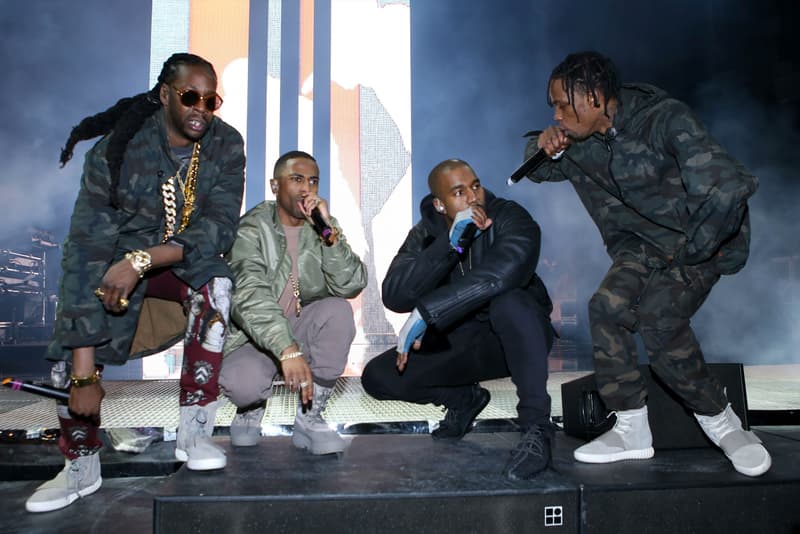 Posse cuts, a form of song that involves verses by four or more artists, have always been common in rap, and occasionally, in R&B and pop music. Famous cuts in the past include Marley Marl's "The Symphony," A Tribe Called Quest's "Scenario," "Triumph" by Wu-Tang Clan, Master P's "Make 'Em Say Uhh!," and more recently, G.O.O.D. Music's "Mercy," Odd Future's "Oldie" and A$AP Rocky's "1Train." 2016 saw an increase of posse cuts due to various reasons — one of them being that many new artists emerged. We've rounded up ten of our favorite cuts from this year in rap, R&B, pop and electronic music. Let us know if you agree with this list and if not, share your favorite ones with us.
"All In"
Artists: Lil Yachty, Byou, Kay the Yacht, TheGoodPerry, BIGBRUTHACHUBBA, Soop, JBan$, K$upreme and Kodie Shane
"Champions"
Artists: Quavo, Travis Scott, Kanye West, Gucci Mane, Big Sean, Desiigner, 2 Chainz and Yo Gotti
"Do You Mind"
Artists: DJ Khaled, Nicki Minaj, Chris Brown, August Alsina, Jeremih, Future and Rick Ross
"Full Circle"
Artists: Donnie, Puffy L'z, Smoke Dawg, SAFE, Jimmy Prime and Jay Whiss
"IT G MA" (josh pan Opus)
Artists: Keith Ape, A$AP Ferg, Father, Waka Flocka Flame, Dumbfoundead, josh pan, sakuraburst, MISOGI, X&G, MEDASIN. and oshi
"My Wallet"
Artists: Jay IDK, Michael Christmas, Saba and Jimi Tents
"Really Doe"
Artists: Danny Brown, Kendrick Lamar, Ab-Soul and Earl Sweatshirt
"Sucker for Pain"
Artists: Lil Wayne, Wiz Khalifa, Imagine Dragons, Logic, Ty Dolla $ign and X Ambassadors
"Telephone Calls"
Artists: A$AP Rocky, Tyler, The Creator, Playboi Carti and Yung Gleesh
2016 XXL Freshmen Cypher
Artists: Denzel Curry, Lil Uzi Vert, Lil Yachty, 21 Savage and Kodak Black