Why Luxury Fashion's Fascination With Korean Pop Culture Is Not Just a Trend
Houses like Chanel, Dior, Louis Vuitton and Gucci pave the way for luxury brands in the Hallyu movement.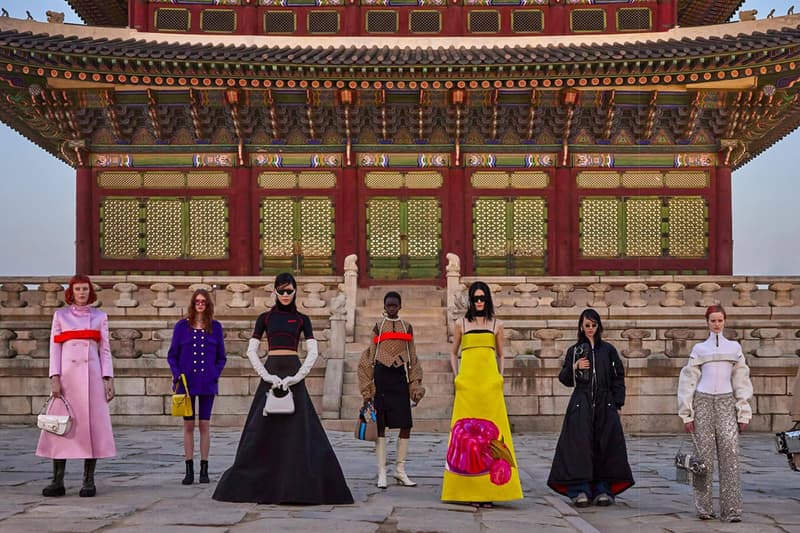 As the world collectively makes its way back to a new sense of normalcy post-pandemic, the fashion industry is finding its footing in Asian markets. In particular, many high fashion Western brands have found themselves infatuated by the ever-growing trends coming out of South Korean pop culture, leading luxury brands flocking to the country's capital. With the rising interest in the market, it begs the question of why luxury brands are so intent on having a presence in South Korea.
The global popularity of South Korea's cultural exports in pop culture, entertainment, music and more, has become a point of appeal for luxury brands. While it appears that brands have embraced the country's cultural phenomenon — better known as the Korean Wave or Hallyu in recent years — it is not new. Post-pandemic, the fashion industry continues to ride the wave and it is in due part to the uptick in South Korea's economic success. Earlier this year, analysts presented data regarding the South Korean consumers' spending power. CNBC recently reported that the total spending on personal luxury goods by South Koreans increased by 24% to $16.8 billion USD. As South Koreans are currently the world's biggest spenders on luxury goods, it comes as no surprise that brands want to capitalize on consumers in this market.
During the pandemic, the phenomenon that was Netflix's Squid Game, saw a surge of global fans captivated by South Korean entertainment. From there on out, stars like Lee Jung-jae and Jung Ho-yeon went on to make their mark as ambassadors for two of the strongest European luxury fashion houses, Gucci and Louis Vuitton, respectively. Their ambassadorship points towards the global public's continued adoration for K-dramas, films and K-pop. Brands want to associate themselves with the artists who have captured the imagination of one and all spectators alike, as well as their ever-growing fanbase and reach; the world's biggest high fashion brands are tapping into South Korean pop culture to both stay relevant and expand their consumer base.
In the past couple of years, luxury brands have made it a point to stage major fashion spectacles in South Korea due to the rising affluence, as well as cultural influence, in the market. Recently, LV and Gucci followed in the footstep of Chanel's Resort 2016 and Dior's FW22, becoming part of a growing list of luxury brands to show in South Korea. With Chanel Resort 2016, the late Karl Lagerfeld was one of the first to recognize the nation's distinctive elements, even referencing Korean tonsorial traditions to keep the hair concealed under big hats. The most recent Louis Vuitton and Gucci shows also paid homage to South Korean culture, incorporating references and nods to honor the country's traditions, all while spotlighting local talent in all aspects of the production. Additionally, other luxury brands like Chanel, Valentino and Bottega Veneta have gone the ambassadorship route, inviting members of the world's biggest K-pop groups from BTS and BLACKPINK, to be their key influential people.
While Western luxury fashion is undeniably affected by the Korean Wave, the nation's cultural influence extend farther than just luxury. BTS' Jungkook and BLACKPINK's Jennie expand their ambassadorship portfolio, both becoming the faces of non-luxury brands like Calvin Klein. Korean influences are seen across other industries such as beauty and even Hollywood entertainment. With beauty, Korean superstars like Lisa and Han Sohee have taken on ambassadorships for brands of various tiers including MAC and Charlotte Tilbury, respectively. Just recently, Jennie was also cast in the highly-anticipated A24 series The Idol. The extent of the Korean cultural influence without a doubt goes far beyond fashion, establishing in all industries across all tiers.
The growing reliance of Korean influencers playing a major role in shaping Western fashion, while also expanding the reach of heritage brands, demonstrates that global success can only be driven by diversity. With the rise of Korean culture and the power of the K-pop fanbase, the future of the Hallyu is here to stay and should not be ignored. The current boom in the Korean economy further proves that the wave is not just a fad, but rather an important part of the industry's evolution in intertwining Asian pop culture and Western luxury brands.
More than ever, luxury brands' evident focus on the South Korean market demonstrates that fashion and industries beyond, are consistently an ever-evolving amalgamation of social and cultural influences. As South Korea continues to climb in economic power, the country has managed to expand brand limitations, breaking cultural barriers that now see heritage Western brands intermix with traditional Korean culture. The converging of dynamics continue to determine that fashion can synthesize vastly different worlds and that the industry is only becoming more and more globalized.
As the Korean Wave continues to impact much of the world, luxury brands will maintain their geographical pivot to Asia acknowledging that what was once seen as a trend has now shifted to becoming a movement.