These Two Designers Met in an Uber Pool Eight Years Ago — Now, They Run a Lovestruck Fashion Label Together
For Remington Guest and Heather Haber, founders of the LA-based brand Advisory Board Crystals, it was all meant to be.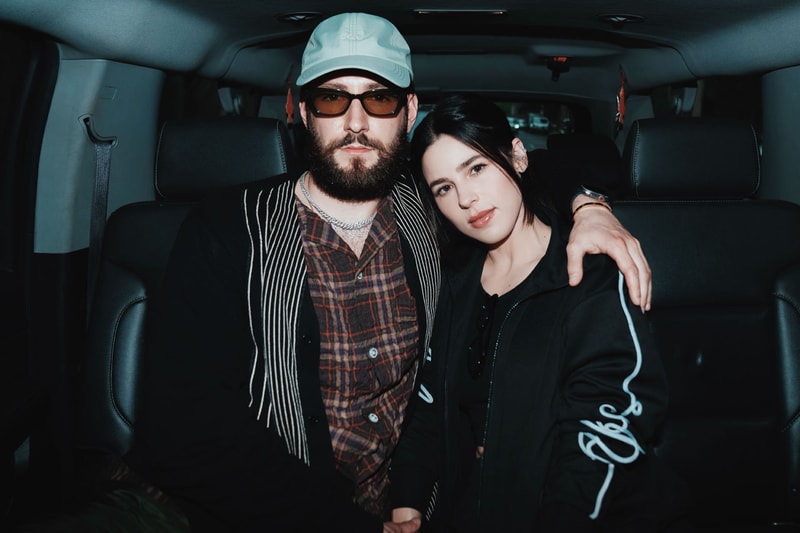 Southern California-based fashion label Advisory Board Crystals has the universe on its side. The brand's co-founders, Remington Guest and Heather Haber, double as designers and lovers — and, of all places, their origin story begins in a rather awkward Uber Pool ride in 2015.
Guest, who was visiting Los Angeles at the time, hopped in the backseat of the car alongside his friend to find Haber, who, in typical Pool fashion, wanted nothing to do with the strangers cooped up next to her. "We're both antisocial, so she was on her side of the car looking out the window — like, not towards me — and I didn't wanna see who else was in the car either," Guest told Hypebeast. "I only took the Pool because it was four dollars," Haber added.
In their six-minute-and-49-second ride, however, they discovered that they had both worked for Scott Sternberg's cult brand, Band of Outsiders — Guest as the brand's lookbook model and Haber as an intern — thanks to an offhand mention of the label by Guest's friend. Shortly after, they parted ways and that was apparently that. Little did they know, however, that budget-friendly car ride (which cost $4.13 USD each, to be exact) would be one of the most worthwhile investments in their lifetimes.
In some sort of spiritual coincidence, the two bumped into each other at the Ace Hotel later that night, and Guest (admittedly) slid into Haber's DMs that evening. On their first date, Guest took Haber to a crystal shop to buy her a lepidolite, one of the best mood stabilizers in the world of gemstones. From that point onwards, they knew that crystals would play an important role in their relationship.
"We wanted to find a way to spend all of our time together," they said. Out of their infatuation for crystals, for fashion and, most intensely, one another, Abc., as the brand goes for short, was born only a few months later. It's out of a movie, really. And if you need proof, here's the receipt.
In the early days of their relationship, the last thing on Guest and Haber's minds was building an actual business; rather, they reveled in their crystal-infused fantasies with only a dream — and their love — to grasp onto. "We had a vision, not a [business] plan," they said. "It was an idyllic image of an artist couple building their own universe that we could share with anyone that saw the world differently. Like minds. A utopian dystopian idealism."
Abc.'s early designs existed as one-time projects and collaborations — a number of installations and signature tie-dye shirts (initially meant to represent rose quartz) crafted in partnership with the likes of Colette, Bergdorf Goodman, Grailed, Barney's, Union LA and Hypebeast's very own HBX that first placed the brand on the fashion cognoscenti's radar. Given the burgeoning label's expansive roster of early-on collaborators, an outsider might have assumed that Guest and Haber were swimming in dollars. The reality, however, looked much different. "We had no money at the time," they explained. "We sewed and dyed our first t-shirts in our Silver Lake apartment using sourced materials from our local hardware, surplus, and art supply store. We really maxed out the capability of our apartment as a dye and production compound."
While using their apartment as a production facility, Guest and Haber were also laying the groundwork for the extended Abc. universe. One of those building blocks was (and still is) the "crystal advisory hotline," a number at which people can reach the brand to ask for advice on using specific crystals for various situations. Today, those digits are still hidden in some of their designs, but it's more of an "if-you-know-you-know" thing for the OG fans. Their EMF pant pocket and authenticity hologram, both of which remain key components of present-day designs, were also born in these founding days. They followed an "organic path," one not constricted by time but dominantly guided by experimentation, patience and an innate bond with one another. "We were living our love story," they reflected. "Tortoise wins the race."
Their slow-and-steady growth, they said, can be attributed to their taking the path less traveled. "​​Doing something different is harder than doing something straightforward. Our goal is to present an idea that is a bit more intellectual and that in and of itself eliminates a large audience."
Evidently, though, there was a sizable audience waiting for them — sometimes, perhaps, in unexpected places. Following their initial slate of collaborations, Abc. began to permeate all pockets of culture. In 2018 alone, they created custom, Swarovski-encrusted hoodies for A Boogie Wit Da Hoodie, Reese LaFlare and Migos; the pair returned to Barney's for a crystal-infused, Swarovski-covered painter shirt; they teamed up with New York's Patron of the New for an exclusive "Study in Camouflage II" capsule, revealed an "Eternal Youth" collection with Slam Jam, tapped KITH for a tie-dye shirt collab and linked with Sqirl for a limited-edition edible fruit jam (talk about versatility!). The list doesn't end there either — at the tail-end of the year, their collaborators included Lil Wayne, Wikipedia, Ai Weiwei, Mr. Chow and Global Citizen.
You could go on and on documenting the never-ending list of partnerships that Guest and Haber procured over the years, but that's not the point. Here's the real message hidden in the crystals: where there might not have been a singular, large audience for Abc., the two designers catered their distinct, shared vision to specific niches — and in doing so, their impact was felt amongst Lil Wayne fans, Wikipedia readers and Barney's shoppers alike. In lieu of a structured business strategy, their trust-your-gut mode of operation propelled them in every direction, resulting in an expansive catalog in which almost anyone could find something they enjoy. "Who exactly is the Abc. clientele?" we ask. Guest and Haber put it simply, "Who isn't?"
"We've been told it's an intellectual brand and that resonated with us," they added. "So Abc. is for those that are not the status quo. But, at the same time, we are also of the belief that visual art, including fashion, can and should speak for itself. The pieces can be taken at face value. There are layers to the meaning that are there to discover if you want to, but you don't have to." Instead of forcing its philosophy on shoppers (or having none at all), Abc. leaves it up to the consumer to decide how deeply they become invested in their universe — thus, it leaves room for all.
All this to say, Abc.'s evolution continues. The brand is entering a new chapter with its first full seasonal collection for Fall/Winter 2023, titled "American Consciousness (Part 2)." The line, which will arrive as an expansion of a smaller capsule that the brand put out on 4/20 in 2021, is a manifestation of many ideas that the duo concocted back in 2015 — the tortoise wins the race, right?
Their design process hasn't changed; it always begins with what they have going on in their minds. "It's usually an amalgamation of how we feel, zeitgeist sh*t, a variety of emotions, imagination-meets-reality and some irony," they said. The only difference is in their infrastructure. "We cannot be as reactive as we once were," they added. "As patient as we are, we are as impatient as you can be. You know just a couple of crazy creatives trying to put ideas into the world."
For now, the pair is keeping most of the collection under wraps. Naturally, though, it will feature a bevy of collaborations, including those with the NBA and Vans. Their EMF pant pockets and authentic holograms will be plastered all over it, and upon close inspection, those who know can find the "crystal advisor hotline" will be prompted to give the designers a call. In an exclusive preview shared with Hypebeast, pictured in the gallery below, it's evident that the brand's crystal-infused tie-dyes, quintessential branding and out-there prints and graphics will remain at the fore of the collection — all with a more nuanced approach to production and a much larger story.
"We were limited in the past to what we could create due to the limitations of scale," they said. "Now we can elaborate much more on a seasonal theme, allowing us to highlight a wider breadth of ideas."
The move marks another expansion in the Abc. universe, widening the duo's united focus in an amalgamation of everything they've worked on to this point. It's a thematic exploration of Americana, one lensed through Abc.'s "lo-fi retro-futuristic" design ethos and the continued arc of Guest and Haber's love story. And for those of you wondering about the risk of running a business with a significant other, here's what Guest and Haber have to say: "Blurred boundaries forever."
"We feel there is no other way to live," they added. "It's natural for us and we've been intertwined since the beginning. We're very much of the school of thought that work is life and life is work. There is no separation between our relationship and our process of creating."
Guest and Haber have Uber Pool to thank for the foundation of their business and relationship. But the glory of the sheer creativity that fueled their universe from that point onward is all theirs. "It has to keep evolving," they said. "Getting into an expected rhythm of what we do and how it looks is … well, if that happens you'll know we've been taken hostage."