Jacquemus Bags Stormed Paris Streets and Lil Uzi Vert Modeled for Heaven in This Week's Top Fashion News
Stay up to date on the latest industry headlines.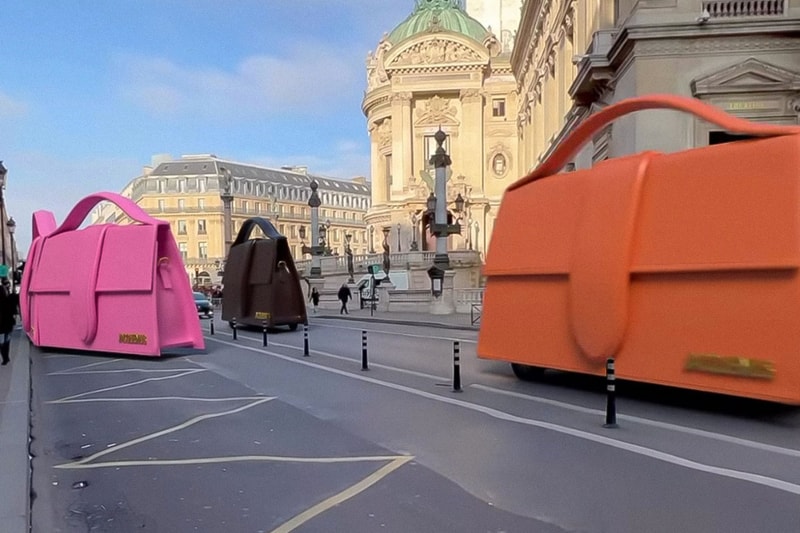 Fashion was a little quiet this week (perhaps as brands and designers are busy in their studios perfecting the next seasons' collections), though there was still much to fuss over. For instance, Jacquemus sent colossal (and three-dimensionally rendered) Bambino Bags down the streets of Paris in a now-viral video, and Lil Uzi Vert appeared front and center in Heaven by Marc Jacobs' SS23 campaign.
Meanwhile, Steph Curry scored a whopping $75 million USD stock grant from Under Armour, following his appointment to president of the Curry Brand. In other corners of the industry, the full H&M x Mugler lookbook was revealed, A24 dropped a Euphoria Fashion book from the hit series' costume designer Heidi Bivens, and the Brooklyn Nets unveiled their 2023-2024 city edition uniforms, designed by KAWS.
Below, Hypebeast has rounded up the top fashion stories of the week so you can stay up to date on trends in the industry.
View this post on Instagram
After placing a bank vault popcorn machine inside its Paris shop and dropping CBD-infused sparkling water, Jacquemus captivated the fashion world this week with its latest gag-worthy stunt. On the streets of Paris, the brand let loose an army of gargantuan Jacquemus Le Bambino bags on wheels that moved through the French capital with shocking ease. While the visuals look surprisingly realistic, it was unfortunately confirmed that the massive bags were actually three-dimensional renderings.
The brand, known for its bite-size accessories, flipped the script with its legion of bus-sized bags in chocolate brown, orange and pink. Upon closer inspection of the video, text reading "BAMBINO" and "JACQUEMUS" can be seen etched onto the pavement. On Instagram, the brand wrote alongside the video, "I THINK I LIKE PARIS NOW."
See the madness on Instagram above.
Evidently, Lil Uzi Vert just wants to rock in Heaven by Marc Jacobs' new Spring/Summer 2023 campaign. Shot by Harley Weir and styled by Danielle Emerson, the Western-inspired shoot sees the chart-topping rapper pose alongside several famous faces, including Ice Spice, actor Liv Tyler, designer Michèle Lamy and musician Yves Tumor.
The top-shelf gallery sees the aforementioned cast in a variety of locations: where Uzi sulks in a studio wearing Heaven's latest graphic-covered jersey and holding a blow-up rose, Ice Spice shows off the brand's tan star-printed mini dress in the desert. Meanwhile, Cain dons a logo-embossed, cropped sweater while riding a mechanical bull, and Tyler flaunts a two-piece denim set and a pair of the label's dramatic pumps while sprawled across a motel bed.
At large, the collection is filled with classic brand statements. Zip-up hoodies feature multi-toned embroidery; T-shirts offer spraypainted graphics, and sweaters appear tastefully torn. The line leans into Heaven's appreciation for Y2K style, with logo work calling back to the influential era; and it becomes explicit at times, specifically through its handcuff-inspired necklaces.
Heaven's SS23 collection will be released through several drops, the first of which is now available on the brand's webstore.
Under Armour Inc. gave Steph Curry restricted stock units for 8,823,530 shares of its Classic C common stock, following his appointment to president of the Curry Brand last month. The stock grant, which was presented to the WSC and AC Family Revocable Trust, was valued at $75 million USD upon issuing on Monday.
According to the filing, the award will vest in two equal installments on September 30, 2029, and September 30, 2034, unless the deal is terminated prior. Under Armour stated that the grant was "partial consideration" for the Golden State Warriors point guard's recent executive appointment, which will see him continue to push the label's existing product categories forward while working to drive athlete insights, product development and strategic marketing plans.
The Mugler x H&M lookbook officially arrived, offering a closer look at the collection's tribute to Manfred Thierry Mugler's legacy and impact on modern fashion. Shot by Lengua, the sartorial imagery spotlights the line's versatility on an array of talent, spanning fashion muses to musicians, including Jerry Hall, Connie Fleming, Imaan Hammam, Aweng Chuol, Eartheater, Arca, Xu Meen and many more.
Inside the range, the menswear lineup includes a bevy of leather silhouettes, including trousers, blazers and a trench coat with engraved buttons. Denim, meanwhile, forms sculpted, accentuated jackets, while sharply-tailored designs layer over transparent flocked star print tops and corset-embedded tank tops.
On the women's side, the collection includes a series of signature Mugler shapes defined by oversized shoulders and cinched waists. Spiral multi-seaming forms a common thread among baggy jeans, nylon and denim-bonded thong jeans and jackets, while leather outerwear contrasts decadent dresses and form-flattering catsuits, leggings and cut-out bodysuits.
The Mugler x H&M collection will be available to shop on H&M's webstore and in select stores beginning May 11. Take a look at the range here.
New York-based artist KAWS revealed his first-ever collaboration with a professional sports team, the Brooklyn Nets. In partnership with the NBA squad, the visionary crafted the team's 2023-2024 City Edition uniforms, with signature KAWS design elements, including the abstract graphics and vivid palette from his 10-part series "TENSION."
"As a proud Brooklyn resident, I was thrilled when the Nets asked me to create a new uniform design," said KAWS. "The history, community, and passion of this borough create an energy that inspires my studio practice, the players, and the fans. My design aims to capture the vibrancy that we experience daily when navigating Brooklyn."
The KAWS x Brooklyn Nets 2023-24 City Edition collection will be available to shop online at netsstore.com and at the Nets' team store at Barclays Center this fall.
As fans hotly await Euphoria's third installment, A24 has provided audiences with a magnifying glass inside the hit show's highly influential wardrobe. The company, along with costume designer Heidi Bivens, unveiled a coffee table book, titled Euphoria Fashion, delving into the processes behind developing the series' signature styles.
Opening with an introduction written by Jeremy Scott, who designed a signature Moschino dress for Sydney Sweeney's Cassie Howard in season two, the book features intimate conversations between Bivens and cast members including Zendaya, Hunter Schafer and Alexa Demie, along with the show's makeup artist Doniella Davy and Euphoria creator Sam Levinson.
Additionally, several pages host detailed behind-the-scenes breakdowns of each character's signature looks alongside exclusive Q&As with internationally renowned designers like Coperni and Arianne Phillips. Though Phillips did not work directly on the series, Bivens cites her as a "chosen mentor" and "an example for what was possible for her to achieve within the industry," according to WWD.
A24's Euphoria Fashion book is now available to purchase on the production imprint's webstore for $60 USD.
L'Oréal officially signed a deal to acquire the Australian luxury brand, Aesop. According to WWD, Aesop is presently worth over $2.5 billion USD.
The skin, hair and body care brand, which currently operates in the Americas, Europe, Australia, New Zealand and Asia, is known for its usage of plant-based ingredients and vegan formulas. Aesop's parent company, Natura &Co., stated that the acquisition will take place during the third quarter of 2023 adn that the price will be paid in cash on closing.
Nicolas Hieronimus, L'Oréal chief executive officer said in a statement, "Aesop is the epitome of avant-garde beauty, whose products are not only made with great care and exceptional attention to detail; they are a superb combination of urbanity, hedonism and undeniable luxury."