Maserati, David Beckham and Hiroshi Fujiwara Want You to Relive Your Childhood
Hypebeast speaks with the two cultural icons about collaborations, car culture, and the future automotive enthusiast.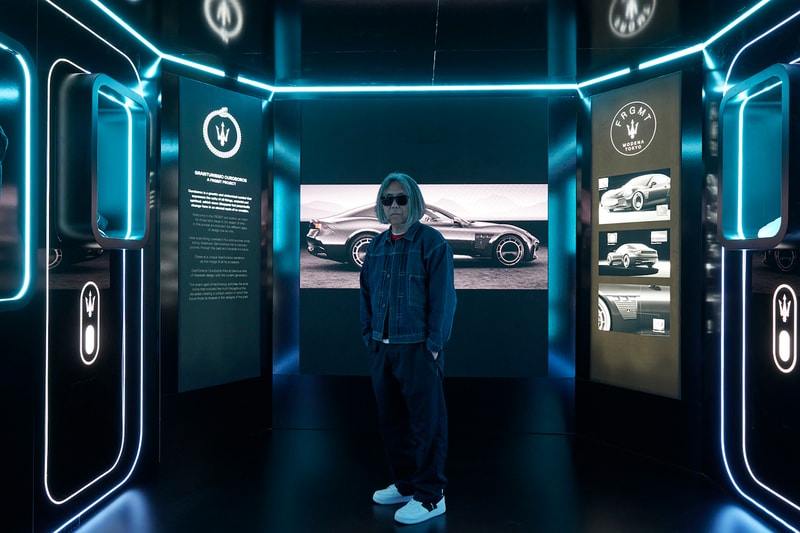 1 of 2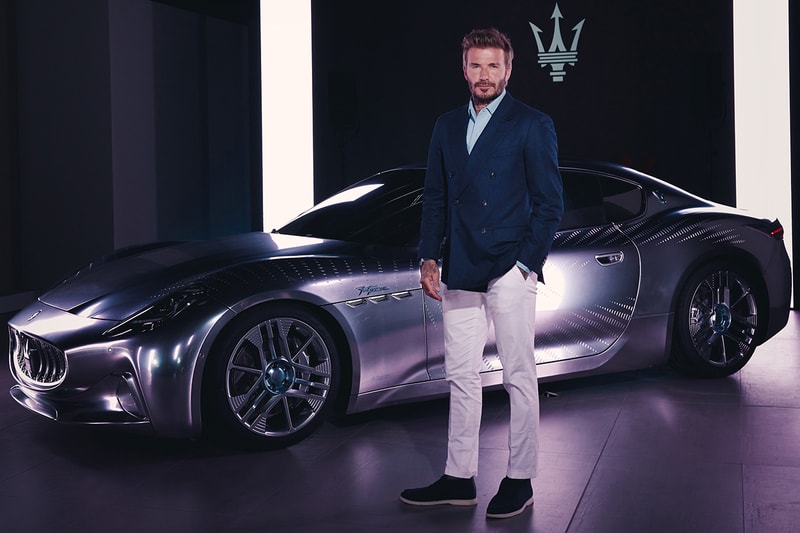 2 of 2
We'd like to think you, Hypebeast readers, are quite familiar with the collaborative landscape.
In recent years, Nike and Virgil Abloh's "The Ten," Supreme and Palace's constant barrage of top-tier content, and Stüssy's ascent to the top of the collaborative pile have all been era-defining cultural shifts in their own right. Collaborations are, still, very much an ongoing phenomenon. One quick Google search and you are inundated with information about "The Power of Collaboration" – there are TED talks on its value, while Forbes sums it up in a nutshell: "Cоllаbоrаtіоn іѕ thе kеу to your success."
Collaborations have become the de facto vehicle for hype and hysteria, getting one name out to the world via the means of anothers. Critics often talk about the fashion and footwear industry as being saturated with partnerships – even we critiqued this in the summer of 2022, asking "Are Too Many Collaborations Diluting Hype?" But sometimes, a collaboration makes perfect sense. Sometimes, there's more than just a want to the whole collaborative process, there's a need; something that will change the discourse and our understanding of culture. 
Such moments have become a rarity. In the mid-1930s, Elsa Schiaparelli and Salvador Dalí formed what's largely regarded as the "first-ever art-and-fashion collaboration," which not only went on to inform much of what we know today, but created a totally new way to deliver product to a wider group of people. It proved that two worlds – once as far apart as can be from each other – can come together, and nothing explores these unlikely friendships like car collaborations. 
We're not talking about pre-merger Mercedes-Benz x AMG in the 1980s, nor BMW Art Cars re-imagined by Andy Warhol, Jeff Koons or David Hockney. Instead, think along the lines of KITH x BMW, Virgil Abloh x Mercedes-Maybach, or Hiroshi Fujiwara's fragment design x Maserati – the latter being of particular interest, as the two have just announced their next partnership, culminating in the fragment design x Maserati GranTurismo. 
Fujiwara is a collaborative fanatic, known for his work with Nike, Moncler, and more recently Maserati with his Ghibli make-over of 2021. But as the multihyphenate told Hypebeast during Maserati's unveiling of the fragment design collaboration during Milan Design Week, "the fashion and car industry is so different."
On the contrary to our first thoughts, this statement is not as obvious as it seems. As Fujiwara explained, "When I started working with Nike, I wanted to touch the Swoosh. 'Oh, you can't touch the Swoosh!'." He jokes, but the reality is that turning a car into a collaborative project is no easy feat: "There are many things you cannot do. Things that you think are really easy, like changing the color of the seatbelt, are not easy. It took six months." Likewise, reworking the badging on his Ghibli took six months. And for the Maserati GranTurismo, there is – as of writing – only a digital version of the product. 
"I want to teach and give the kids a lesson. I want them to see how beautiful vintage cars are."
But what can feel like a strenuous exercise behind closed doors exercises in pushing Maserati under the spotlight and further towards the future. As it starts to explore electrification, it also wants to target a new, younger audience. The very same audience that fragment design has in a chokehold. 
"I want to teach and give the kids a lesson. I want them to see how beautiful vintage cars are." In order to do so, Fujiwara has taken Maserati's most technologically-advanced automobiles and channeled the past for his one-of-a-kind creation. The lights range from headlights surrounded in riveted glass clusters to rear lights inspired by 80s 8-bit graphics, the wheels are inspired by the "turbofan" aerodiscs of the '70s, and the front grille looks back at Maserati's own cars of the '60s, sporting a grid design. 
"It's the same strategy as a sneaker, it's like giving an archive sneaker an update," explains Fujiwara. And like a sneaker brand that wants to use the past to inspire a new generation of sneakerheads, Maserati also wants to reference the past in order to look ahead. For the marque, Fujiwara is the perfect designer to do so, as he possesses the ability to pull from various references and subsequently speak to the youth consumer. As his design team added, "Hiroshi is such a pioneer of everything that he touches. I think a product such as a car is the next big thing, isn't it? He's done the sneakers and the watches, countless numbers of things [that are] commodities. I mean, it's sad to say 'commodities,' but a car is still something that has an aesthetic style. It's an iconic modern object that is relevant to kids."
Maserati's efforts to tap into the kids of today don't stop at Hiroshi Fujiwara and fragment design, though. As car brands have had for decades, Maserati also has a global ambassador – David Beckham. 
The footballer-turned-businessman, soccer club owner, model, designer, and known car fanatic has been a part of the Maserati family since 2021. He drives a custom-made MC20, is one of the only people to have driven the full range of GranTurismo cars (both V6 and electric variants), and is more than just a face for the brand. Golden Balls is a fan first, ambassador second, and that combination makes him the perfect name to attract the desired audience – such as his own children.
"Having three younger sons – who are the first to tell me about these new collaborations – these collaborations are the coolest things out there."
"I think that collaborations are so important for brands these days," Beckham tells us. "In the last five-to-ten years, [think of] the kind of brands doing collaborations. Whether it's Louis Vuitton and Kusama, or anything Pharrell has touched over the years. Having three younger sons – who are the first to tell me about these new collaborations that I sometimes I've never even heard of – these collaborations are the coolest things out there for these kids." 
It's clear that car collaborations are really shifting Beckham's gears. "Maserati has such a great history and heritage, but you want to bring in that younger crowd, you want to bring in that fresh kind of car enthusiast. I can only speak about my kids, but when I was 16 years old, I couldn't wait to get to 17 to start driving. Whereas two of my boys love driving and my other son, he's like 'yeah, maybe I'll pass my test.' I think collaborations are important, because it brings in a new crowd. That is what, especially for a company with such a long history, is important: to bring back a car like the GranTurismo that has a 75-year history… combine that with a collaboration. I think that's important for the brand because it takes it to a different level."
Beckham has experienced Maserati's next level firsthand. Having created his MC20 with the marque's Head of Design, Klaus Busse, to driving the brand's various cars is "a big thing" for Beckham. "People know that I love cars, people know where I'm from, so they know that I like history and the heritage of things – it's personal to me." 
Above all else, Beckham understands that beyond a collaborative design effort and being the face of a campaign, those two elements being marketing tools, is the fact both are also great vessels for storytelling. In turn, this opens Maserati's history books up to the new generation of car enthusiasts. 
Hiroshi Fujiwara's collaboration tells a story about the past and the future, and in doing so, it has given Beckham a way to connect with his own children. "Maserati cars are aspirational. I know how Romeo is about the car. He would love his own Maserati. He would love an MC20 – he's not gonna get it yet, but it's aspirational. When I was a kid, my dad had a Ford Granada GT or something. I wanted a Capri. Now, Romeo sees me in a Maserati. He hears my Maserati coming before he actually sees me, which is something that's special about Maserati."
The storytelling aspect is what is changing car collaborations, and the younger generation's ability to understand them for the greater good. When David Beckham and Hiroshi Fujiwara grew up, they – like many of their generation – would have posters of dramatic '80s and '90s supercars adorning their walls. Nowadays' youth might have a screensaver to show their allegiance to the automotive world. 
For Beckham, he sees collaborations such as fragment design's, as well as the brand Maserati, as the next step in connecting the dots. "I've always looked at cars like pieces of art and I think when you are having these people come in and design… what they're designing and how they're doing different things, makes the younger generation sit up and actually want to be part of that. Storytelling – to any success of a business – is key. Because these days, and especially my kids, want to hear those things."
For the very same reason we are intrinsically hooked on a fantastically niche Stüssy partnership, or a capsule collection that draws upon a cult film or band, Maserati achieves this with fragment design. Together, they paint a picture of desire and aspiration, telling a story that captures the nostalgic little kid inside all of us. As Beckham concluded, "When I sit my kids down and say, by the way, this car, this is where it came from, this is the desire, and this is what it looked like all these years ago… and now it's coming back. Now, you've got great collaborations that are part of this brand. That's when it just brings them in." 
But for Maserati, it's not about just tapping into youth culture. On designing his car with Klaus Busse, Beckham recalls his sheer excitement, living out a childhood dream: "I was 43. I was like a 13-year-old kid, mindblown. I was so excited about every single detail. I think Klaus got to the point where he was like, 'are bored yet?' and I was like, absolutely not! Can we stay another  few hours?"
This is the magic of car collaborations today, and Maserati might be the only marque that is able to use collaborative partners to inspire nostalgic wonder for petrolheads across the globe. It's a brand that possesses that quintessential Italian charm, the very kind your then-favorite TV presenter got all esoteric about on a Sunday evening, talking to you through the telly as they (probably) drove a Maserati GranTurismo around the Italian hills, unknowingly inspiring you for the years to come.