Anderson .Paak Turns the Lens on K-Pop For His Directorial Debut
The singer, who's a quarter-Korean himself, talks about exploring his heritage and connecting with his family through the making of 'K-POPS!'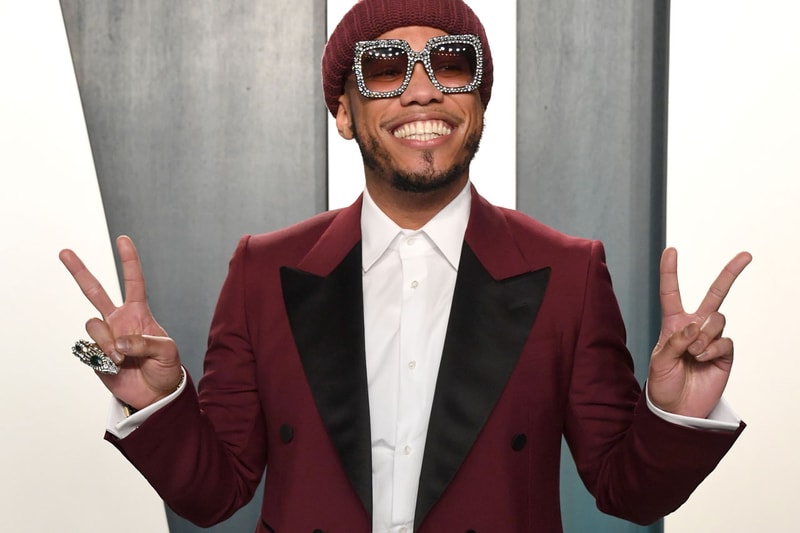 Anderson .Paak's influence permeates every corner of the music industry. Since dropping his debut album O.B.E. Vol.1 over a decade ago, .Paak – a singer, songwriter, producer and multi-instrumentalist whose real name is Brandon Anderson – has seemingly done it all, from collaborating with the late Mac Miller to touring with Jhené Aiko and, in more recent years, forming the R&B super duo Silk Sonic with Bruno Mars, where he's clocked his seventh and eighth Grammys for Silk Sonic's "Leave The Door Open."
And through his eponymous Brandon Anderson Foundation, the singer is hard at work on the fifth annual rendition of .Paak House – a charitable music event in his hometown of Ventura, California that's geared towards providing underprivileged children with access to arts and education initiatives — which is backed by a $500K USD donation from Häagen-Dazs, who will be dealing out free ice cream to all attendees.
Funk, soul and R&B may be .Paak's bread and butter, but for his next venture, the artist is pivoting his focus to a totally different genre: K-pop. This summer, .Paak will be directing his first-ever feature film, a dramatic comedy called K-POPS!. The family-friendly flick centers on a washed-up musician who travels to South Korea to chase his second chance at music industry success by writing for K-pop stars. Upon arrival, he's shocked to discover that his long-lost son is set to front one of the country's biggest groups.
Paak's do-it-all talent is on display in K-POPS!: he wrote the film's script, directed it and stars in it alongside his son Soul Rasheed. The film's storyline – an intertwining of family lineage and father-son bonds – was born out of his own experiences of becoming even closer to his family over the pandemic.
In a recent interview with Hypebeast, the singer opened up about how he typically spent six or seven months of the year on tour before the pandemic. In quarantine however, he was granted boundless quality time with his wife and two sons. He also began exploring fun ways to entertain his kids and pass the time at home.
"My son was really into YouTube, so I was like 'we should do skits' because he's naturally funny and he dances. I started helping him film skits, and then he would help me edit them," .Paak says. "We were staying up till two or three in the morning, making these videos together. It made me want to make a movie with him."
.Paak recalls that at the time everyone in his house but him was obsessed with K-pop and superstars of the genre like BTS. Describing himself as "the odd man out" for his lack of familiarity with K-pop, he received a primer in the music from his family over quarantine.
"My mom is half Black and half Korean, so I'm a quarter Korean, but I never knew much about my Korean culture until when I was married to my wife, who is fully Korean," .Paak notes. "My kids pretty much see themselves as Korean. Raising [biracial] kids, there's a dynamic of 'all right, you got this side and you got this side' and teaching 'em about both."
When he began ideating K-POPS!, .Paak thought back to the "funnier aspects of the experience" of growing up biracial and now raising biracial children, stressing the importance of teaching them about both sides of their culture.
"I wanted to write a movie that would explore [the dynamics of growing up biracial] and those familial relationships."
"I wanted to write a movie that would explore that dynamic and those familial relationships," he says. "And also, I get to sneak in quality time with my son while shooting."
While some viewers may view the film as simply an anecdotal tale of the music industry, for .Paak, it's a "comic book version of [his] life, a way to examine [his family's] roots within Korea and our African-American roots and how they come together."
He also remains hopeful that the film will shed light on the interconnectedness of music across time, countries and cultures. While working on the movie, .Paak has been listening to contemporary groups like BTS, BLACKPINK and NCT, but also some of the genre's earlier pioneers and rappers encircling the space, such as Tiger JK and Dumbfoundead. Streaming their music has helped .Paak to trace the lineage of how sounds are interpreted and reimagined across regions, an exercise in fine-tuning one's ear to recognize different musical elements and influences. It's a skill .Paak has seemingly mastered already, at least according to his storied discography.
"K-Pop is obviously Korea's interpretation of pop music, and there's overlap there with the American pop that people often listen to in the U.S.," he explains. "American pop comes from the blues, which can be traced back to gospel. When you break down the history, you realize everything's connected."
K-POPS! may mark new territory for .Paak – as both a first-time director and newfound connoisseur of the genre – but concept for the story has seemingly been brewing for years now. And with his son along for the ride, it's a project .Paak (and his family) are more than ready to create.