How Stüssy Became the King of Collaborations
In light of the Martine Rose collaboration, Hypebeast reflects on the So-Cal stalwart's ability to make everything it touches culturally relevant.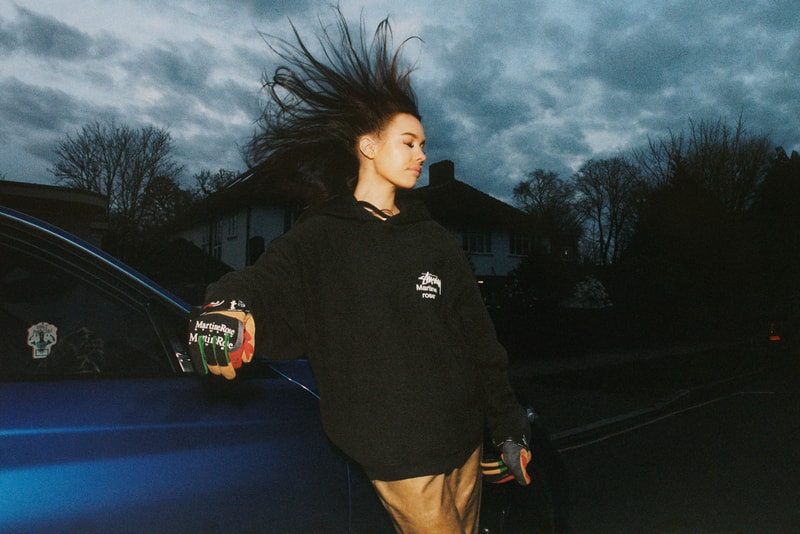 Stüssy is oxymoronic. How do you manage to be one of the biggest streetwear brands in the world, yet maintain an air of IYKYK crowd control? The answer lies in the power of its collaborations and carefully curated creative direction. Stüssy makes decisions that aren't just elevated among its street-level peers, but fit seamlessly into a much higher fashion dialogue.
That's not to say that its contemporaries' collaborations – the likes of Palace x Gucci or Supreme x Louis Vuitton – were predictable; on the contrary, they were game-changing. Rather, if Supreme's schtick was hype-fuelled sellouts, Stüssy's is calm and considered. 
Industry-shifting virality is not what Stüssy strives for with its partnerships. Instead, tapping Dries Van Noten, Tekla, Our Legacy WORK SHOP, and most recently Martine Rose allows the So-Cal imprint and its audience to age gracefully, evolving from a surf and skate label that its competitors romance upon into a fully-fledged fashion label, all by relying on the other partners' caliber.
These collaborations are Stüssy's style-savvy alter-ego; on the other hand, 8-ball graphics, Shawn Stussy-penned scripture, and a consistent roll-out of Converse, Nike, and more street-leaning drops with Cactus Plant Flea Market, Timberland, Bone Soda and Denim Tears are the brand's bread and butter. 
While these collaborations fall well within the streetwear remit, it's far removed from the Stüssy we knew five years ago. Long gone are the days one could walk into size? and cop a graphic tee. By pulling its stock out of high street stores, Stüssy realigned its contemporary identity with its origin story. 
The brand was born out of the Southern Californian surf scene – the epicenter of a laid-back lifestyle and carefree culture. Stüssy's start in life was humble, with Shawn screenprinting his surname on the back of tees for an insular community that steered clear of what was commercially popular in the 1980s and '90s, that being practically anything bearing a designer label.
The result of limited-run products (due to the nature of their production as opposed to marketing) coupled with the small circle of inner buzz grew Stüssy into a cult label, much like its counterparts. Ironically, this is what they all went on to lose as commerciality became a bigger component of these brands come the 2010s.
What changed? By withdrawing from the mainstream, Stüssy found its calling once again. Those who wanted Stüssy had to dig a little deeper to find much better product, and in doing so, they felt like a part of something bigger – but not as big as the alternative hype-driven streetwear brands. As GQ's Fashion Critic, Rachel Tashjian, noted in 2021, Stüssy's pull is to "think smaller, be more niche, and respect its heritage without wringing it dry."
Today, the slowed-down So-Cal mentality lives on strong. Its recent collaborative roster isn't just well-executed in terms of fabrics, details, and cuts, it's also been an expertly-coordinated creative endeavor; from the teaser imagery and the lookbook to the drop date. 
Take its Dries Van Noten capsule, for example. Stüssy cherry-picked staple elements from Van Noten that have made the label so lauded among the high-fashion crowd, without attempting to go for something overly hyped. The result is exemplary: Flea from Red Hot Chilli Peppers fronted the campaign donning dazzling suits, while the Stüssy family modeled trippy graphic T-shirts and embellished denim, melding two worlds together to speak to a wider audience. 
This collaboration, as well as its work with Our Legacy, are contextually rich. They take what appeals to the collaborator's audience, such as understated luxury or archival designs, and sprinkle Stüssy's magic on top, crafting collections that bring the best out of the shared values and aesthetics of both entities and enabling an on-point vision of today's coalescing fashion landscape.
In short, it's all about harvesting a symbiotic relationship of curatorial excellence; and with that comes authenticity. Inclusivity? Check. Striking designs? Check. Cult-like followings? Absolutely. That's why Stüssy's Martine Rose collaboration was the latest link-up that makes perfect sense. 
Rose is anything but a streetwear designer, although the London designer does love to subvert everyday street uniforms – namely from the UK – with her own distinct style codes. Take Spring/Summer 2023; a showcase of Nike Shox MR4 sneakers, track tops and jorts clashed with awkward tailoring in a BDSM sex dungeon. Likewise, FW23's presentation contradicted the suit-and-tie traditions of Pitti Uomo with Rose's sleazy, sexy "DJs and club promoters." 
It's only natural that Stüssy and Martine Rose steered customers into another shared subcultural love of SS23: the art of driving, through a distinctly British lens. Car mats and fluffy steering wheel covers that Kat Slater wouldn't give amiss are just as crucial to the Rose aesthetic as graphic T-shirts, logo hoodies and racing gloves are to Stüssy's identity, and vice versa. Combined, this speaks on a far more interesting area of fashion than just a re-branded box logo.
This all-encompassing identity in question is one put best by Fraser Avey, Stüssy's Global Brand Director since 2015. Speaking to GQ in 2021 about the brand's "revival," he said: "We started, truthfully, designing better." Teaming up to sell at Dover Street Market also meant that the brand was "just interpreted… differently, and then like retranslated… back out to the world differently." The outcome? "There isn't this ambition to grow. The ambition is to be good."
Knowing it's good is also why Stüssy didn't respond to Hypebeast's interview request. It, like the Martine Rose collaboration, simply doesn't need to do any explaining. It's nothing personal: you either get it, or you don't. Stüssy finds the perfect middle ground between its identity, the collaborator's identity, and an accessible budget to suit their shared clientele to reach whole new audiences.
The unexpected Martine Rose collaboration proved Stüssy's collaborative output isn't a one-hit-wonder. Whether it's the covert lookbooks, the overarching air of slickness, or even just the fact that not every collaboration needs to have hype appeal, Stüssy understands the current climate of clothing, and the values that resonate with the coolest brands on the planet. It goes against expectations, subsequently bringing something both fashionphiles and streetwear OGs can get equally excited about on an accessible, wearable level.